Ways to Unblock Facebook Login | Best Proxy for Facebook
Click here to read about the best and most effective Facebook proxy server to unblock and access your Facebook ID
Over time, Facebook has become one of the most loved social media networking sites all over the world. However, people are becoming more addicted to the use of social media these days. It affects their productivity and concentration. As a result, the usage of Facebook is blocked in certain areas like colleges and office areas.
Are you tired of searching for ways to unblock Facebook? No worries, we have come up with the best proxy for Facebook to help you get rid of this problem. Read on to explore various effective and free Facebook proxy sites in detail.
What Do We Mean by Proxy Server?
Before getting into the details of the Facebook proxy server, it is necessary to understand the meaning and work of a proxy server. A proxy server is defined as the gateway that connects you with various websites across the internet. It declines the direct connection of the end user from the internet and acts as an intermediary between the user and the website.
You can either use a proxy server for your benefits or for accessing professional advantages. Some common advantages of using a proxy site are given below:
It adds to cyber security and prevents cyber-attacks.

It prevents website crashes by balancing online traffic.

It allows you to hide your location.

It gives you access to the blocked websites.

It also helps in controlling access to various websites.
8 Top Proxy for Facebook
Here's a list of Facebook proxy sites that will help you unblock your Facebook login within a couple of seconds, some of them allow Facebook login proxy free trial:
Soax is one of the most effective Facebook proxies that can help you access your Facebook ID. It offers a secure and easy-to-use connection. Moreover, you don't have to worry about getting blocked when using Soax as it sources the connectivity through a peer-to-peer network.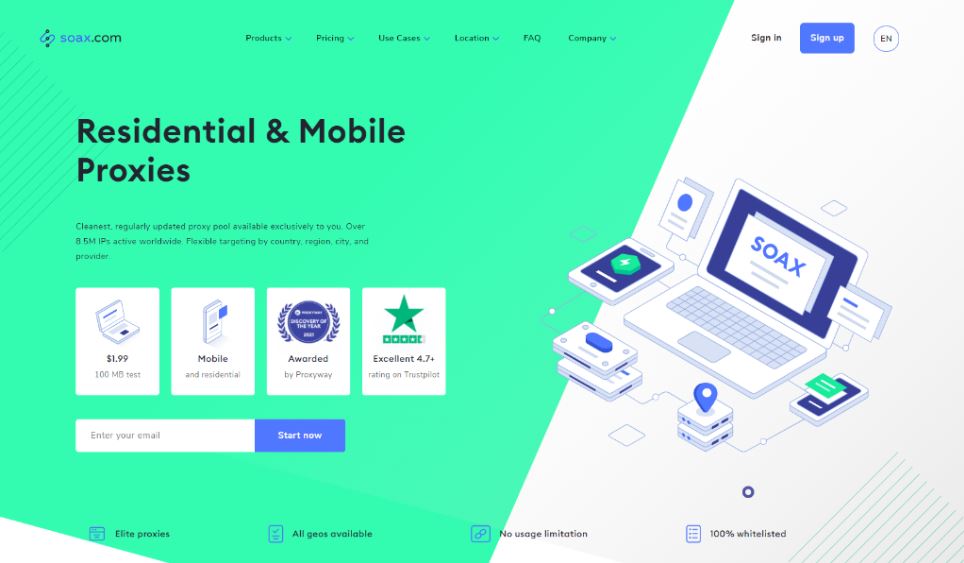 Pros:
It offers wide connectivity in all the countries of the world.

It has flexible payment options.
Cons:
It is highly expensive.

Customer support is not remarkable.
2. Instant-Unblock
Instant-unblock is one of the best proxy sites that is available to you free of cost. You cannot only use to it unblock your Facebook ID rather it also allows you access to various other websites. It has a user-friendly interface that allows you to access any of your desired websites in not more than a couple of seconds.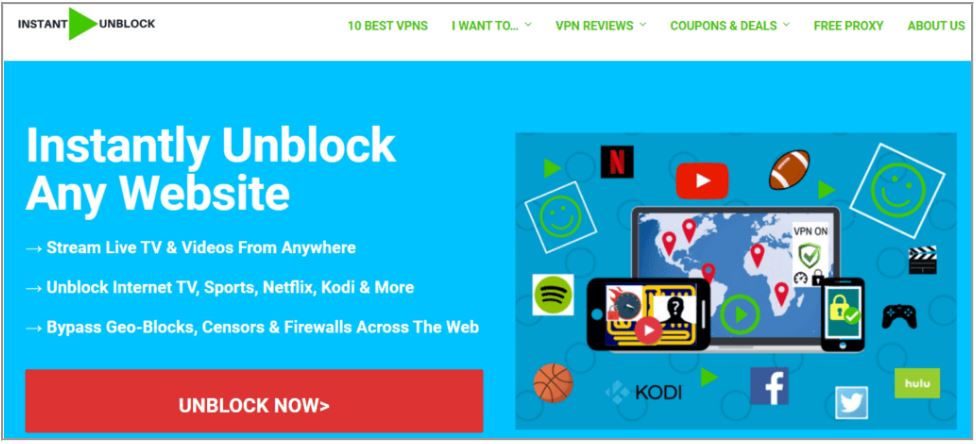 Pros:
It allows a wide network & location coverage.

You can use it to gain access to your Facebook account for free.
Cons:
Lack of good customer care service.

Limited IP pool.
3. FilterBypass – Web Proxy
FilterBypass is another free-of-cost web proxy that can help you unblock your Facebook login instantly. It is encoded with SSL for smooth connections. It also allows you to unblock various other popular websites like YouTube.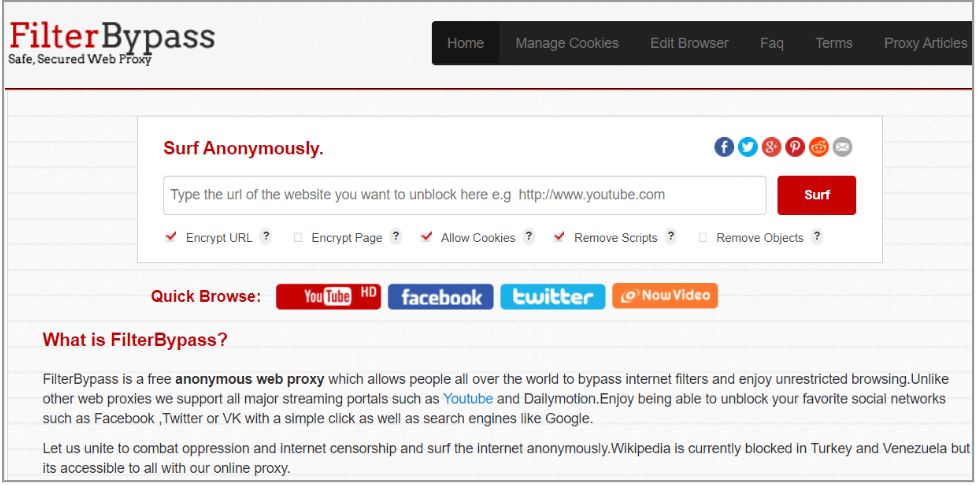 Pros:
It is very easy to use.

It allows you to access your favorite websites free of cost.
Cons:
It contains ads.

Lack of security and privacy.
4. Croxy Proxy – Web Proxy
Croxy proxy is a famous web proxy that enables you to access various websites. It acts as an intermediary to route the internet traffic and protects your IP address from being traced. Moreover, it provides unbeatable security by encrypting the data before transferring it.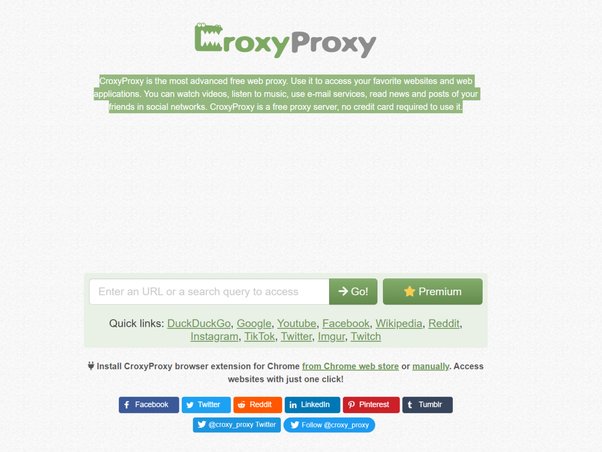 Pros:
It supports multiple operating systems and web browsers.

It offers wide location coverage.
Cons:
It is prone to blockage.

It contains basic web proxy functionality.
5. KProxy
KProxy is another free proxy site that helps you to access your Facebook ID from anywhere at any time. It makes it easier for you to browse through various websites irrespective of the browser type, time zone, and connectivity type.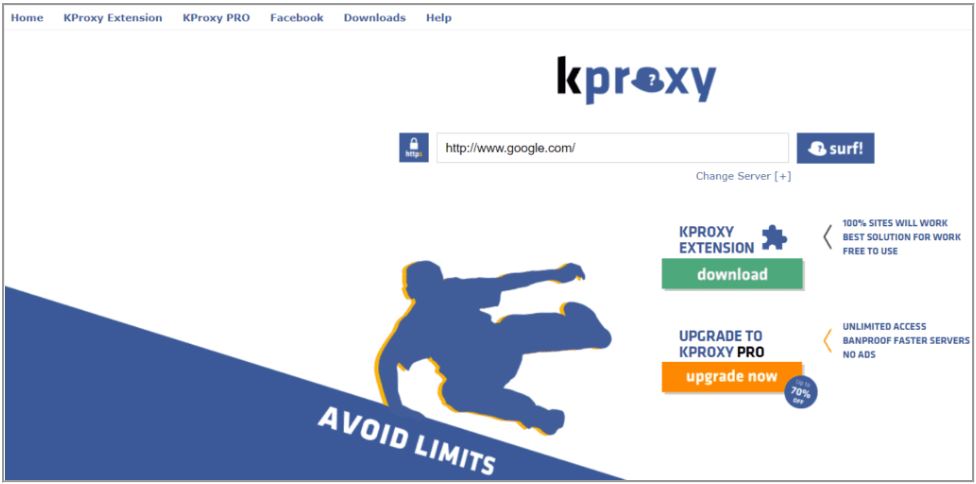 Pros:
It has a user-friendly interface with an easy navigation process.

It is compatible working with various web browsers including Chrome, Edge, and Firefox.
Cons:
It has limited access to the free version.

It contains irritating pop-up promotions and ads.
6. Zalmos
Zalmos is another popular proxy for Facebook that can help you unblock your Facebook login effortlessly. It even allows you access to complex websites like YouTube. You can easily watch HD-quality videos on YouTube through Zalmos free-of-cost proxy server.

Pros:
It supports SSL encryption.

It provides quick links to popular websites.
Cons:
It has limited network connections.

It doesn't offer good customer support services.
7. Facebook Proxysite
Proxysite.com is another free-to-use proxy server. You can easily use it to browse through your Facebook feed in blocked areas. Moreover, it also supports SSL encryption to ensure the safety of your connection.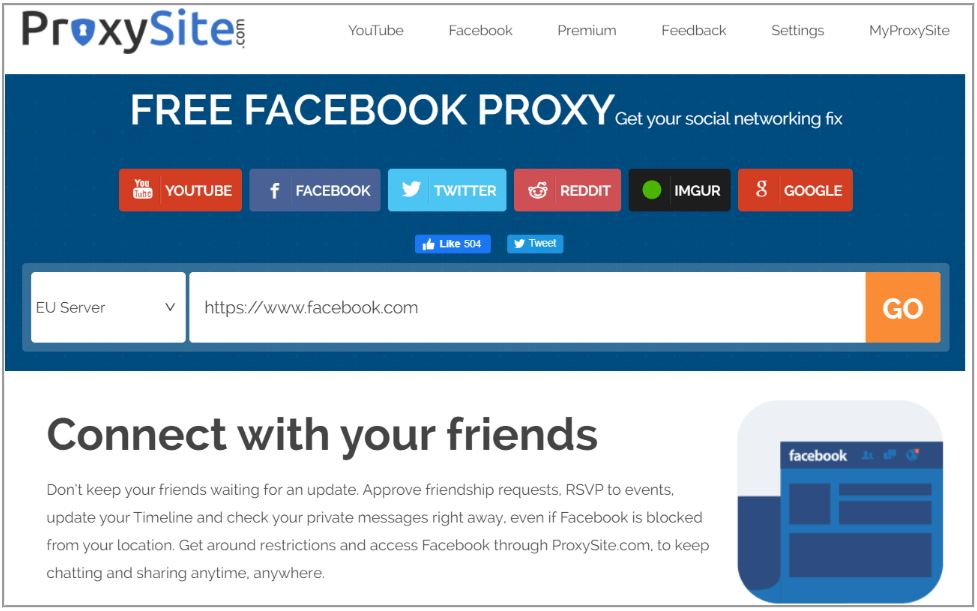 Pros:
It offers connectivity to multiple locations.

It provides fast-speed connections.
Cons:
It offers basic functionality.

Its customer support is not up to date.
8. Hidester
Hidester is another widely used proxy server that can help you to unblock your Facebook login within a couple of seconds. It supports SSL security to provide you with safe connectivity against hackers and malware.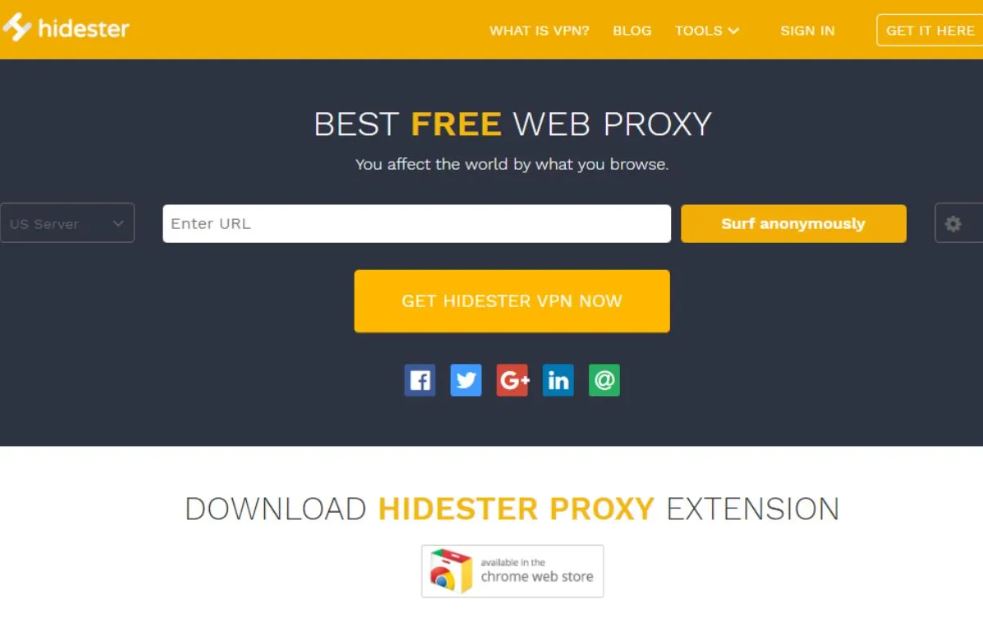 Pros:
It provides a high-speed connection.

It has a simple and user-friendly interface.
Cons:
It allows limited access to the free version.

It contains irritating ads.
Bonus Tip: The Best Proxy and Multiple Account Management Tool
MoreLogin has become one of the most popular proxy and account management tools within a very short time. It is a user-friendly anti-detect browser that can help you browse through your Facebook ID even in a blocked location. It also allows you to use a free trial version at the initial stage. After that, you can easily switch to the premium according to your needs.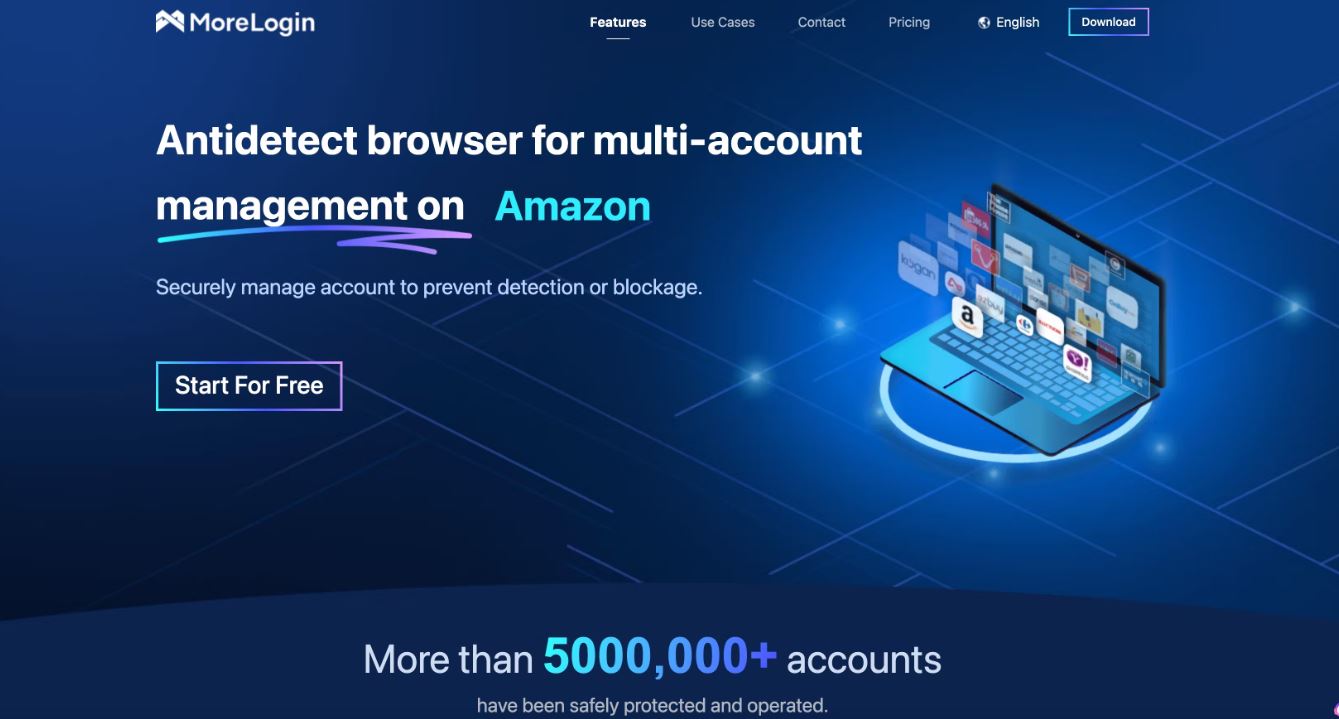 Key Features:
It allows the secure management of multiple accounts on a single device.

It has flexible pricing options depending on your needs and preferences.

It is highly reliable and provides security against cyber-attacks.

It allows fast-speed connectivity in multiple locations.
Conclusion
As mentioned above, numerous proxy servers can help you unblock Facebook Login. However, choosing the right one is a typical task. You must ensure a safe and reliable proxy server connection that works well against malware and cyber-attacks.
In this context, MoreLogin is one of the best choices. This tool offers multiple features and reliable connectivity. It secures your connection against cyber threats. It ensures the protection of your online presence and saves you from getting blocked by various websites.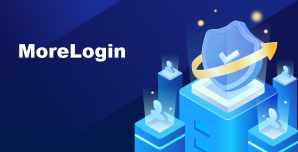 Antidetect browser for multi-account management on All platform.Securely manage account to prevent detection or blockage
Free trial