Stay Anonymous: Top 5 Anti-detect Browsers 2023
In the digital age, it has become increasingly important to manage multiple online accounts while keeping our personal information secure. This is whe
In the digital age, it has become increasingly important to manage multiple online accounts while keeping our personal information secure.
This is where anti-detect browsers come in, offering advanced privacy features and the ability to manage multiple accounts.
Today we will explore some of the top antidetect browsers available in 2023, including their key features and their unique advantages, helping you to make a decision that may multiply your business income.
Why You Need an Antidetect Browser
As a special form of web browser, an anti-detect browser helps users avoid detection by online tracking mechanisms, such as cookies, browser fingerprints, and IP addresses. It works by allowing users to change their browser settings, including their user agent, browser version, time zone, language, and other variables that can be used to identify them.
An anti-detect browser may be important, particularly for individuals who are looking to generate more income through online activities such as affiliate marketing, online sales, surveys, or other forms of online work.
Here are some reasons why you may need an anti-detect browser for your personal or scaled business:
• Avoiding IP bans: When you use an anti-detect browser, you can change your IP address, which can help you avoid being banned because of IP address from certain websites or platforms. For example, if a website restricts access to users from a particular country or region, you can use an anti-detect browser to make it appear as if you are accessing the site from a different location.
• Preventing tracking: Online tracking can be used to monitor your online activity and collect information about your browsing behavior, which can be used to target you with ads or other marketing messages. By using an anti-detect browser, you can prevent tracking and keep your online activity private.
• Improving security: An antidetect browser can help improve your online security by making it more difficult for hackers and other malicious actors to identify you and target you with attacks.
• Generating more income: Using an anti-detect browser can help you generate more income by allowing you to create multiple accounts on websites or platforms that limit the number of accounts per user. Additionally, an anti-detect browser can also help you avoid being detected and banned for using multiple accounts, which can help you maintain your online presence and continue to generate income over the long term.
Top 5 Best Antidetect Browsers
MoreLogin
MoreLogin is one of the most versatile anti-detect and multi-account management tools for managing multiple accounts securely, preventing detection or blockage. It allows for account management across different platforms such as affiliate marketing, e-commerce, cryptocurrency, and social media.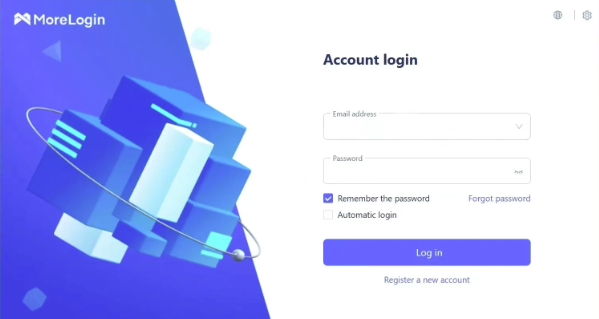 The product offers an Anti-detect Browser to create multiple browser fingerprints to prevent overlap and account bans. It's broadly used by marketing managers, website founders, project managers, product managers, and market affiliates who benefit from the service for its secure environment, efficient teamwork browser, and flexible package options.
The product runs on both Windows and Mac OS, and the Android version is on its way. Anyone who wants to scale their business with a multi-account strategy should definitely try this product as it's the most balanced choice of all.
Multilogin
Multilogin is one of the most popular anti-detect browsers available today. It is compatible with both Windows and macOS and offers advanced privacy features. One of its key features is its ability to spoof a fingerprint completely instead of just disabling important parameters. This makes it one of the most effective anti-detect browsers on the market.
Multilogin also offers a modified Chrome browser called Mimic and a modified Firefox called Stealthfox. These browsers are customized to combat the most effective types of browser fingerprinting. With Multilogin, you can create quick browser profiles, and you can also manually change every parameter you want when you have specific customization requirements.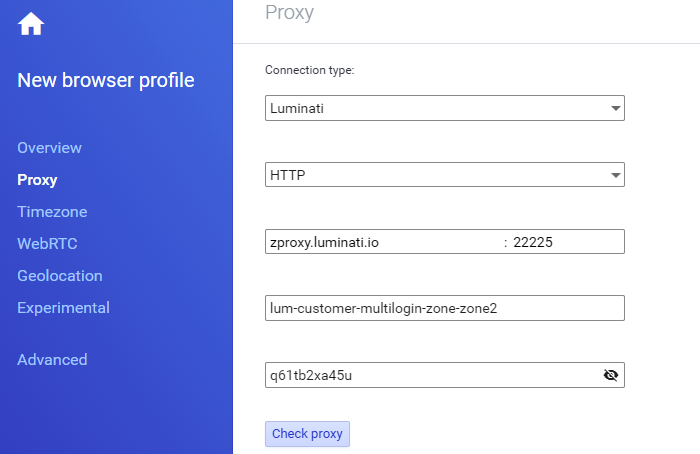 Multilogin's biggest advantage is its effectiveness. It is one of the most advanced anti-detect browsers available today. However, it is not an option for those on a tight budget, as the cheapest plan starts from $115 a month for 100 profiles and doesn't include collaboration features.
GoLogin
GoLogin is another popular anti-detect browser that offers advanced privacy features. It uses its own web browser based on Chrome and spoofs the fingerprint by replacing most parameters and adding noise to others. This method has been known to lead to more CAPTCHAs and verification requests, but the results may differ depending on your configuration.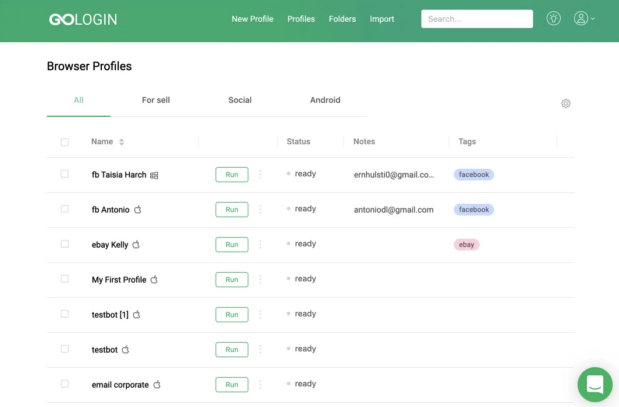 The browser is simple to use and generates fingerprint configurations at the click of a button. GoLogin also includes proxies, which should do their job for general browsing. There's an Android app too, and you can access the tool via a cloud interface.
X-Browser
X-Browser takes a different approach and comes for free with Smartproxy's residential proxy plan. So, you'll only pay for the proxy service, which is necessary to fully utilize the benefits of an anti-detect browser anyway. X-Browser is based on Chrome and is mostly geared toward individual marketers.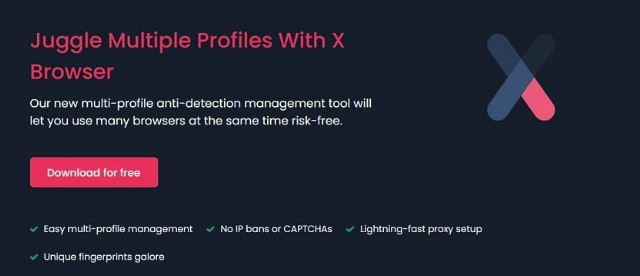 The tool provides all you need to change the browser fingerprint in an easy-to-navigate interface. Conveniently, X-browser allows you to create as many profiles as you need. However, there's no profile sync, cloud data storage, or headless browser integration, and you won't be able to import cookies.
X-Browser comes for free with Smartproxy's residential proxy plan. This makes it a great option for those on a tight budget. But it's not suitable for those who don't already have a Smartproxy's residential proxy plan.
Kameleo
Kameleo is one of the top-tier anti-detect tools available in the market today. It supports all main web browsers: Firefox, Chrome, Safari, and Edge. It uses something called 'Base profiles,' which take popular fingerprint configurations and make minor adjustments.
You can create an unlimited number of profiles with any plan and automate the process with Selenium. Kameleo also offers an Android app to change your mobile fingerprint.
The downside of Kameleo is its slow customer support and inconvenient collaboration options. Your data is stored locally, and the plans only have one seat.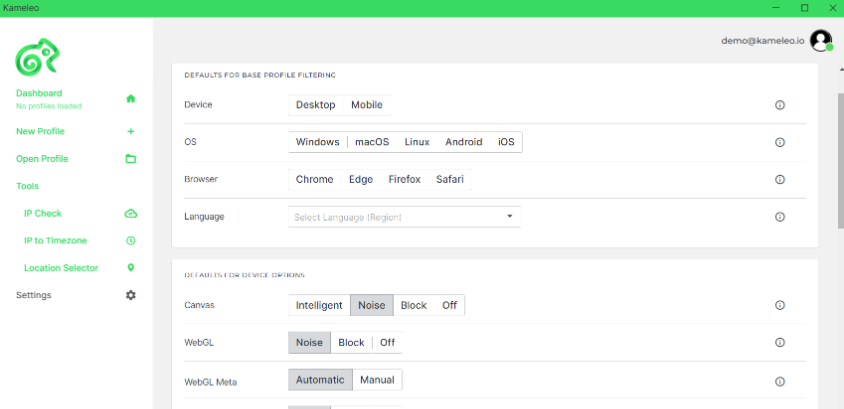 If you want to try this tool, a 7-day trial is available, and the pricing starts from €59 a month.
How To Pick The Right Anti-detect Browser
There is more than one anti-detect browser on the market that can help you with your multi-account strategy. But when it comes to choosing the right anti-detect tool for yourself, there are a few factors that you should consider:
Features
Different anti-detect browsers offer different features, so it's important to choose a tool that has the features you need. Some common features to look for include browser fingerprinting, IP switching, and user agent switching.
You should also keep an eye on the tool's primary selling point. Some tools like MoreLogin can handle multiple scenarios like social media platforms, affiliate marketing, e-commerce, cryptocurrency, and more, while others may only focus on one or two fields.
Price
Anti-detect tools can vary widely in price, so it's important to choose a tool that fits within your budget. Keep in mind that the most expensive tool may not necessarily be the best for your needs.
Ease of use
Some anti-detect tools can be quite complex and difficult to use, while others are more user-friendly. Consider your level of technical expertise and choose a tool that you feel comfortable using.
Support
It's important to choose an anti-detect tool that comes with good customer support. Look for a tool that offers documentation, tutorials, and responsive customer support in case you encounter any issues.
Reputation
Finally, it's important to choose an anti-detect tool that has a good reputation in the industry. Look for reviews and testimonials from other users to get a sense of how well the tool performs and how reliable it is.
By considering these factors and doing your research, you should be able to find an anti-detect tool that meets your needs and helps you manage multiple accounts more effectively.
Conclusion and Our Pick
In conclusion, using an anti-detect browser is crucial for anyone who wants to manage multiple online accounts effectively and securely. These tools offer a range of features and benefits, including protecting your online identity, preventing tracking and monitoring, and enabling you to manage multiple accounts seamlessly.
If we were to choose one anti-detect browser out of the top 5 products, we'd probably go with MoreLogin.
In our opinion, MoreLogin is an excellent anti-detect tool that stands out from the rest. It is easy to use, affordable and provides a variety of features that make managing multiple accounts simple and efficient. With MoreLogin, you can switch between accounts seamlessly, create and save account profiles, and avoid detection and tracking by websites and online services.
By using an antidetect tool like MoreLogin, you can take your online activities to the next level, protect your privacy and security, and maximize your income from content creation and other online activities. So, whether you are a marketer, content creator, or simply someone who values privacy and security online, MoreLogin is an excellent tool that can help you achieve your goals.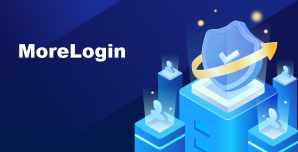 Antidetect browser for multi-account management on All platform.Securely manage account to prevent detection or blockage
Free trial