Got Your Accounts Banned by Multilogin? Use MoreLogin – The Most Advanced Anti-Detect Browser
Are you struggling with the account ban by MultiLogin? Learn about a more secure and powerful anti-detection browser in this article.
Cybercrime, which is an unjust act, is becoming a primary concern for internet users. No matter how secure the device you are using, hackers can still steal your private data. The most helpful way to secure your privacy is to use anti-detect browsers. Using these browsers, you can easily hide your IP address so that no one can locate your location and data.
However, some people who are using the Multilogin anti-detect browser to improve the security of their accounts are facing the issue of account bans by the server. If you are among those, read the article to the end to learn the causes behind account banning. Moreover, this article will also teach you about the most powerful anti-detect browser you can use instead of Multilogin.
Part 1: Why Your Account Gets Banned by Multilogin
Part 2: Why MoreLogin is Better than Multilogin
Part 3: Step-by-Step Guide to Buy and Use MoreLogin
Part 1: Reasons Why Your Account Gets Banned by Multilogin
Does your account gets banned when using Multilogin? If yes, don't hassle with it because many other Multilogin users face the same problem.
The cause behind the account ban is many, but the most prominent ones are discussed in the following:
● Violation of Terms and Conditions: Users must abide by the specified terms of service. Your account can be banned if you break any of these rules. The most common violation is to use anti-detect browsers for masking IP addresses. If you use a weak anti-detect browser, the platform or website will easily detect and ban your account.
● Suspicious Activity: When you access websites or platforms that are not meant for you by changing your IP address, then you face account flagging as suspicious. The ultimate result of this flagging is an account ban. The Multilogin anti-detect browser also masks your IP address, but it is incompetent at doing it perfectly. Thus, it leads to your account ban.
● Outdated Browser: Websites continuously update their policies to detect anti-detect browsers to improve security. That is why you should also use an updated anti-detect browser so they cannot be detected by any platform easily. If you are using an outdated anti-detect browser, then it may easily get detected by the website.
● Cookies Manipulation: To avoid detection by online platforms, anti-detect browsers manipulate cookies. If you are ever caught by a website while doing so, it will result in your account ban. Multilogin also manipulates cookies so that you can use more than one account on the same website. If it is not good enough at cookie manipulation, your accounts may get a ban.
Part 2: Why MoreLogin is Better than Multilogin
Undoubtedly, Multilogin is a good anti-detect browser, but if you are dealing with the issue of an account ban, it is recommended to use the best alternative. Here, we have come up with the most advanced anti-detect browser, which you can use very quickly. MoreLogin is an anti-detection browser that provides a secure environment for users to manage multiple accounts on the same website.
Furthermore, it provides you with multiple browser fingerprints that never overlap with each other. This means that your account will never get banned because of these indistinguishable fingerprints. Above all, this browser is also suitable for effective and efficient teamwork.
Comparison of Features of MoreLogin and Multilogin
It is wise to compare the features of two software if you are confused about which one to select. If you are facing confusion about whether to choose MoreLogin or not, then it is better to jump into the below-given table to reach a conclusion:
| | | |
| --- | --- | --- |
| Feature | MoreLogin | Multilogin |
| Interface | Delightful and Intuitive | Difficult to understand for newbies |
| Use Cases | Social Media, E-Commerce, Traffic Arbitrage, Cryptocurrency, Affiliate Marketing, and many more | Agency, Betting, Ticketing, Crypto, etc. |
| Safety | Highly Secure | Secure |
| Number of Profiles | Unlimited | 1000 profiles |
| Price | Starting from $9/month | Starting from €99/month |
| IP Provider | Dynamic | Dynamic |
| Customer Service | Active 24/7 | Give Delay Response |
Subscription Plans
Affordability is the primary concern of every user, due to which they mostly prefer such browsers that are less costly. MoreLogin is the most affordable anti-detect browser as it provides subscription plans at the lowest cost compared to Multilogin. In addition, MoreLogin offers more features in these plans, which proves to be the bright side of this browser.
The major advantage of choosing MoreLogin over Multilogin is that you can use the former browser for free to check its working. However, Multilogin anti-detect browser doesn't provide such a facility, and you have to buy it to use its features.
MoreLogin Subscription Plans
Package

Pricing

Base

$9/month (For 10 saved profiles)

$160/month (For 1000 saved profiles)

Custom

Contact to Sales
Multilogin Subscription Plans
| | |
| --- | --- |
| Package | Pricing |
| Solo | €99/month (For 100 saved profiles) |
| Team | €199/month (For 300 saved profiles) |
| Scale | €399/month (For 1000 saved profiles) |
User Interface
People are so busy in their lives that they hardly find time to learn about the software. They mostly prefer such anti-detect browsers that are easy to use and perform the task with a breeze. MoreLogin fulfills these demands of busy people by offering a user-friendly interface. Neither you require technical training nor have to take assistance from anyone to use this anti-detection browser.
In contrast, Multilogin can only be used when you are tech-savvy because its interface is not meant for new beginners. You have to go through tutorials to learn how to use Multilogin. Moreover, the features of this anti-detect browser are not displayed well, meaning you have to give your valuable time to find and use its features.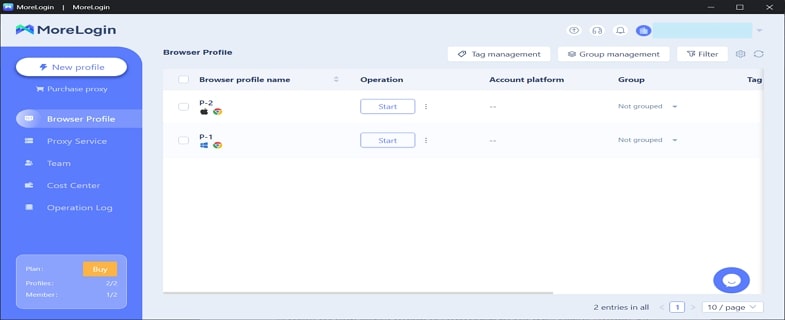 Safety
The safety of anti-detect browsers depicts how perfectly they are masking your IP address or securing your privacy. No user wants to use such anti-detect browsers, which are unsafe. As you are facing problems with a banned account, it means Multilogin is not providing secure browser fingerprints.
However, you will not face such an issue on MoreLogin because it masks your IP address entirely. Due to this, no website can detect whether your IP address is fake or not. Above all, this anti-detection browser is highly secure, meaning it doesn't steal or sell your private data.
IP Provider
As discussed earlier, if you want to measure the safety of any anti-detect browser, you should first look at whether it offers a stable or dynamic IP address. MoreLogin and Multilogin both offer dynamic IP addresses. However, the provided dynamic IP addresses of the Multilogin anti-detect browser are not unique enough to secure your privacy.
In comparison, the IP addresses provided by MoreLogin are highly unique and never get tracked by any website. It is because the browser fingerprints created by this anti-detection browser never overlap with each other.
Part 3: Step-by-Step Guide to Buy and Use MoreLogin
After reading all the fantastic features of MoreLogin, you will be excited to use this powerful anti-detect browser. If yes, then let's learn how to buy and use MoreLogin from the following:
Step 1: Download and Install MoreLogin Browser
Access the official website of MoreLogin and download the anti-detect browser. After downloading, follow the instructions of the Installer to install it on your computer. Launch MoreLogin and click the "Register a new account" option to create your account.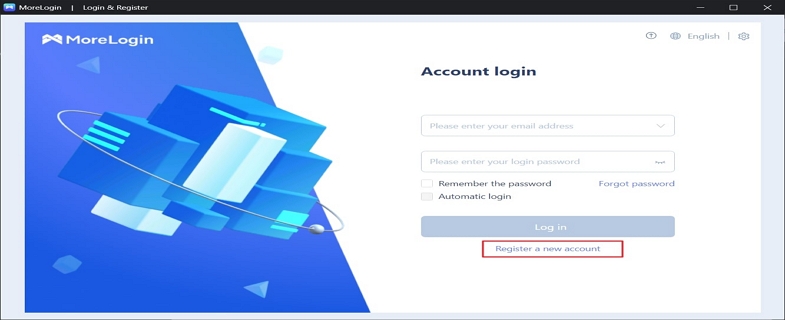 Step 2: Create a New Profile on the MoreLogin Browser
Following this, provide all the required information asked by the browser to complete the account creation process. Press the "New Profile" button present at the top left corner of the screen and fill in the required details. Once the profile is created, use the "Browser Profile" option to use the recently created profile.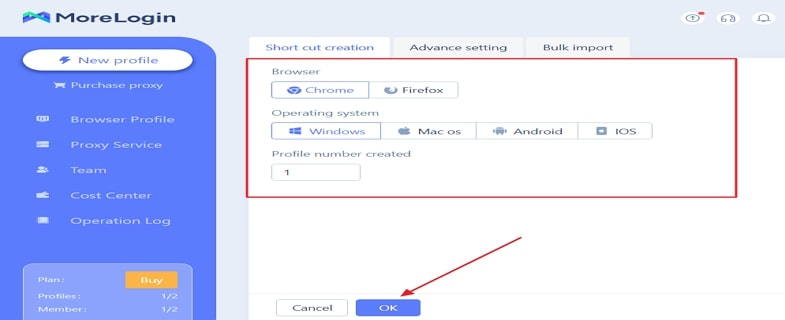 Conclusion
In a nutshell, using such anti-detect browsers, which don't offer good security for your private data, is useless. It is better to immediately switch to a better option that provides maximum protection for your privacy. Among all anti-detect browsers, MoreLogin is the advanced browser that doesn't let any of your accounts get banned.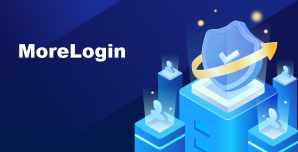 Antidetect browser for multi-account management on All platform.Securely manage account to prevent detection or blockage
Free trial