How to Use 922S5Proxy with Morelogin Browser
If you need proxy in your business and are looking for a better proxy, you are lucky to have the best proxy solution. The 922S5Proxy acts as a residen
If you need proxy in your business and are looking for a better proxy, you are lucky to have the best proxy solution. The 922S5Proxy acts as a residential SOCKS5 application program with over 200 million residential IP addresses and is updated regularly to provide the cleanest pool of IP addresses. Proxies come from more than 190 countries and regions to meet your global business needs.
l Click offical website
l Click "sign up" in the top right corner
l Register as a 922s5 user
922S5Proxy:indicates the basic information and advantages of the service
922S5Proxy is a large residential IP proxy service provider, covering 190+ countries and regions, with 99% IP purity, providing solutions for enterprise market research, data analysis, e-commerce and other business needs.
922S5Proxy is famous for its cost-effective service. Different from time/traffic billing IP reseller in the market, the IP you purchase is actually your own personal resources,which is very trustworthy.
The IP resources of 922S5Proxy are real residential IPs from countries around the world, with excellent speed, link stability, and security.You can choose IP from any country, city or operator to conduct business,it is suitable for business scenarios such as account registration, e-commerce, data collection, market research, SEO monitoring, Internet marketing, brand protection, advertising verification, etc. It can also be easily integrated with software such as antidetect browsers and simulators.
The main reasons why 922S5Proxy is popular with customers are as follows:
l 100% anonymous residential proxy
l according to the need to use, invalid IP will not be paid
l rising update proxy IP pool
l pay for IP number, rather than paying for traffic
Residential proxy primarily act as intermediaries, using IP addresses assigned by Internet service providers (ISP). Whenever a user accesses the Internet using a residential proxy, the residential proxy IP is displayed instead of your real IP. Unlike data center IP, residential IP is considered a true home IP, and using a residential proxy to access the Internet is more secure. Because the IP resources of 922S5Proxy are real residential proxy IP from all over the world, you will have more security when doing business, reduce the risk of being blocked and so on.
922S5Proxy is different from time/traffic charging IP reseller in the market. The IP you purchase is actually your own personal resources. 922S5 has a unique proxy connection protection system to ensure that you are connected to the proxy. You can filter the proxy IP address by country, region, city, and zip code on the application program. 99% of the proxies are checked and available, so you won't waste any proxy balance!
How Do I Use Morelogin Browser with the 922S5Proxy Service
Finally, to complete an overview of 922S5Proxy, we'll provide you with a simple explanation of how to set Morelogin browser to use a proxy that works for the service. Setup is simple and doesn't take much time.
Step 1
After ordering the service on 922S5Proxy, download and install the application program (windows/Mac OS/linux).922S5Proxy provides working information.
Step 2
Filters required regional IP addresses, forwards IP addresses to ports, and obtains the host address and port number bound to the IP address.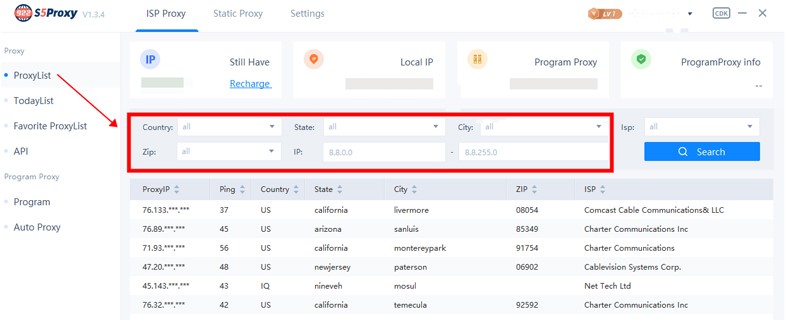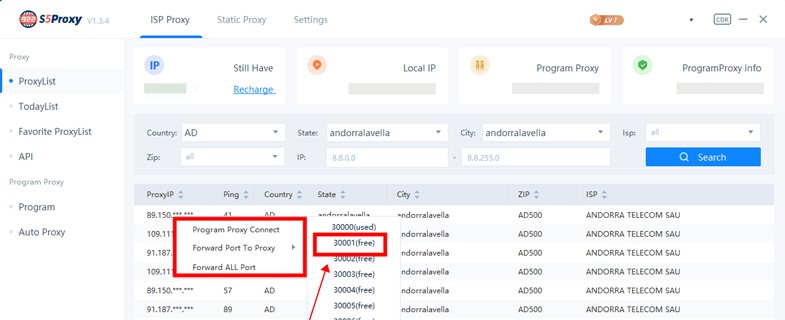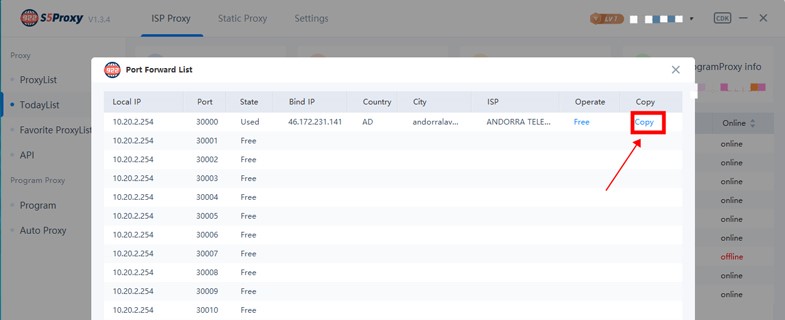 then enter this information into a Morelogin browser configuration file,This option is useful if you are using a small number of proxy - you need to enter the above data directly into the configuration file editing window, you can also click to view the complete guide to connecting 922s5proxy to Morelogin!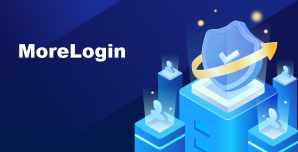 Antidetect browser for multi-account management on All platform.Securely manage account to prevent detection or blockage
Free trial