What are the Best Alternatives to MultiLogin for Free?
Have you been using MultiLogin but finding its packages too expensive? Read this article to find out the best free and cost-effective alternative to MultiLogin.
Anti-detect browsers like MultiLogin are trending in the market due to users' privacy concerns. These browsers help users ensure their privacy by not allowing websites to track or access their data. If you are also a user of the MultiLogin anti-detect browser but want to look for a cheaper option, this article is for you.
It will provide a better and cheaper alternative to the MultiLogin app. Moreover, you will also learn how anti-detect browsers help you earn money.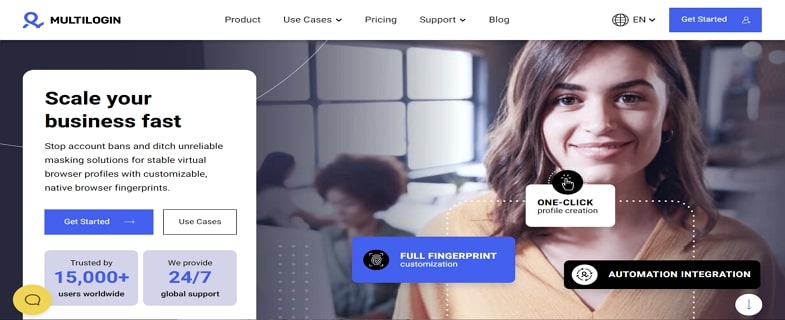 How Does The Anti-detect Browser Like MultiLogin Help Us Earn Money?
While anti-detect browsers like MultiLogin are known for their ability to protect your privacy, they are also a great way to increase your revenue. A few common fields where anti-detect browsers like MultiLogin Chrome can help you out are given below:
E-Commerce
If you are involved in e-commerce, using an anti-detect browser can greatly help you. Since most e-commerce platforms, like Amazon, eBay, etc., don't allow you to run multiple accounts, an anti-detect browser can solve this issue. With it, you can create multiple accounts and ensure all of your products are listed by you. It also allows you to create different profiles, which is helpful for big teams.
Affiliate
Browsers like MultiLogin are an excellent way to give new heights to your affiliate marketing. While companies like Google and Facebook restrict you to a single account, an anti-detect browser allows you to bypass this hurdle. With it, you can create multiple accounts and market your products much better. Moreover, it also allows you to capture more traffic and scale your business.
Ads/Online Advertising
Your ability to advertise your business or products online can be revolutionized by using an anti-detect browser. It will allow you to run multiple ad campaigns simultaneously aimed at different consumer groups. Using its multiple accounts feature, you can place multiple bids for ad placement, allowing you to get the placement at a favorable rate.
Agency
When starting an agency, competing against already existing giants in the field with low resources can be hard. Anti-detect browsers like MultiLogin let you compete by allowing you to create hundreds of profiles on different platforms. You do not need to think much about managing these profiles as you automate their process.
Arbitrage
Traffic arbitrage is a technique commonly used in the online advertising field. It is the process of buying traffic at a lower cost and redirecting it to a website or landing page for a higher monetization rate. Since many websites and platforms have policies against it, you will need an anti-detect browser like MultiLogin to do that. Using the browser will ensure there are no risks to your accounts.
Betting
Online betting is among the most prominent business sectors in the world. If you have adopted betting as a professional hobby, you can increase your odds of winning through anti-detect browsers. These browsers help you navigate the restriction imposed by betting platforms like Bet365. Using an anti-detect browser, you create hundreds of profiles and bet multiple times on both sides.
Ticketing
Using an anti-detect browser like MultiLogin allows users to use its ticketing technology widely. This feature lets you automate most of your tasks, like purchasing. With its help, you can set up your profile to buy things as soon as they are open for sale. This allows you to outperform your competitors and scale up your business.
Crypto
The crypto market has exploded over a few years and is considered to be the future. If you are also a part of this boom, using an anti-detect browser can be a blessing. You can create thousands of accounts using this browser to promote your cryptocurrency. You can also use these accounts to trade in the crypto platforms.
Part 2: Best Alternative to MultiLogin for Free – MoreLogin
MultiLogin, although stands as a well-known anti-detect browser, is not the only option. There are many browsers better and cheaper than it. Since you want to move from Chrome MultiLogin, we got an excellent replacement for you. It is an anti-detect browser called MoreLogin which provides more services and features at a very low cost.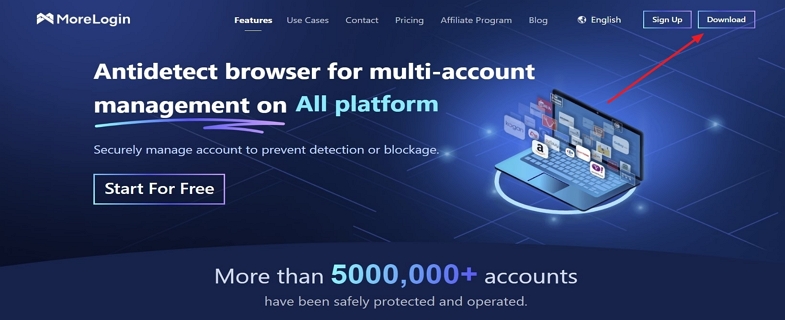 MoreLogin also comes with a free trial where you can access all of its features. Using this free trial, you can decide whether it is a worthy replacement. To learn about how much better MoreLogin is than MultiLogin, read the comparison of features below:
Features: MultiLogin vs MoreLogin
There is no better way to determine which product is best than a comparison table. It is a short and quick summary of the main competing features of two products. That's why the comparison table below will help you discover the advantages of MoreLogin over MultiLogin.
| | | |
| --- | --- | --- |
| Feature | MoreLogin | MultiLogin |
| Interface | Clean & Use Friendly | Simple |
| Target Customer | Affiliate Marketing, Cryptocurrency, Traffic Arbitrage, Social Media, etc. | E-commerce, Social Media, Cryptocurrency, and much more. |
| Number of Profiles | Unlimited | 1000 saved profiles (Maximum) |
| Price | Starting from $9/month | Starting from €99/month |
| IP Provider | Dynamic | Dynamic |
| Customer Service | Collaborative | Poor |
| Safe | Highly Secure | Secure |
Price: MultiLogin vs MoreLogin
Since the price is your main contention with the MultiLogin app, you will find the price of MoreLogin to be acceptable. Apart from offering you a free trial with all features, its prices are also extremely. Compared to starting to the €99/month starting package of MultiLogin, MoreLogin starts its prices from $9/month.
Moreover, you can buy more than 4 times the number of profiles for double the users at the same price as the starting package of Chrome MultiLogin. It makes the MoreLogin anti-detect browser the best option to ensure your privacy and increase business.
MoreLogin Pricing Plans
Package

Pricing

Base

$9/month (For 10 saved profiles)

$160/month (For 1000 saved profiles)

Custom

Custom
MultiLogin Pricing Plans
| | |
| --- | --- |
| Package | Pricing |
| Solo | €99/month (For 100 saved profiles) |
| Team | €199/month (For 300 saved profiles) |
| Scale | €399/month (For 1000 saved profiles) |
User-Friendly Interface: MultiLogin vs. MoreLogin
Given the average tech knowledge and skills level of most users and business owners, an anti-detect browser needs to be easy to use and understand. In user interface comparison, MoreLogin scores the highest, given its clean and delightful outlook. All the features are appropriately placed with the important highlighted. Most processes in MoreLogin also require a single click.
In Comparison, MultiLogin can be a bit complex for new users. It seems to be more aimed at experts and large teams. For everyday users, it can have a steep learning curve. As for the features, while it has many, most seem too sophisticated. It isn't to say that MultiLogin is not an excellent anti-detect browser.
Product Target Customers: MultiLogin vs. MoreLogin
What you use your browser for is also essential. Any great browser needs to be at its best in the field of its expertise. While looking at the targeted customers of both browsers, you will find them to be almost identical. It makes MoreLogin even a better choice if you are moving from MultiLogin Chrome.
Both of these anti-detect browsers provide services for e-commerce, social media, affiliate marketing, cryptocurrency, and many more. What makes MoreLogin better than its competitor is that it excels in all these fields.
Number of Profiles: MultiLogin vs. MoreLogin
Regarding the number of profiles offered by these anti-detect browsers, MoreLogin wins with an unlimited number of profiles. That is due to the highly scalable nature of MoreLogin, which can be adjusted according to your needs. Whether you want 1000 profiles or 10000, it is always there.
The MultiLogin browser, on the other hand, offers only three packages with 100, 300, and 1000 profiles, respectively. It means that the maximum limit of profiles you can get is capped at 1000, forcing you to look elsewhere if you need more.
Stable IP Provider: MultiLogin vs. MoreLogin
IP address masking is one of the essential techniques anti-detect browsers use to protect your privacy. It makes the IP-providing system a highly important factor. Most browsers use two types of IP addresses, dynamic and stable. For anti-detect browsers, a dynamic IP address system is recommended.
The reason for preferring a dynamic IP address system is it changes the IP address periodically, which makes it harder for sites and others to track users. Both MoreLogin and MultiLogin use dynamic IP address systems. However, MoreLogin has a better and more regularly updated set of IP addresses than its rival.
Support Service: MultiLogin vs. MoreLogin
Customer support becomes essential if the anti-detect browser you bought is not working as it should. Finding the causes behind this issue and resolving it is easier if robust customer support is available. MoreLogin provides a superb 24/7 support service that is always there to resolve any you face while using this browser.
Conversely, MultiLogin also provides support services for its users, but there have been complaints about it. Many users in the reviews have complained about the lack of proper support from the customer service of the MultiLogin app.
Safe: MultiLogin vs. MoreLogin
MoreLogin is comparatively safer than MultiLogin. It achieves this feat by employing the best strategies to ensure users' privacy. These strategies also ensure that websites and platforms are unable to detect that you are using anti-detect browsers. It scores better in all standard safety tests on the internet, like ipdog.io. While MultiLogin is secure, its safety measures don't justify the price.
Part 3: Simple Steps to Use MoreLogin
It is not only the fantastic features for which MoreLogin is known; it is also extremely easy to use and handle. You can download and buy it without any complex process. Follow the steps given below to use MoreLogin anti-detect browser on your system:
Step 1: Download and Install the MoreLogin
Visit the official website of MoreLogin and click "Download" from the top right corner to download the browser. After it is downloaded, install and launch it on your computer.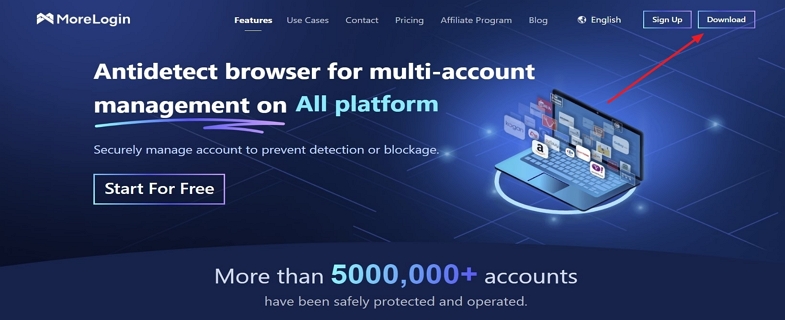 Step 2: Register Your Account on the MoreLogin
Once it is launched, you will be asked to log in or register. To register, click "Register a new Account" and register yourself on MoreLogin. During the registration process, you will be required to provide an email, verification code, and password.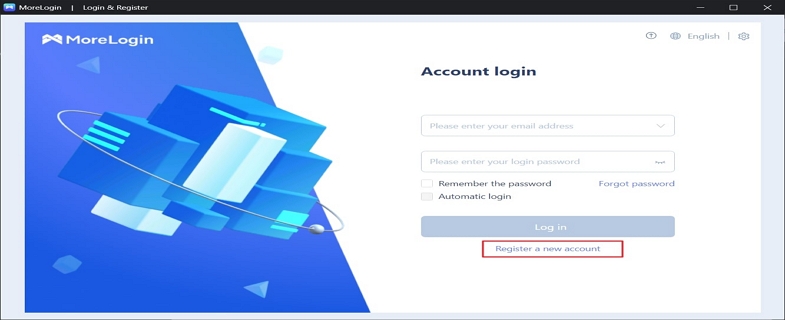 Step 3: Create a New Profile and Start Using MoreLogin
After registering and logging in, click "New Profile" from the top left corner and set up your profile. Once it is created, tap "Browser Profile" from the left side toolbar and select the profile you create by pressing "Start." It will launch a dedicated browser for that profile where you can safely surf the web.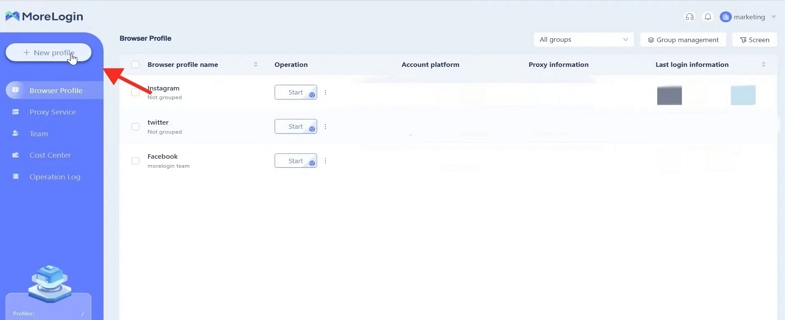 Conclusion
To sum this article up, we can say that apart from protecting your privacy, anti-detect browsers like MultiLogin and MoreLogin are also excellent for your business. These will allow you to fully utilize all the techniques and expand quickly. Comparing MoreLogin and MultiLogin also proved that you don't need to pay more for better service. MoreLogin provides all you need at an affordable cost with better services.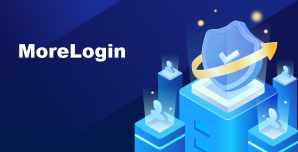 Antidetect browser for multi-account management on All platform.Securely manage account to prevent detection or blockage
Free trial