Make Money by Making Instagram Account for Sale with MoreLogin
Are you interested in making money by creating Instagram accounts for sale? In this article, you will find the best anti-detection browser to create multiple accounts without any limitations.
Nowadays, everyone is looking for ways of making money by sitting at home. The easiest way of earning money is to sell an Instagram account. This method of earning is grabbing the attention of more and more people.
However, selling a single Instagram account is not a good idea because you cannot earn a handsome amount by doing so. That is why you have to create multiple accounts to earn more money. This article will help you create multiple fake Instagram accounts for sale on a single device.
Benefits of Selling Instagram Accounts
You have seen advertisements of Instagram accounts for sale. Many of you think the account owner got bored with Instagram, which is why they are selling it. However, the real story behind it is something else. Here the benefits of selling Instagram accounts are discussed. Please have a look:
· Financial Benefits: When you sell an account with a large following, you get significant money. The reason is that most of the well-known businesses are in search of such accounts which already have more followers. By buying Instagram accounts, they efficiently promote their product to a large audience with minimum effort.
· An Opportunity for New Start: Sometimes, you want to create content on a new niche. Instead of deleting the old content, it is wise to create a new account with a different focus and sell the previous one. The amount you get by selling the old account can be used for useful purposes.
· Instant Audience: By selling Instagram accounts to business individuals, you help them gain an instant audience without any effort. Now, with your accounts, they can quickly reach a large number of potential customers in no time. Moreover, the instant excess to the pre-existing audience will boost their sales in a few days.
· Time-Saving: Some people don't have time to increase their Instagram followers. If you are among those, you can avoid the effort required to build a following by selling your Instagram account. By doing so, you will not only save time but also receive financial benefits.
· Boost Credibility: When you sell Instagram account with a large audience to a business, you boost the credibility of that business. This is because people trust those accounts which have more followers as compared to those accounts which are short of followers.
· Cost-Effectiveness: People find established Instagram accounts more cost-effective than creating a new account from scratch for promoting their business. Thus, selling your account with a high following will be beneficial not only for you but also for the buyer.
· Exposure to New Audience: Sometimes, sharing content with the same audience doesn't excites you. It is better to buy Instagram accounts to interact with a new audience. Moreover, this will also help you get rid of those followers which you don't like at all.
· Increase Cross-Promotions: Selling Instagram accounts to businesses is very beneficial because it provides opportunities for cross-promotion. The buyer can now promote the product on the new account and also on the previous one, due to which both accounts start growing together.
How Many Fake Accounts Can You Create on Instagram with 1 Device
After learning why people post Instagram accounts for sale on their account. Now, let's find out how many fake accounts you can create on Instagram with a single device. Instagram allows you to create up to 7-10 accounts from a single device. However, if you try to create more than the specified accounts, you may get limitation errors from Instagram.
Create Multiple Fake Accounts on 1 Device Without Getting Any Limitation Warning
If you wish to create multiple fake accounts on a single device without getting any limitation warnings, go for the MoreLogin anti-detect browser. This anti-detect browser helps you create and manage as many accounts as you want on the same platform. Moreover, this anti-detection browser is straightforward as it has a user-friendly interface. With just a few taps, you can create multiple fake Instagram accounts without fearing a ban.
Features of MoreLogin Anti-Detect Browser
Instead of buying an Instagram account, create your account by using MoreLogin. This anti-detect browser is perfect for managing multiple accounts of not only Instagram but also TikTok, Twitter, Facebook, and Amazon accounts. You can find more of its exciting features from the following:
· Mask IP Address: MoreLogin anti-detect browser perfectly masks your IP address, due to which no one can track your actual location. By doing so, no one can track which accounts you are using from your device.
· Provide Unique Fingerprints: The browser fingerprints provided by MoreLogin are unique, due to which they never overlap with each other. Moreover, this browser continuously updates fingerprints to maintain their uniqueness. You can use these fingerprints to create multiple fake accounts on Instagram.
· Allow Multiple Account Management: This anti-detect browser allows you to manage multiple fake accounts of Instagram on a solo device without the risk of data breaches. Using it, you can access any of your Instagram accounts anytime and use more than five accounts on the same browser.
· Offer Secure Environment: MoreLogin never compromises your privacy, which means it doesn't leak or sell your private data. You can safely surf the internet and manage multiple accounts with this secure anti-detect browser. Moreover, you can also sell these accounts by posting Instagram accounts for sale.
· High Use Cases: The use cases of MoreLogin are very high compared to other anti-detection browsers. You can use it for affiliate marketing, traffic arbitrage, e-commerce, social media, and other purposes.
· Promote Effective Teamwork: If you want your team members to operate your multiple accounts of Instagram, MoreLogin is the best choice. It allows team members to manage different accounts efficiently and effectively without compromising privacy.
Guidelines to Create Multiple Instagram Fake Accounts Using MoreLogin
Are you buying Instagram accounts? Why not create your own by using MoreLogin? As discussed earlier MoreLogin allows you to create multiple fake accounts in just a few clicks. Let's find out from the following how you can create multiple Instagram accounts:
Step 1: Download and Install MoreLogin Anti-Detect Browser
Access the official website of the MoreLogin anti-detect browser and click the "Download" button to download the browser according to your operating system. Once downloaded, install it on your device following the installer's instructions.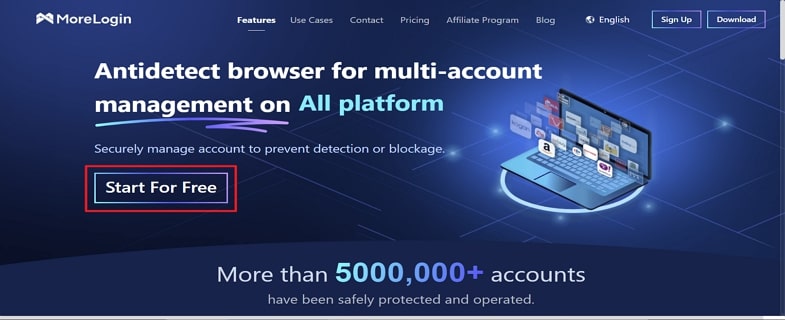 Step 2: Register a New Account on MoreLogin Anti-Detect Browser
Afterward, launch MoreLogin on your device and select the "Register a new account" option to create your account on it. After creating an account, log in to your registered account by providing the email address and password.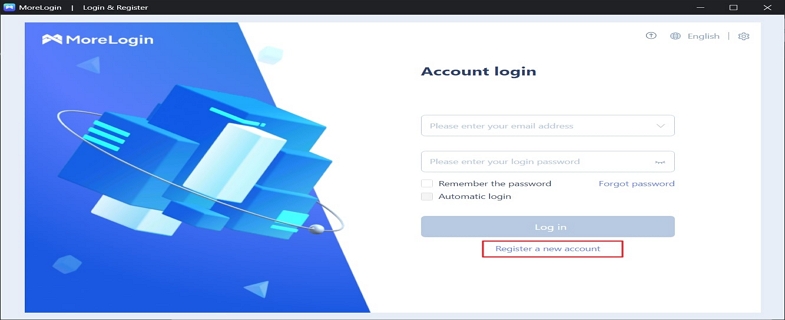 Step 3: Create a New Profile on MoreLogin Anti-Detect Browser
Tap the "New Profile" button available at the top left corner and provide the asked details. Once done, press the "Browser Profile" option and hit the "Start" button present in front of the newly created profile.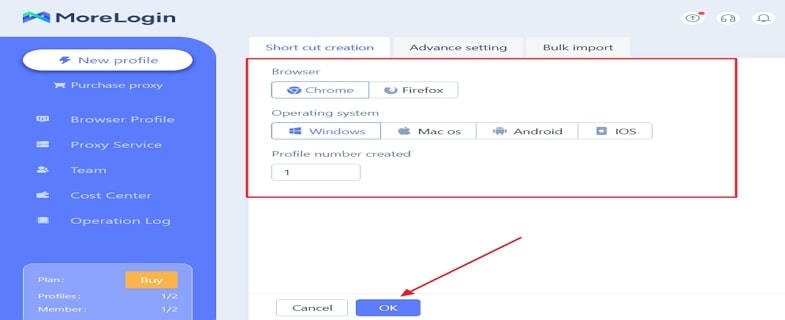 Step 4: Create Multiple Instagram Accounts
A fully customized browser window will open, access Instagram from there and create a new account on Instagram. Following the same process as discussed above, you can create as many new profiles as possible and use these profiles to create new Instagram accounts.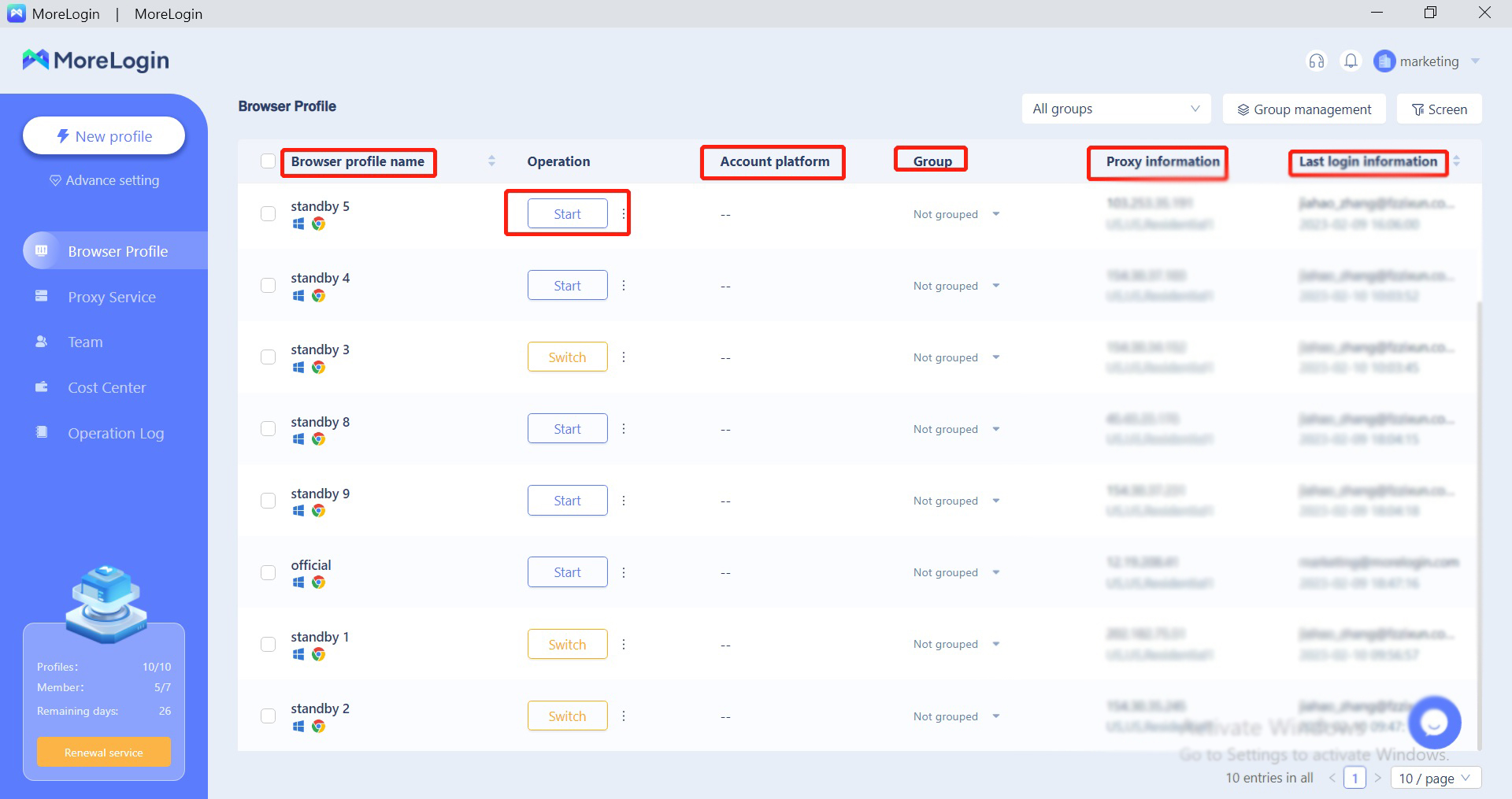 Conclusion
In short, there are many ways of making money. However, the trendy one is to sell Instagram accounts. If you have an account with a huge following, you can quickly get money by selling it. You can create many Instagram accounts for sale by using MoreLogin anti-detection browser. After creating multiple accounts, you can use them for business purposes or sell them once they are fully established.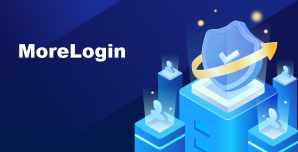 Antidetect browser for multi-account management on All platform.Securely manage account to prevent detection or blockage
Free trial