Ways to Avoid Google Suspended Your Google Ads Account
Do you fear suspending your Google Ads account for no reason? Find out how to avoid it according to the ways provided in the article.
PPC (Pay-Per-Click) marketing is a highly effective field, and every business in the present generation dreams of achieving the top rank on search engines. Many businesses compete worldwide for the same goal, to achieve higher traffic. It makes them spend millions of dollars on Google Ads and even carry out practices that Google disapproves of.
65% of people click Google Ads when they visit an online shop while making a purchase. So, the amount businesses spend is fully justified, but Google also implements strict policies to eliminate any fraud or false ads. Getting a Google Ads suspended email is very frustrating, but there are ways to keep your account safer. Explore this article to learn all about avoiding Google Ads suspension.
What Happens When Google Suspends Your Account
First, you will receive the following prompt:
Your account has been suspended due to a violation of our Terms of Service

Your account has been suspended due to suspicious activity

Your account has been suspended due to unpaid balance

Your account has been suspended due to circumventing systems

Your account has been suspended due to unacceptable business practices
Getting a Google account suspended puts you in a very complex situation, especially if you run a business and have spent a lot on it. But what happens when your account gets suspended out of nowhere? All the Ads you have advertised stop at once. They get removed from every Ad group and Ad campaign within the Google network.
It means the customers or the audience will no longer be able to visit your landing page or the website you linked with that Ad. It can put significant damage to your business. Furthermore, if the Ads do not even violate any term or policy, they get suspended too. But your organic traffic remains the same and unaffected. So, you do not need to panic much as you will not lose your current audience.
Why Google Suspend Your Ad Account
Google Ads suspended account puts all your hardworking and investment in vain. The reasons could be any. Most of the time, you need to become more familiar with what you have done wrong or breached which policy. As tracking the exact reason is difficult, the best way is to keep a good check on your Ads to prevent any suspension.
Check the reasons below and analyze if your suspension can relate to any. Also, look at the solutions to eliminate any future account suspension.
Policy Violations
Suppose you promote any illegal products and mislead people with deceptive Ads, also if you engage in data collection that is unauthorized by Google.
Solution: Review Google's policies in detail and comply with your websites, pages, or products according to them.
Suspicious Activity
In case of a sudden spike in traffic or any unusual activity, such as a change in Ad spending, your Ad account gets suspended to protect you and the users from any potential fraud.
Solution: Contact Google support and provide all the related documents for account verification and resolving the issue.
Billing Issues
If your card is expired or you run out of funds at the time of payment, your account gets suspended immediately to eliminate any misleading use of the account.
Solution: Keep a check on your billing information and pay back any outstanding payments.
Low-Quality Ads
Having a low score for the Ad's quality and irrelevant user experience will also result in account suspension.
Solution: Review the Ads occasionally and make any necessary adjustments and improvements to increase the quality score.
Intellectual Property Infringement
It includes implementing or copying/pasting the copyrighted material in your ads without permission.
Solution: Get permissions for the content you want to use or make unique and original content in your Ads.
Non-compliance with Google Ads Policies
In case your ads or account does not comply with the terms and conditions outlined by the Google Ads policies.
Solution: Review the Google Ads Policies and make sure to meet all the requirements mentioned.
Invalid Clicks or Impressions
Your account will be suspended if invalid clicks on your Ads are detected, such as those by bots or click forms.
Solution: Keep monitoring your Ads activity regularly, and if you notice any suspicious activity, report it to Google immediately.
Multiple Account Violations
In case you have multiple accounts for the same Ads under your name, even if one of the Ads breaches the policies, all the linked accounts will also get banned.
Solution: Review your Ads and accounts and ensure everything is in perfect order and the Ads are updated and not misleading.
Advertiser Identity Verification Issues
If Google cannot verify that the account belongs to you, it will suspend the account without notice or a warning. It keeps on checking that advertisers are verified.
Solution: Contact Google support and ask them to re-verify your identity for the Ads. You should provide them with the necessary documents and ask for their assistance.
Landing Page/Website Issues
The irrelevance of content on your landing pages or websites, or if they take too much time to load, and if the content needs to be more accurate, Google will immediately suspend the account.
Solution: Keep your content on the website and landing pages updated. Also, ensure that your landing page content is completely relevant to your Ads.
How to Open Another Google Ads Account After Suspension
Creating a second Google Ads account might seem simple, but it is way more complex than you think. If your account gets suspended for some reason, and you try to create another using the same email, it will get suspended too. Even if you try to change your email address, Google with detect your IP address and the website address. If they match your previous account, it will get suspended.
We have one for you if you are still trying to figure out the solution. MoreLogin is an anti-detect browser to manage multiple accounts across all platforms. With the help of MoreLogin, you can open another account and avoid Google Ads suspended account. It securely manages your account and prevents any IP address or website address detection or blockage.
It enables you to establish an effective online business presence through multiple Google Ads accounts. With that, let's sneak a peek into the features that MoreLogin offers.
Key Features That Make it the Best in Market
· Fingerprint Spoofing: MoreLogin modifies your browser fingerprint to help you avoid the collection of your data across multiple websites. Changing your fingerprint makes it more difficult for Google to track and profile you in the suspended Google Ads category.
· Anti-Detect Spoofing: An anti-detect browser like MoreLogin can disguise your device's IP address while using a Google Ads account to appear like a different device or website address, making it more difficult for Google to track and identify you.
· Multiple Accounts: It provides the safest environment to manage multiple Google accounts using a solo device. You can use it as an all-in-one platform and organize your business.
· Teamwork Management: All your team members can now create separate accounts on a solo device using the MoreLogin anti-detect browser. If you are a business and want your partners or employees to run the Google Ads accounts, you can make use of a solo device to work effectively without compromising privacy.
How to Manage Multiple Google Ads Accounts
To manage multiple Google Ad accounts without the fear of getting suspended, head over to MoreLogin and secure yourself from any detection. Follow the steps below to get started using multiple Google Ads accounts:
Step 1: Download and Register MoreLogin Account
From the official website of MoreLogin, look for the installer package for the device you are using and download it. Once the MoreLogin installer is downloaded, launch it. Select register account from the login options, fill out the details form and register yourself.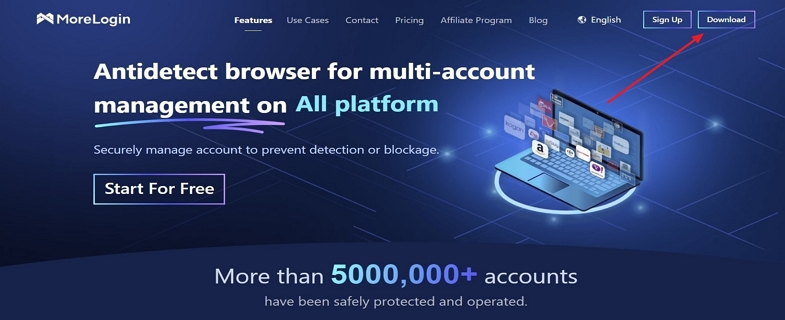 Step 2: Set the Preferred Settings to Create a Browser
Select the "Short Cut Creation" tab and set the "Browser" and "Operating System." Next, type the number of profiles to create in the "Profile Number Created." Afterward, click "OK" at the bottom of the screen.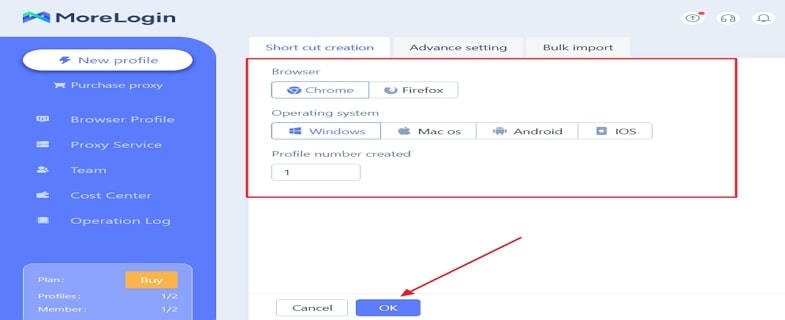 Step 3: Activate the Anti-Detect Browser
Now, on the "Browser Profile" page, look for the new browser profile, and click the "Start" button. Wait for a few seconds, and the new MoreLogin browser will open.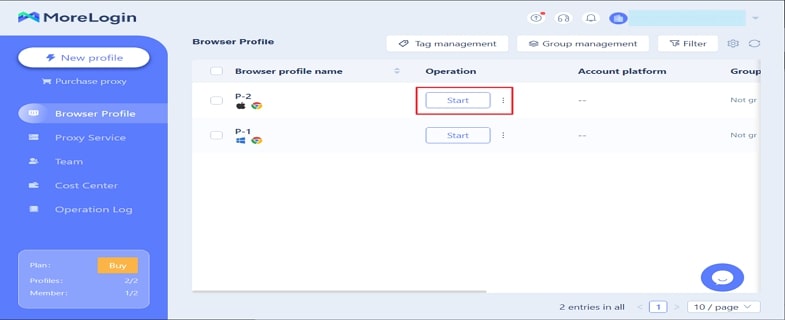 Step 4: Register Your Account with Google Ads
Following this, type https://ads.google.com/ in the search bar and press "Enter." Now click "Start Now" at the top-right corner. Fill in the business details, register yourself to make an account, and start using it without fear of getting suspended.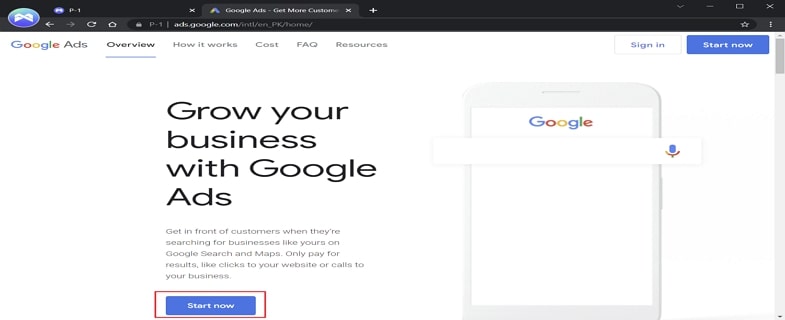 Conclusion
Setting up a new Google account could be problematic if your previous account is suspended. However, your IP address gets detected, and there is little you can do. The best is to keep checking your original account and implement the 10 solutions above. But if your Google Ads account is suspended already, then MoreLogin has covered you. Get this software today and stop worrying about getting banned by Google.
For more information: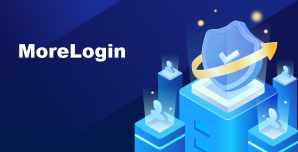 Navegador Antidetect para la gestión de múltiples cuentas en todas las plataformas.
Prueba gratuita