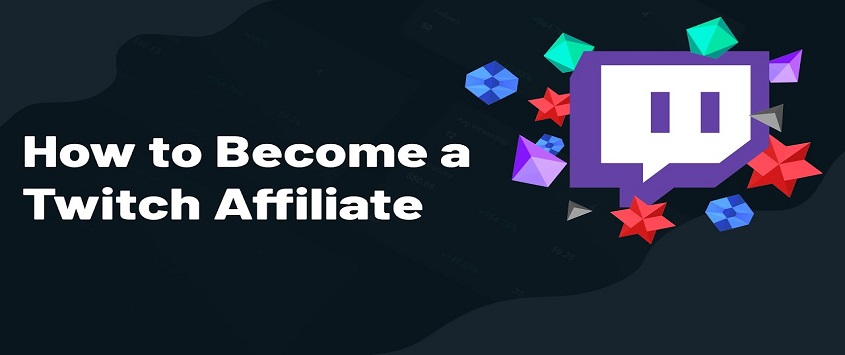 Tips to reach Twitch affiliate requirements and double your income
Are you a content creator looking forward to monetizing your channel? Then, it's time to join the witch affiliate program. The affiliates explore numerous perks as a Twitch partner. Moreover, there are potential ways to double their income. In this post, let's learn more about what does affiliate mean on Twitch, its perks, and other facts and tips to drive income.
Are you a content creator looking forward to monetizing your channel? Then, it's time to join the witch affiliate program. The affiliates explore numerous perks as a Twitch partner. Moreover, there are potential ways to double their income. In this post, let's learn more about what affiliate means on Twitch, its perks, and other facts and tips to drive income.
Dive into the below sections to learn how to get an affiliate on Twitch in a short time. So, let's get started.
Part 1: What are the Twitch affiliate perks
1.1 Definition of Twitch affiliate
A Twitch Affiliate is a content creator defined as a qualified streamer who sources income by streaming various content. These affiliates stream live video games, musical broadcasts, and creative content to earn money. This is what does Twitch Affiliate mean. The Twitch Affiliate program allows only verified and qualified streamers to monetize their channels.
The content creator should become a part of the Twitch affiliate membership. This program is the pathway that helps content creators to improve their channels and monetize them. It is an excellent opportunity for streamers to turn their incredible hobbies into their source of income. The creators must know how to become affiliates on Twitch before starting.
1.2 What are Twitch affiliate perks
Being a Twitch Affiliate is like unlocking a plethora of perks. Streamers receive extra emotes and financial support, drive the fans to subscribe to the channel, and enjoy sixty days of past broadcast storage. Remember that Amazon owns Twitch so you can unlock many Twitch affiliate perks. Moreover, brands take a chance to partner with streamers to promote their services. Let's discuss the potential benefits of Twitch Affiliate.
Generate revenue with Twitch's built-in tools.
Streamers get the opportunity to generate revenue from different means. This is what is a Twitch affiliate attracted by. With the help of built-in tools, you can set up your page where viewers can send tips. Most transactions occur through Twitch's features, such as paid subscriptions, ad revenue, and Bits. Twitch Prime is another excellent feature that lets the viewers purchase a subscription for free, and then the streamer gets paid.
Streamers can stream anywhere.
The best thing about being a Twitch Affiliate is you can stream anywhere. Streaming on YouTube and Mixer is highly preferred, and Streamers take this advantage to reach more followers. This is about what do you get with Twitch affiliates.
Get perks of custom emotes and ad-free viewing
Custom emotes are a fun reward that lets the viewers of a specific streamer share their fandom. Only qualified offer emotes or implements the Channel Points system. Viewers watch free ads to support their favourite streamers, and the streamers get paid through the ad revenue from each view.
Stay profitable with subscriptions
Subscriptions are a lucrative opportunity for an affiliate. After becoming a Twitch affiliate, you can set up subscription tiers. In these offerings, you can integrate benefits for your trustworthy supporters. You can also give Subscriber Emotes at different subscription levels.
Pathway to reward people's time
The major attraction of being a part of an affiliate program is the capability to establish a clear connection with the users. With the help of channel points, you can improve the ability for content subscriptions. This inspires content creators to focus on how to become a Twitch affiliate. Also, the viewers will quantify and support and spread your content. Also, you can measure how you are heading forward to boost engagement with your work.
Part 2: How much does a Twitch affiliate make
People are excited to know how to become an affiliate on Twitch based on the earnings of top affiliates. Twitch affiliates and their subscription payments result in a generous 50% $4.99 monthly cost, and Twitch takes the other 50%. Top streamers make between $3,000 to $5,000 monthly, streaming for around 40 hours a week. It doesn't include ad revenues, around $250 for every 100 subscribers.
2.1 List the top Twitch affiliate making
Here is the list of the top 10 Twitch Affiliates and their earnings;
PewDiePie
Felix Arvid Ulf Kjellberg is the top YouTuber famously known as PewDiePie. He has a whopping 100 million subscribers on his channel. He is the most successful Twitch partner, and he was listed among the highest-paid Twitch streamers. He generated more than $42 million by selling merchandise. He has made his own PewDiePie merch store, which is also one of the most famous. His immense number of followers excites people to know how many followers it takes to get an affiliate on Twitch.
Nickmercs
Nicholas Kolcheff is known as NICKMERCS, famous for streaming Call of Duty: Warzone. He also streams Fortnite Battle Royale and Apex Legends. He has over 6.2 million followers on his channels. On average, NICKMERCS stays active for 5.7 days. Moreover, he has already completed 11,000 hours of streaming. His estimated revenue is $9M.
Syndicate
Famously known as Syndicate, aka Tom Cassell, is listed among the top Twitch gamers. He earned a whopping revenue of $8M. Syndicate usually streams Call of Duty: Warzone, and he has even streamed Call of Duty: Black Ops 4 Black Ops Cold War. He is recognized as one of the top gaming influencers on YouTube.
Pokimane
Here comes the top female streamer who earns a revenue of $3M. Her behind-the-screen name is Imane Anys, and she is a Moroccan Canadian. She reached Twitch fame in 2017. She is famous for streaming League of Legends and Fortnite, and Pokimane has also received Shorty Awards as the Best Twitch Streamer of 2017. Her journey is inspiring young female streamers about how to become affiliate Twitch.
Summit 1g
Summit 1g (Jaryd Russell Lazar) is a popular Twitch streamer with over 6 million followers. He is well known for streaming racing games. Moreover, he is one of the top-rated streamers of Grand Theft Auto V. He also streams other games such as FPS games, iRacing, and Assetto Corsa. He is an active streamer who has streamed over 16,308 hours. His estimated revenue is $7.5M.
xQc
xQc is a full-time Twitch streamer from Canada. He streams League of Legends, Minecraft, Apex Legends, and Grand Theft Auto V. He is one of the great streamers of this generation, with massive 10 million followers. He was also part of Team Canada, which reached the Overwatch World Cup Final. He earns a revenue of $9M.
TimTheTatman
TimTheTatman is a famous American gamer and a great internet personality. He has been streaming on Twitch for 9 years, and he has more than 7 million followers. TimTheTatman has won the Gamers' Choice Award for the Fan Favorite Male Streamer. He is one of the most popular streamers, who has earned a revenue of $10M.
Ninja
Ninja is one of the famous professional gamers who stream Fortnite, Halo Infinite, and Halo 3. His real name is Richard Tyler Blevins. He has a massive fan base of 17 million followers on Twitch. Ninja has participated in e-sports teams, and his Fortnite streaming received likes from Drake and Travis Scott. Ninja has made 80% of his revenue from subscriptions.
Shroud
Michael Grzesiek, famously known as Shroud, has a massive 10 million followers. He is popular for streaming PUBG, Counter-Strike: Global Offensive, H1Z1, The Culling, and Tom Clancy's The Division and Rainbow Six Siege. He also won the Game Awards' Content Creator of the Year award in 2019.
Tfue
Tfue is listed among the most followed Twitch streamer list, with 11.4 million followers. He was the only Fortnite streamer who rivaled Ninja in 2018. He is a top-rated American streamer best known for playing Fortnite. His estimated revenue is $6 million.
2.2 Tips to double your income as Twitch affiliate
There are many ways to double your income with a Twitch affiliate account. MoreLogin is one of the efficient ways to make profits. It offers an excellent way to manage multiple accounts which doubles the income. Here are the ways to stay more profitable;
Multiple affiliate accounts
Streamers can have multiple Twitch Affiliate accounts and should meet specific criteria for this. It is also a great medium to double the income. With the help of MoreLogin, you can securely manage multiple affiliate accounts on one device. It will be a convenient way to create browser profiles and securely log into the account. Here, each profile will act as a new physical device eliminating the risk of account suspension. So, today get started with MoreLogin to create multiple accounts.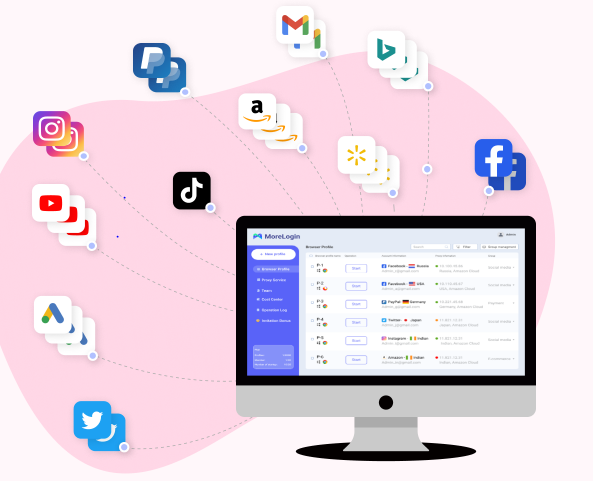 Twitch streamers can double their income by accepting sponsorships. Streamers accept sponsors to promote the products of top brands and niche-specific companies. Then, the streamer is paid a one-time fee from the portion of the campaign.
Merchandising is also a good source of income for Twitch affiliates. Large broadcasters have the chance to sell merchandise directly. When the team on Twitch grows, the streamers can create their own merchandise after they proceed to Twitch to apply for affiliate.
Twitch streamers can double their income by taking advantage of affiliate marketing. Just by integrating links to products, the streamers can promote the brand. The streamer will earn a commission when a visitor purchases with these links.
Part 3: Tips to reach Twitch affiliate requirements
To become a Twitch affiliate or partner, there are some specific requirements the streamers must need to reach. Here is the list of Twitch affiliate requirements to join the Affiliate Program:
Reach 50 Followers – The fastest way to reach 50 followers is by streaming consistently. Moreover, you can prefer to advertise streams on social media platforms such as TikTok and Instagram. But, the content creators must know how to apply for affiliates on Twitch prior to this.
Stream for 8 hours
The streamers should maintain daily live streaming for 8 hours, and this will help reach more audiences and keep them active on your chat. This is what do you need for affiliate Twitch.
Stream on 7 different days
Streamers have to stream on 7 different days for 30 days. It will help them to achieve the affiliate. Make your schedule and stick with it to reach affiliate requirements Twitch.
Have an average of 3 viewers.
At least an average of 3 viewers is a must on live streams to become a Twitch affiliate.
So, if you are wondering how to reach Twitch affiliates, you must meet these criteria.
Conclusion
The Twitch affiliate program aims to bring talented streamers and help them reach their goal. It makes them more passionate as content creators and allows them to form a vast fan base. It is not only a way to earn income but also a way to become a popular figure. If you dream of reaching this achievement and are thinking about getting a Twitch affiliate, get started Twitching right away and follow the above tips to become an affiliate.
New Feature to Uplevel Team Management in MoreLogin: Group Authorization
Предыдущий
What is MoreLogin Antidetect Browser and How to Add AstroProxy In It
Далее