Keep Getting Banned on TikTok Ads? Get Yourself a Residential Proxy by antidetect browser
Tired of getting banned from TikTok Ads? Learn the potential reasons for the ban. Also, get your hands on an anti-detect browser and achieve your advertising goals.
Day by day, TikTok is becoming one of the most popular social media platforms around the globe, with millions of active users creating and sharing their content daily. Regarding the business, it has presented an exciting opportunity to reach a vast and engaged audience through TikTok Ads. However, getting your ads approved and avoiding bans can be challenging with strict guidelines and high-end algorithms.
If you are a user struggling with frequent TikTok ad bans, this article best fits you. Learn the reasons behind the TikTok account ban and explore an anti-detect browser to act as a TikTok Ads manager.
Overview of TikTok Ads and What Types of TikTok Ads are Available
TikTok Ads are a relatively new addition to the increasing social media advertising world. They have quickly become popular for brands and businesses looking to reach a younger audience. TikTok Ads appear in short videos in users' feeds, similar to regular user-generated content. Many types of TikTok Ads are available, and we have listed a few below:
· In-Feed Ads: These ads appear in users' feeds, also known as your page, as they scroll through their TikTok app. In-feed ads can be up to 60 seconds long and can be linked to external websites or landing pages for better engagement.
· Brand Takeovers: Full-screen ads appear when a user opens the TikTok app. These ads can be an image or a video with a promotional message to engage an audience and ask them to swipe or click to be redirected to an external business page.
· Hashtag Challenges: These ads are designed to encourage unique user-generated content and brand engagement. Brands can create their hashtag challenge and encourage users to participate by creating and sharing their videos, thus offering a vital source of advertising.
· Branded Effects: These ads are augmented reality (AR) filters or effects that can be applied to users' videos. Brands can create filters and effects to promote their products or services when the users engage and promote them.
· TopView Ads: Ads of this type are similar to brand takeovers but are only available for a few advertisers. TopView ads are full-screen videos that appear as soon as a user opens the TikTok app, and they are guaranteed to be the first thing that users interact with.
How to Create Your TikTok Ads Account
If you want to promote your business rapidly and achieve a greater audience quickly, advertising your business or products on TikTok is the best way. However, worry not if you are unfamiliar with creating a TikTok ads account. Follow the steps below and start advertising on your TikTok Ads account and promote your business in multiple ways:
Step 1: Open the browser and head to the TikTok for Business page. Next, enter your details under the "Sign Up" section, agree to the terms, and click the "Sign Up" button to head to the next screen.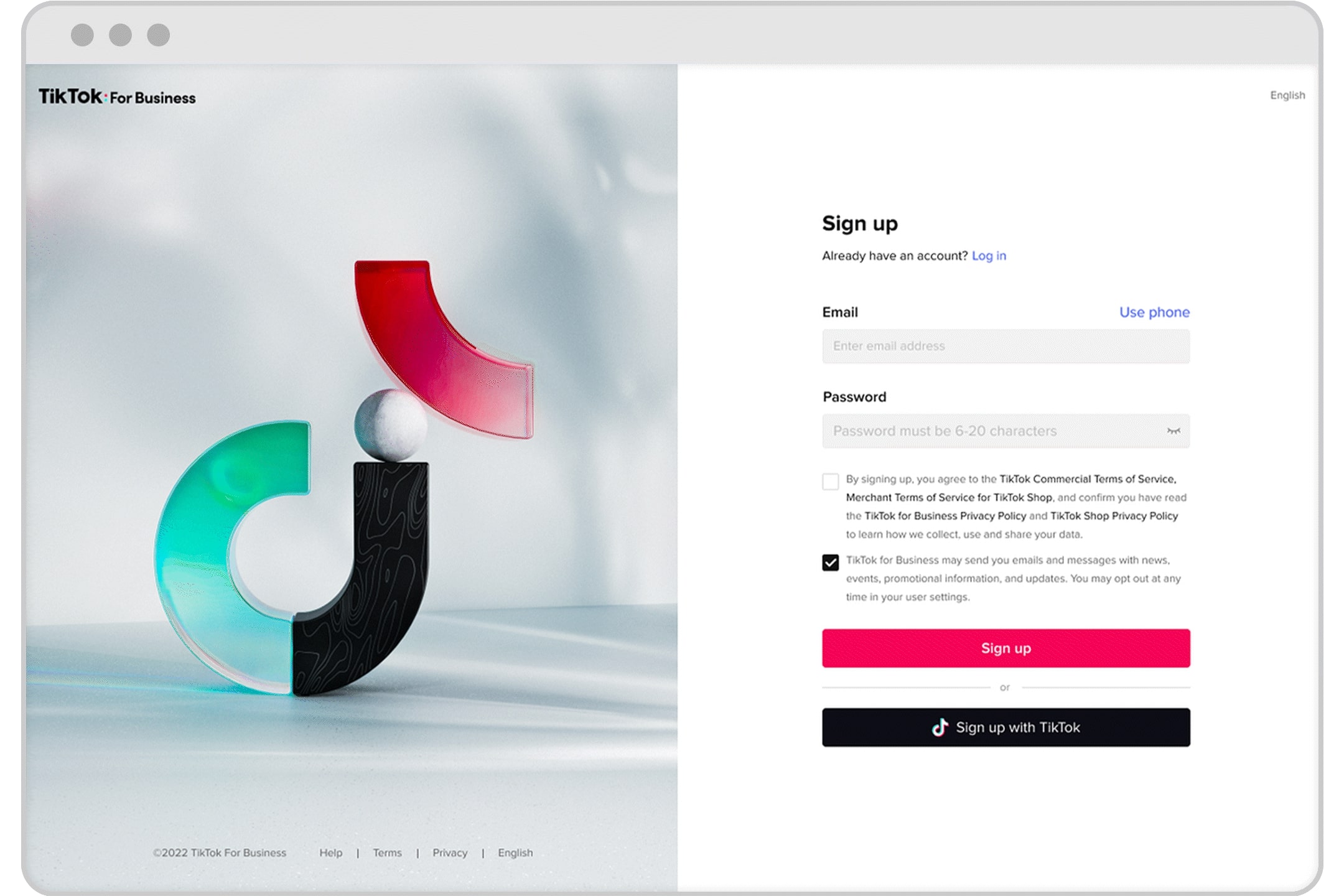 Step 2: Follow the necessary step to create your account. After that, provide the details such as your business name, country, advertising industry, and currency of the country you are registering from, and click the "Register" button.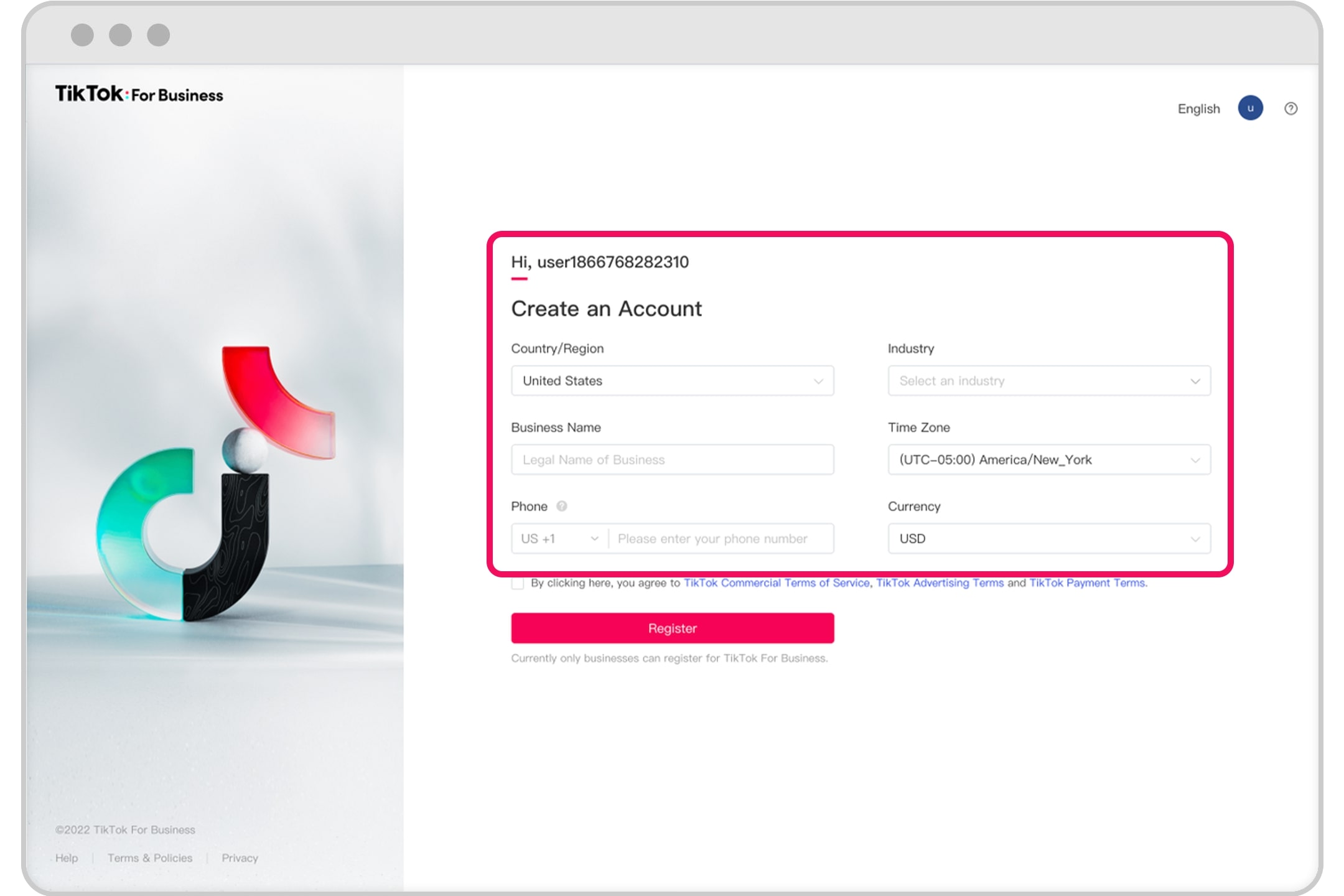 Step 3: Following this, under the "Set up Billing Information" section, enter the "State/Province" and "Choose Payment Method" accordingly. Next, hit the "Go to Ads Manager" button at the bottom of the screen.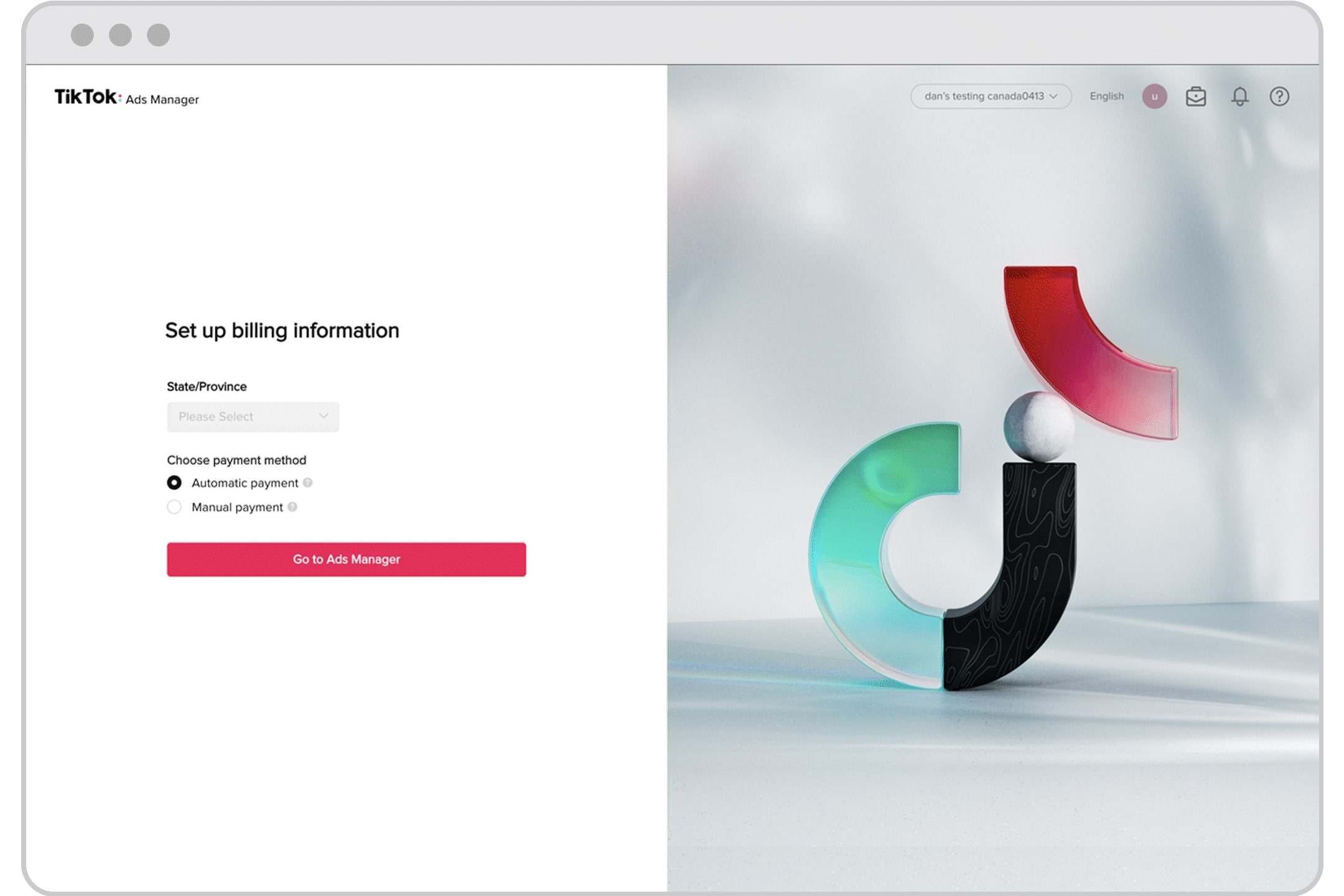 Step 4: Following this, proceed with the "Simplified Mode" or "Custom Mode" option on the next screen. We suggest setting "Custom Mode" to give you more advertising control. You will then arrive at the TikTok ads page and can start advertising your business.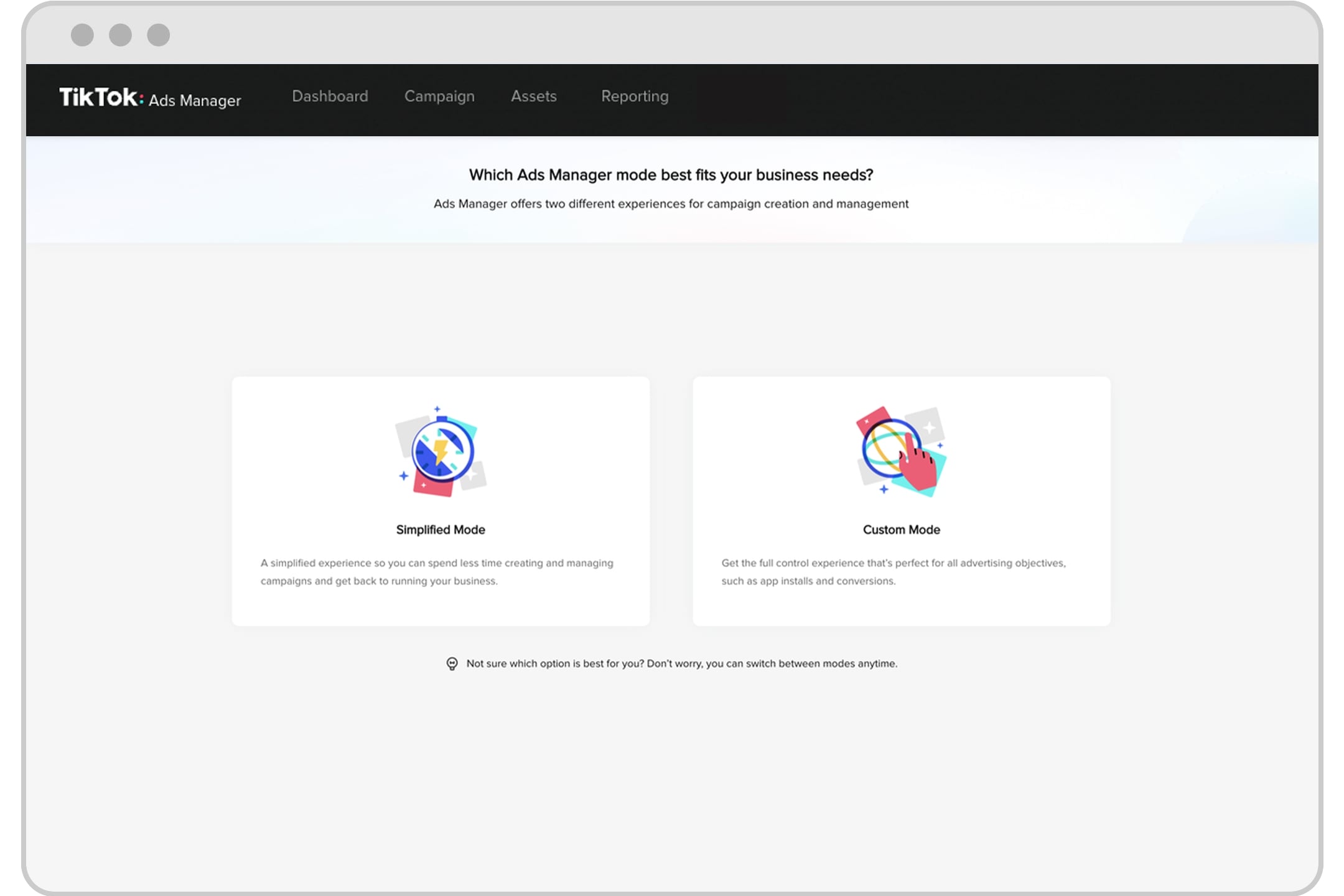 What are the Reasons for TikTok Ads Account Getting Banned
Your TikTok Ads might get banned due to many reasons. Users often aren't familiar with the type of policy violation they commit, and suddenly their accounts get banned. To avoid this, read below the most common reasons for the TikTok Ads account ban:
· Violation of TikTok Policies: TikTok has strict policies for ads, and violating any of these policies can result in the account being banned. This could include using prohibited content, promoting illegal activities, or making false claims.
· Invalid Click Activity: The ad system of TikTok is designed to detect invalid click activity, such as click fraud or bot traffic. If the ad account is found to be generating invalid clicks, the account could be suspended or banned permanently.
· Payment Issues: If the payment method associated with the TikTok ads account is declined or disputed, or the payment details are false, the account gets banned without any prior warning.
· Intellectual Property Infringement: If the ads violate any intellectual property rights, such as copyright or trademark, the account might get banned on the spot, and you won't be able to get it back even after the appeal.
Types of Bans Associated with Ads Account
If you are banned from the TikTok account and are unfamiliar with the type of ban and for what period, read the 4 bans below:
· Temporary Ban: This type of ban is usually issued as a warning for violating TikTok's advertising policies. The account is suspended for a certain period, after which the account is reinstated, and you can start advertising again.
· Permanent Ban: A permanent ban is issued when the account is detected for repeated violations of TikTok's advertising policies or community guidelines. This type of ban is irreversible, and the account shuts down forever.
· Shadow Ban: This ban is stealthy and does not inform the account owner that they have been banned. Instead, the account is hidden from TikTok's search results and hashtag pages. Shadow bans are usually issued for violating community guidelines and can last for a variable period.
· Payment Ban: This type of ban occurs when TikTok cannot process the payment associated with the ads account or cannot match the card details. As a result, the ads account is suspended, and no other ads can be created or run until the payment issue is resolved.
What Happens If Your TikTok Account is Banned?
If your TikTok account is banned, you will lose access to the app and all your content on the platform simultaneously. However, it depends on the severity of the ban, and you may also lose access to your followers and any revenue earned from the platform. Explore some potential consequences of a TikTok account ban below:
· Account Deactivation: You will no longer be able to open or access your account, and your profile, videos, and other content stored in the account will be removed from the platform.
· Eliminated Followers: Your followers will no longer be able to see your content or interact with your account. They will only see an empty account without any name or content.
· Loss of Earnings: If you are a TikTok creator or influencer, a ban could impact your ability to earn revenue from the platform, and your reputation within the community will be devasted.
· Lost Access to Related Apps: If you are banned from TikTok, you may also lose access to other TikTok-owned apps, such as Douyin and Vigo Video.
How Can I Appeal a TikTok Account Suspension?
If your TikTok account has been suspended and you are unable to access your account, then you may be able to appeal the decision by following these steps:
Step 1: Launch the TikTok app on your mobile and go to your "Profile" page. Next, tap the "Three Lines" in the upper right corner to open the "Settings and Privacy" menu and scroll down to tap on "Report a problem."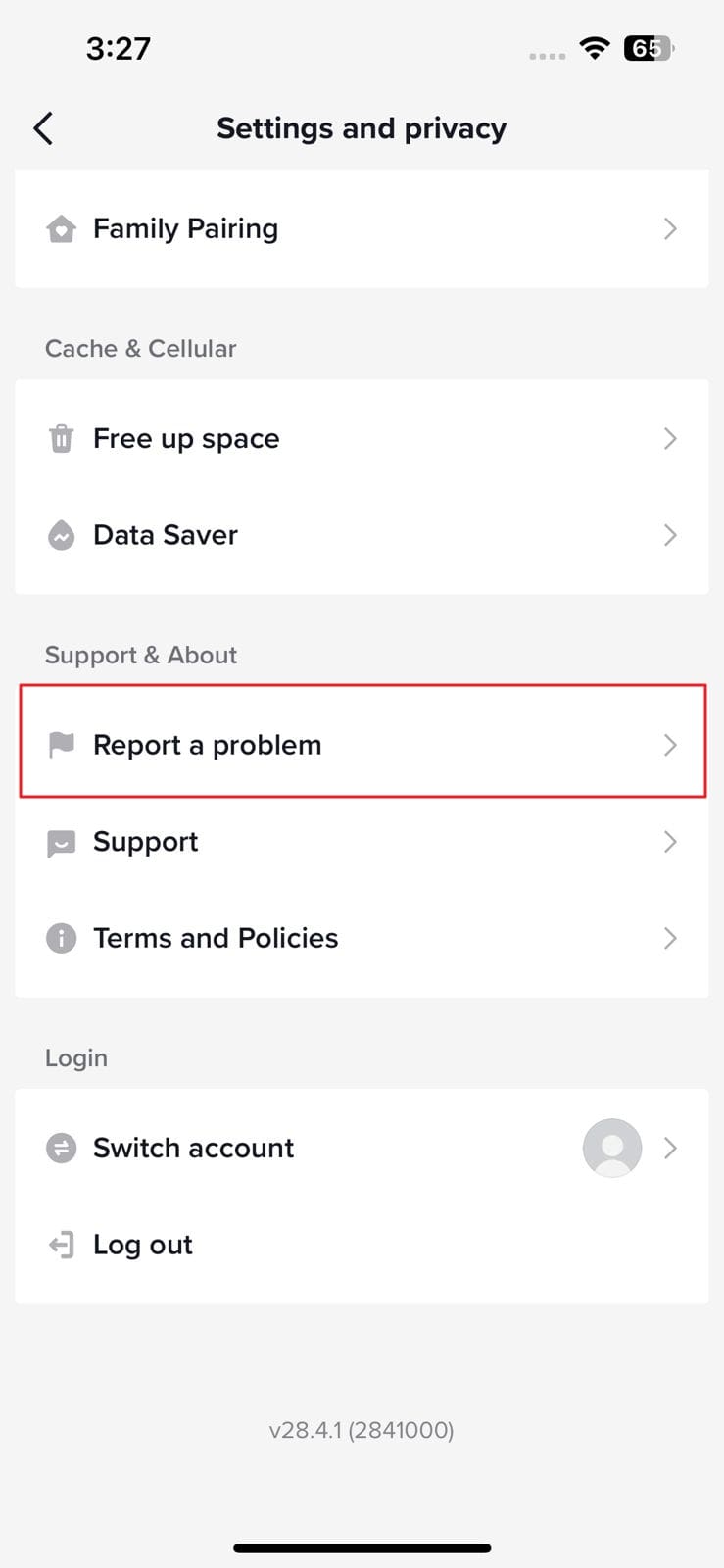 Step 2: Following this, select the "Account and profile" option and choose "Other" by expanding the "Profile Page" section. Next, locate the "Need More Help?" option and submit your query in detail, along with the proofs as images or videos, to TikTok support.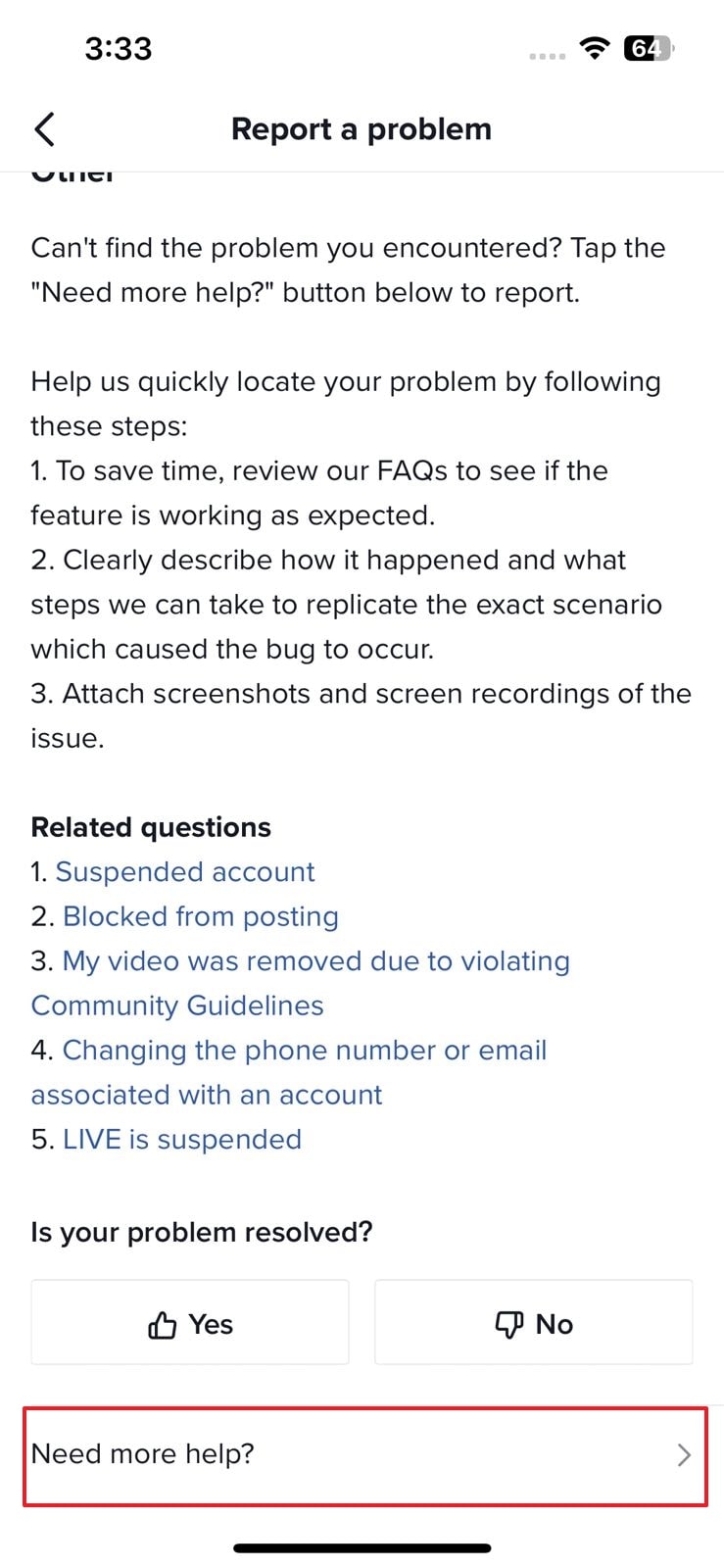 The Perfect Anti-Detect Browser to Prevent TikTok Ads Accounts from Getting Banned
Creating a second TikTok Ads account might appear simple, but more complex. If you attempt to create another account using the same credentials as your first account, it will get suspended too. Even if you change your email address, TikTok will detect it quickly. If you try to create a new account after being banned, you will violate their policies.
If you are unable to find a solution, then switch to MoreLogin. It is an anti-detection browser that enables you to manage multiple accounts on all platforms. With MoreLogin's assistance, you can open another account and avoid having your Ads TikTok account suspended. Let's learn about the key features it has to offer.
Notable MoreLogin Browser Features
· Browser Fingerprinting: Websites can use a browser's fingerprint to identify a device and uniquely limit access to shared accounts. This technology in MoreLogin stops your online activity from tracking and potentially avoids compromising your privacy to external sites.
· Antidetect Browsing: MoreLogin's Antidetect Browser provides users with a range of unique browser fingerprints that can be used to avoid detection and maintain anonymity. These advanced fingerprints are designed to be distinct and non-overlapping, reducing the risk of getting banned from websites.
· Collaborative Work: It recognizes the importance of efficient and effective browsers for collaborative work. That's why MoreLogin offers a reliable and secure platform for teams to work together seamlessly without worrying about compatibility issues or security breaches.
· Account Management: With MoreLogin, you can manage all your accounts in one place with complete security and peace of mind. This feature prevents detection or blockage while accessing multiple accounts across different platforms.
Step-by-Step Instructions to Create Multiple TikTok Ads Accounts
The steps mentioned below are described in detail for your ease. Follow each step carefully and keep your TikTok Ads account safe from prying eyes:
Step 1: Download the Package And Register
Use MoreLogin's official site to download the package for free. Launch the package and register yourself when it is downloaded and installed. Following this, click the "New Profile" button at the top-left corner of the screen.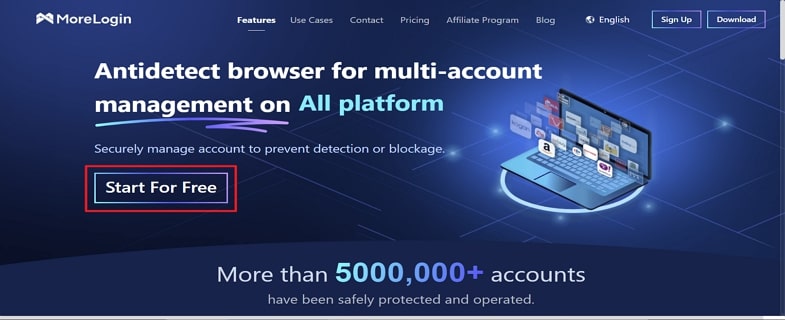 Step 2: Create a New Browser Profile with New Settings
Next, under the "Short Cut Creation" tab, choose your "Browser" and "Operating System." Following this, fill in the number of profiles you want to create under the "Profile Number Created" section and tap "OK" to confirm the creation of the new profile.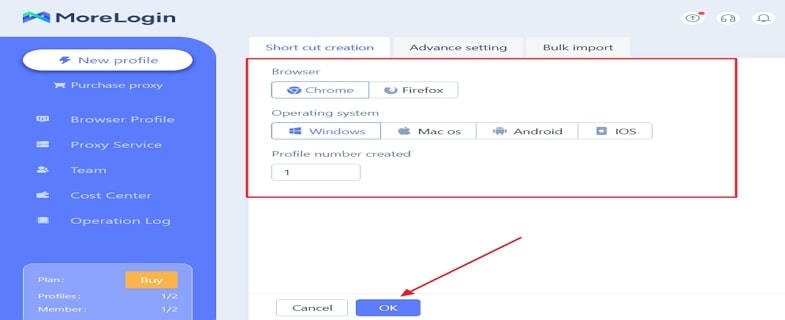 Step 3: Head Over to TikTok Ads Account Page
You will see a new browser on the "Browser Profile" page. Locate your new profile and press the "Start" button to activate the new browser. When it opens, head to the TikTok for Business page. After that, follow the instructions discussed in Part 2 of this article.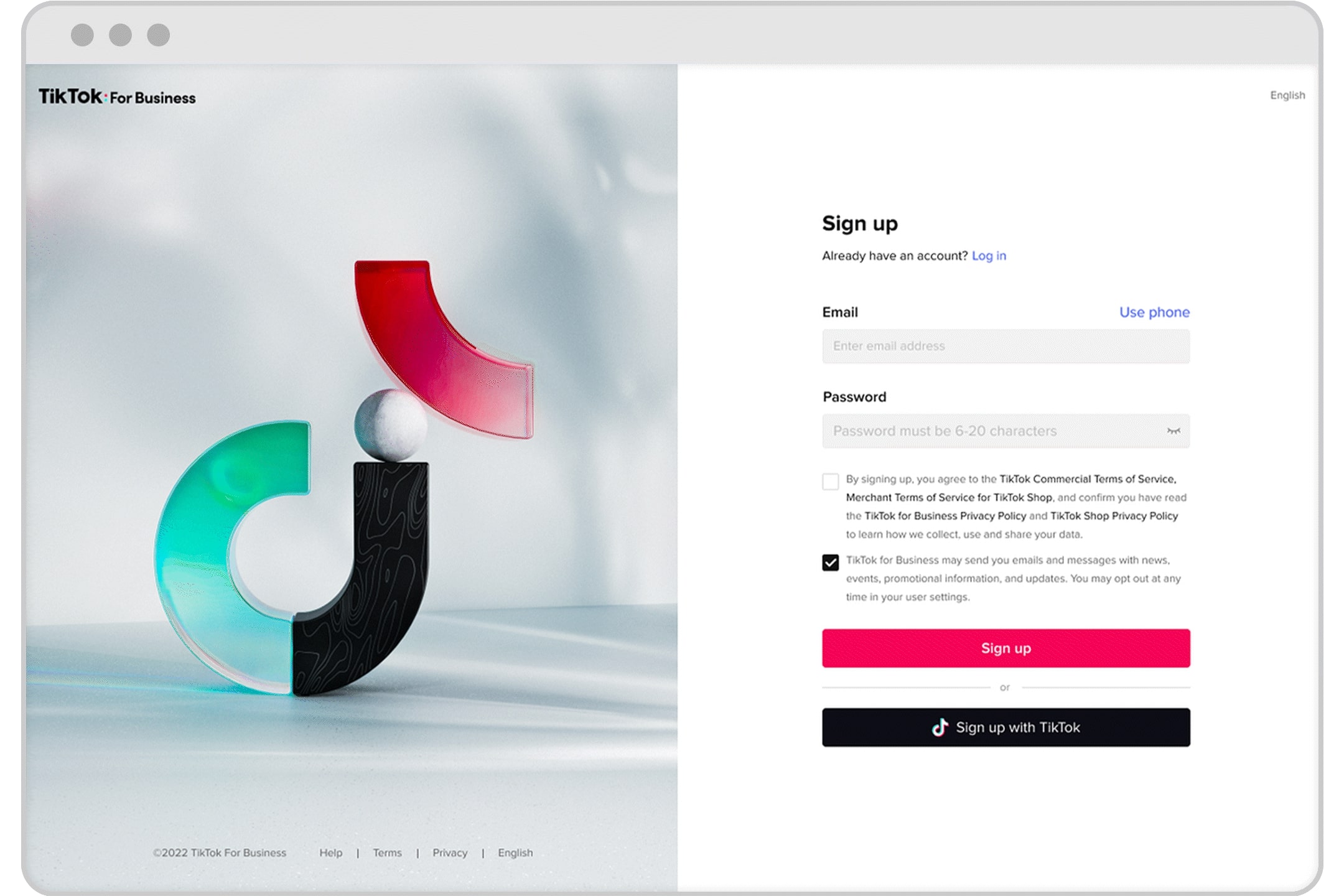 Conclusion
Suppose you are facing the frustrating issue of repeatedly getting banned on TikTok Ads. In that case, consider investing your time in a residential proxy solution like MoreLogin anti-detect browser. With its advanced features and capabilities, this anti-detect browser provides reliable and secure access to TikTok Ads and other online platforms without being detected or banned.
3 Best VPN Extensions for Chrome in 2023
Предыдущий
Morelogin Set up ABC S5 Proxy guide
Далее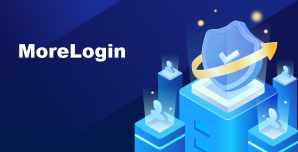 Браузер Antidetect для управления несколькими счетами на всех платформах. Безопасное управление счетами для предотвращения обнаружения или блокировки
Бесплатная пробная версия