3 Best VPN Extensions for Chrome in 2023
Searching for the best VPN extensions for Chrome but unable to find them? Read this article to find out which VPN extensions made the cut on our list.
In today's world, online privacy and security are necessary for everyone to secure their data. With increasing cyber threats daily, using a virtual private network such as Browsec VPN has become a crucial step towards safeguarding your data. In this case, using a VPN extension for Chrome can provide added safety to protect the data while browsing the web.
In this guide, we will discuss the best VPN extensions for Chrome in 2023, their benefits, and their reasons for using them daily.
What are the Benefits of Using Extensions in a Browser?
You can utilize extensions to add features and enhance browser functionality and remove unwanted website elements, including pop-up ads and auto-play features when watching online videos. Extensions also allow users to integrate elements into cloud storage, unlocking new opportunities for SaaS.
This can allow users to develop their microservices or utilize them as additional and valuable tools. Have a look at the benefits of using extensions in a browser below:
· Customization: Extensions help users enhance and customize their browsing experience by adding or modifying new features. Users can use the browsers to their specific needs and preferences and browse any data without fearing privacy loss.
· Effective Productivity: Many extensions for browsers can assist users in working more efficiently and effectively by handling and automating repetitive tasks, such as filling out forms, organizing bookmarks, blocking distracting websites, or providing an alert regarding virus threats.
· Enhanced Security: Browser extensions can help users protect their online privacy and security by blocking ads, preventing tracking, and scanning for malware. Furthermore, you can keep your data history and sensitive information, such as passwords, safe from hackers.
· Better Accessibility: Extensions can make browsing more accessible for users with disabilities by offering various features such as text-to-speech, screen readers, and alternative input methods to browse and navigate websites without assistance.
Reasons to Use a Browser VPN in Our Daily Life
In this digitally growing world, there are various reasons why people choose to use a VPN in their daily routine lives. With remote work becoming more common after the COVID-19, VPNs can help employees securely access company resources and networks from anywhere in the world.
Moreover, by using a VPN daily, users can enjoy a more secure online experience while accessing the content and resources that are blocked or limited, such as Netflix content in certain countries.
Benefits of Using Browser VPN
There are a lot of benefits when we look forward to a browser VPN. The most common benefits that every user can get by using Browser VPN are below:
· Security: A browser VPN provides encryption for your internet traffic and hides your IP address, making it difficult for third-party apps to intercept or access your online activity. This can help protect your personal information and browsing habits from hackers, scammers, and other unwanted parties.
· Improved Performance: Some browser VPNs offer features such as split tunneling, which allows you to route traffic through the VPN to improve performance selectively. Additionally, a browser VPN can help improve download speeds and help reduce buffering when streaming content online.
· Access to Geo-Restricted Content: Many websites and online service contents are only available in certain countries, and geo-restrictions can prevent you from accessing them. However, you can connect to a server in a different location using a browser VPN and access these websites and services as if you were in that country.
· Protection on Public Wi-Fi: Public Wi-Fi networks are mostly insecure at many locations, and that can leave your personal information vulnerable to hackers if you browse any site using those Wi-Fi. Through a browser VPN, you can help protect your data from prying eyes while using public Wi-Fi.
· Secure File Sharing: If you need to share sensitive files or secured data information online, a browser VPN can provide an added layer of security by encrypting the data and ensuring it is transmitted securely without letting any third app know about the transfer.
Frequently Asked Questions (FAQs) about Browser VPN
1. How does browser VPN differ from traditional VPN?
Despite offering privacy and security, both VPN forms differ significantly. A browser VPN is designed to provide basic protection for the activity based on just a browser. In comparison, a traditional VPN offers more comprehensive protection for all the traffic that flows through your device.
2. Is browser VPN free?
You can get a free and paid browser VPN, depending on the package you choose. Various free browser VPNs are available, but they usually come with certain limitations compared to paid ones, such as data usage caps, functionality, scope, slow speed, and limited server locations.
3. Can I use Browser VPN on mobile devices?
Yes, you can. The browser VPNs are both computer and mobile compatible. However, choosing a reputable VPN provider is essential to protect your privacy and security while browsing.
4. Does Browser VPN slow down internet speed?
A browser VPN can slow down your internet speed, but it varies depending on several factors, such as the quality of your VPN service and internet connection speed.
5. Is browser VPN legal?
Knowing about your browser's VPN legality can vary depending on your location and intention to use it. In most countries, using a VPN for personal use is legal, but it's important to understand the laws and regulations in your location for using a VPN and comply with them.
Overview of the Best 3 Chrome Extensions
Extensions on Chrome are small software programs that add extra functionality to the Chrome browser, making navigating and customizing the web browsing experience easier for every web user. Each browser VPN provides the user with different added benefits. Some of them offer low-cost packages, while others offer to link to more external servers.
However, before choosing any browser VPN, you must look at certain factors and decide whether the VPN you choose will satisfy your browsing needs.
Factors to Consider When Choosing a Browser VPN
· Security Features: The primary reason for using a browser VPN is to protect your online web security and privacy. Therefore, the VPN you choose should use have effective and strong encryption protocols with a no-logs policy. Look for VPNs that have been independently audited and proven to ensure the security and privacy claims related to every user.
· Server Locations: More server locations while using a VPN offers increased chances of finding a server that will suit your needs. If you need to access geo-restricted content, choose a VPN with servers in the countries where the content is available and can be easily explored using a browser VPN.
· Speed: VPNs can slow down your internet connection, so it's important to choose one that doesn't or very minimally affect your browsing speed. Search for VPNs with high-speed servers and use protocols optimized for speed.
· Price: Many VPNs come at different pricing, while others are free. While free VPNs may seem tempting, they often have limitations and security risks compared to paid VPNs. It's worth investing in a reliable paid VPN that offers your needed features.
3 Best Recommended Chrome Browser VPN Extensions
There are countless VPNs to choose from, so it is often preferred to select those in high demand and handle loads of traffic. We have listed 3 main VPNs that most users look for and justify the abovementioned factors. Let's have a look at what they have to offer:
Using the ZenMate VPN for Chrome can change your online identity and access content usually restricted to specific regions. This VPN extension enables you to use a different IP address and virtual location while browsing the web. Moreover, you can access region-locked content, including websites, streaming services, and other online content.
ZenMate Chrome extension is limitless and provides access to VPN servers in over 81 countries, including the United Kingdom, the United States, and many others.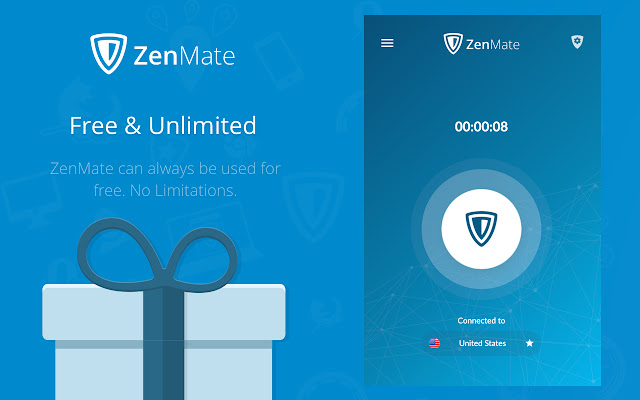 Hola Networks Ltd. developed the Hola VPN Chrome extension to allow users to access blocked websites and content by routing the internet traffic through Hola VPN's servers in other countries. It is free to use and can be installed directly from the Chrome Web Store. Moreover, it also offers some additional features, such as ad-blocking, video acceleration, and browser caching, to help improve browsing speed.
Furthermore, it has a user-friendly interface that displays the current country's location and allows users to switch to other countries quickly.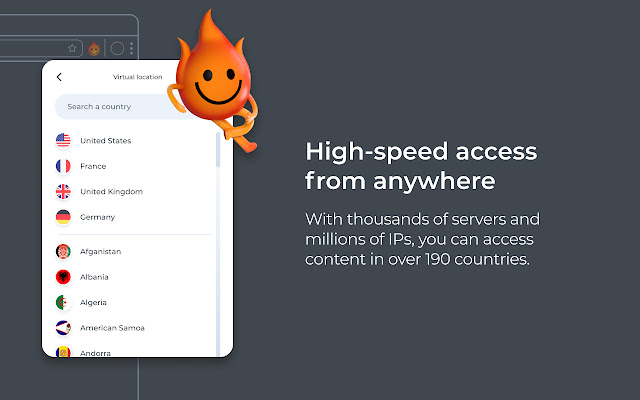 Touch VPN is a free VPN Chrome extension that allows users to access content and websites that may be restricted in their region. The extension encrypts the user's internet traffic and hides their IP address, providing anonymity and security while browsing the web. The extension offers a variety of server locations to choose from and features a one-click connection, making it easy to turn on and off.
With that, it is a useful tool for anyone looking to access geo-restricted content or browse the internet anonymously, but users should be aware of the potential drawbacks and limitations of the free version.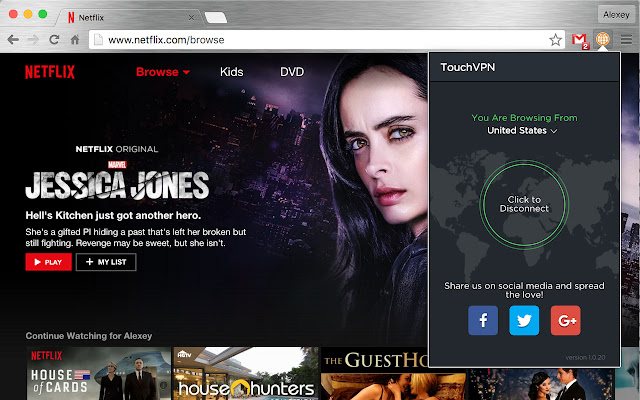 The Best Alternative to Chrome - MoreLogin Anti-Detect Browser
Users worldwide use the Chrome VPN extensions to browse the data securely. The free versions offer the needed privacy and data security, but the free VPN extensions are unreliable. They change your IP address, but the browser fingerprinting remains the same. If you want to secure your web data freely but want the benefits of the paid version, then there is no better option than MoreLogin.
It is an anti-detect browser that enables you to browse the web without storing any data on the servers, and it also eliminates data breaching or third-party involvement. You can also manage your multiple accounts without getting detected or blocked.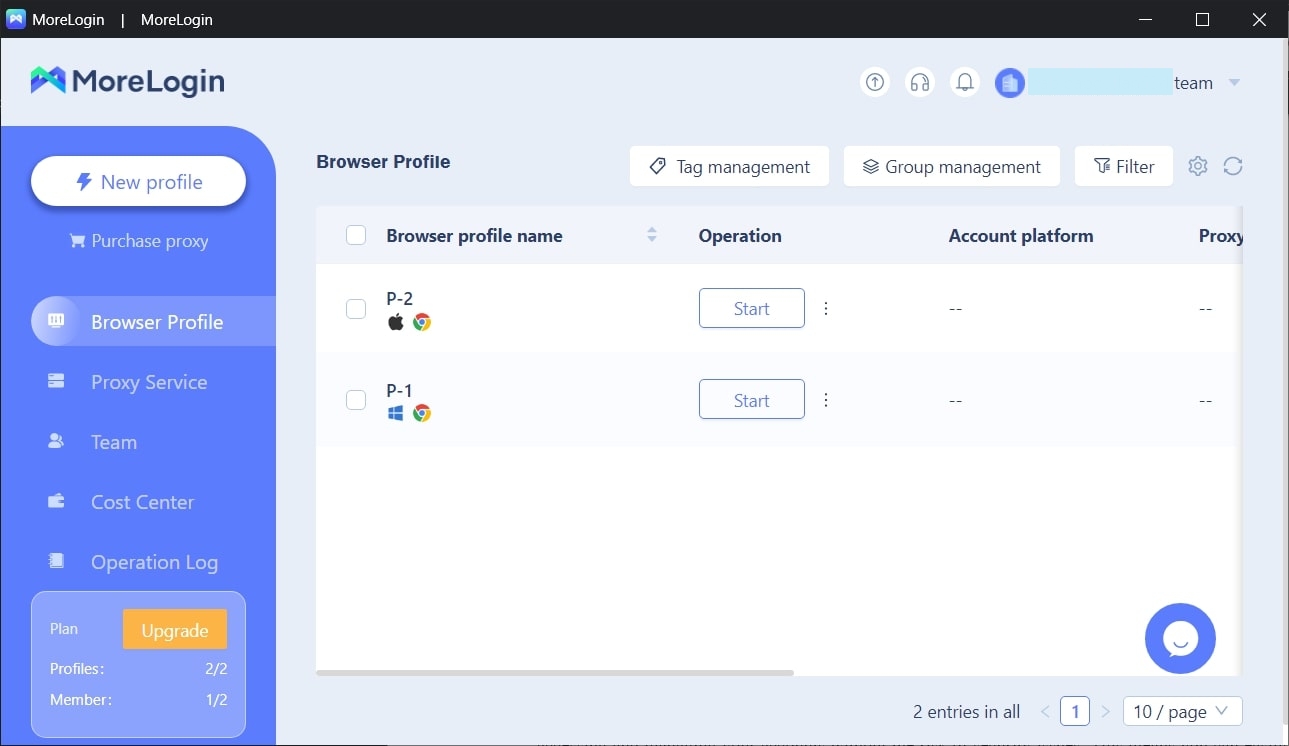 How MoreLogin Incorporates Key Features into Services
· Undetectable Fingerprint: It can diversify a variety of browser fingerprints, including screen resolution, time zone, language, and plugins, to evade detection by anti-fraud systems. This feature can also randomize the browser fingerprint to make it harder to track by third-party vendors.
· IP Rotation: MoreLogin rotates the IP addresses automatically to avoid detection by hacking systems that track your IP addresses and breach the data. This feature can also use a pool of proxies or VPNs to mask the user's real IP address and location and show that a user is browsing from a different location.
· Multi-Account Management: This tool offers a secure and user-friendly interface for managing multiple accounts on a single device. Its advanced security features ensure a safe environment for accessing and managing your accounts without the risk of security issues. This means you can easily and efficiently handle all your accounts from one platform rather than switching servers on VPN.
Conclusion
In this fast-paced online era, privacy and security remain major concerns for internet users, and VPN extensions for Chrome have become a necessary part of our daily life. In 2023, there are several outstanding VPN extensions available for Chrome, such as ZenMate Chrome Extension and VeePN Chrome for secure downloading, but the ones we listed above are the top-rated.
However, MoreLogin is the best option to control your online privacy and help you enjoy a safe and secure browsing experience with effective data management.
How to Use Midjourney Free without Limitations
Предыдущий
Keep Getting Banned on TikTok Ads? Get Yourself a Residential Proxy by antidetect browser
Далее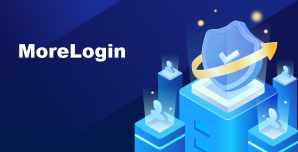 Браузер Antidetect для управления несколькими счетами на всех платформах. Безопасное управление счетами для предотвращения обнаружения или блокировки
Бесплатная пробная версия