Manage Multiple Affiliate Accounts Efficiently
Meta Description: Want to earn money without taking a step out of the home? Read this article to learn about the Amazon Affiliate Account program and how to join it.
Are you searching for ways to increase your income by sitting at home? If yes, go for affiliate programs because they help you generate a handsome amount of income in the easiest way. What you have to do is to send traffic toward the business of a particular person, and in return, that person will give you a commission on sales.
The simplest way to increase sales of the product is to create engaging content about it, so more and more people take an interest. Now you have been thinking of the best affiliate program. Amazon affiliate account is the best among all affiliate programs. Let's read the article to the end to learn how it is best.
Part 1: Overview of Amazon Affiliate Account
Part 2: How to Join and Become an Amazon Affiliate Program Member
Part 3: 6 Best Tips to Earn More with Amazon Affiliate Account Program
Part 4: The Best Anti-detect Browser to Manage Multiple Amazon Affiliate Accounts
Part 1: Overview of Amazon Affiliate Account
In an Amazon affiliate account, you have to promote Amazon products either through content creation, blogging, or other marketing techniques. When the buyer buys any product from Amazon by clicking the link you provide on your website, you receive a commission depending on the product's price.
The more your website is optimized and viewed by the audience, the more chances are that your provided link will be used for purchase. Moreover, you don't have to worry about reaching a certain amount of audience to earn a commission. It is because even if you generate a single referral for Amazon, you will be paid for it.
Part 2: How to Join and Become an Amazon Affiliate Program Member
Joining the Amazon affiliate program is straightforward because you just have to sign up by providing some details. After which, Amazon takes some time to approve your registration. Once approved, you can start your journey as an Amazon affiliate program member by simply doing an affiliate amazon login. To learn this process step-by-step, read the following instructions carefully:
Step 1: Create your Amazon Associate Account
Access the Amazon Associate home page and select language and location using the top menu. Click the "Sign Up" button to perform an Amazon affiliate account signup, and select the "Create your Amazon account" button.
Provide the details asked in the registration form to create a new account. After creating, return to the home page and tap the "Sign-in" button to open your Amazon affiliate marketing account.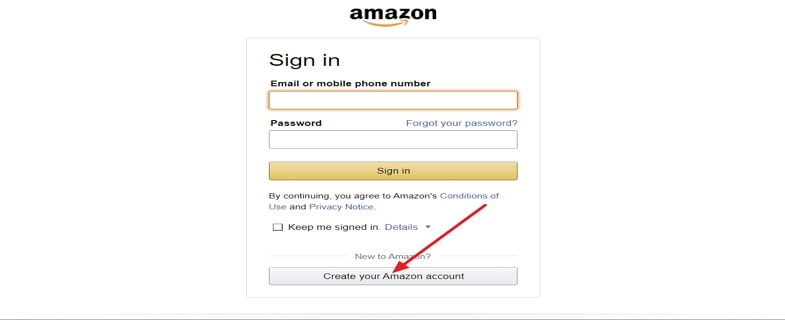 Step 2: Fill Out the Application Form
After the Amazon affiliate account login, start filling out the account information form, where you have to provide some personal details like name, address, and contact number. At the bottom of the page, choose the main contact for the account by selecting any one of the two options.
Once done, move to the "Website and Mobile App List" page. In this section, you have to add the links to the website on which you are planning to promote Amazon products.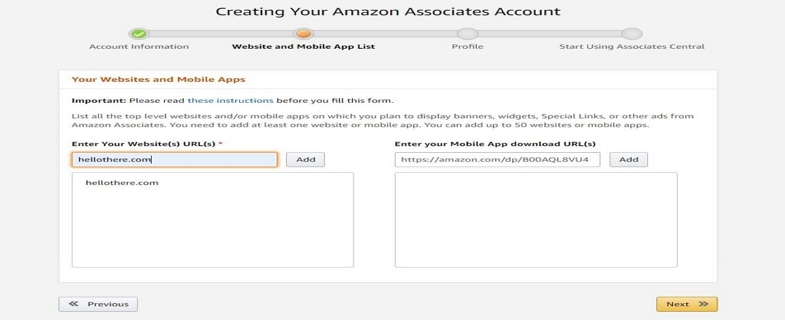 Step 3: Add the Profile Details
After completing Website and Mobile App List page, tap "Next" to enter the "Profile" page. Here you have to provide your Associate ID, which could be your name or your website name. This ID will appear in your affiliate links. In the "Your Website List" and "Your Mobile App List" sections, you have to provide the websites and mobile app info where you will do the promotion.
In the "What are your website or mobile apps about?" section, you have to explain your website or mobile app. Next, from the lists provided, select the topics that perfectly describe your website or mobile app. After that, choose the types of Amazon items you want to promote and select the kind of app or website you will use for promotion.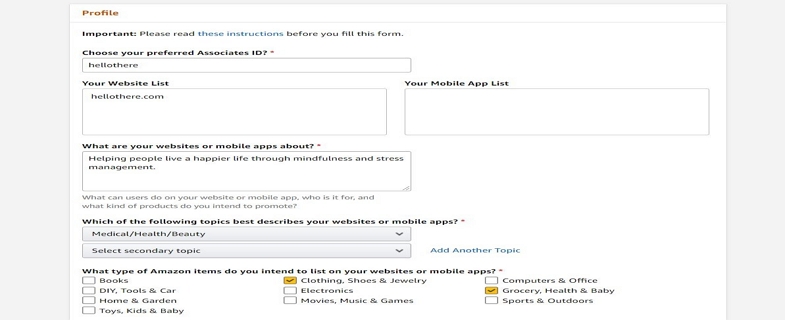 Step 4: Explain the Traffic and Monetization Method
In the "Traffic and Monetization" section, mark the methods through which you will generate traffic to your website. Afterward, from the dropdown menu, select the option that explains how you will utilize your website and apps to generate income. In the same way, provide the answers to the questions asked and select the "Associates Program Operating Agreement" option to read the contract terms.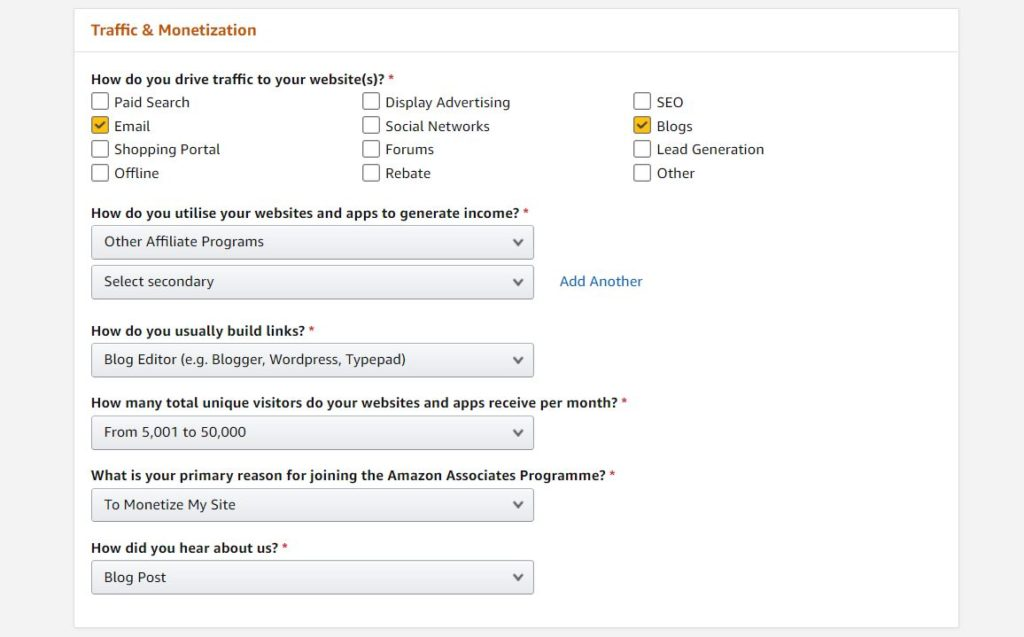 Step 5: Choose Your Payment Preferences
After entering all the necessary details, you will receive an automated call from Amazon which will provide a 4-digit PIN. Enter that PIN to verify your provided information, and click the "Finish" button to submit your application. After that, you will find a confirmation note of application submission along with a unique Associate ID. Note that ID because you will need it later to verify your account.
Moreover, you will also be asked for payment and tax information. Select the "Now" button and provide the asked details. Amazon will take 1 to 3 days to confirm whether you have been selected as an associate or not. Once you have been selected, Amazon will provide 180 days to make the sale.
If you don't sell any product within these days, then your account will be closed. However, you can create a new account by again performing the Amazon affiliate account signup.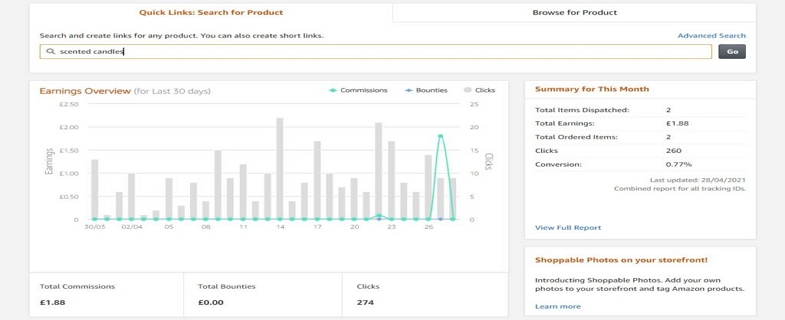 Part 3: 5 Best Tips to Earn More with Amazon Affiliate Account Program
Before becoming a member of the Amazon affiliate account program, you must create a solid plan for attracting people toward a particular product. By following that plan, you can easily earn more with the Amazon affiliate account program. Let's find out the 6 best tips that could help you earn more money on Amazon:
· Go For the Right Product: Always choose a product that is in high demand. You can take the help of tools like Google Trends or Amazon Best Sellers to find the right product. Moreover, you can also take advantage of seasonal trends, which provide opportunities for promoting specific products.
· Create Good-Quality Content: It is wise to create content about the product which is informative and engaging. Such type of content will grab more audience towards your website very easily. You can also use visuals to showcase products because people are more inclined toward images and videos.
· Improve Your Website Ranking: Try to use such keywords which engage more traffic toward your website. By doing so, your website ranking will get improve, due to which more and more people will view your content. Apart from using keywords, start incorporating meta descriptions, headings, and page navigations to optimize your content.
· Build Trust with Audience: Another best tip to earn more money with the Amazon affiliate account program is to build a healthy connection with the audience. You can do that very quickly by providing honest reviews about the product. Moreover, it is better to try the product by yourself and then decide whether it is worth selling.
· Monitor Your Performance: Amazon provides complete details about your earnings, conversions, and clicks. Use the provided reports to monitor your performance. This will help you know what is working and what is not working. Keeping an eagle eye on performance will also let you know whether the selected product is a good choice or not.
Part 4: The Best Anti-Detect Browser to Manage Multiple Amazon Affiliate Accounts
If you find that you are earning a handsome amount from a single account, then go for creating a new Amazon affiliate account to generate more income. However, using multiple accounts on the same browser is not possible, and if you try to do so, you will face an account ban. Better to use MoreLogin, which is the best anti-detect browser.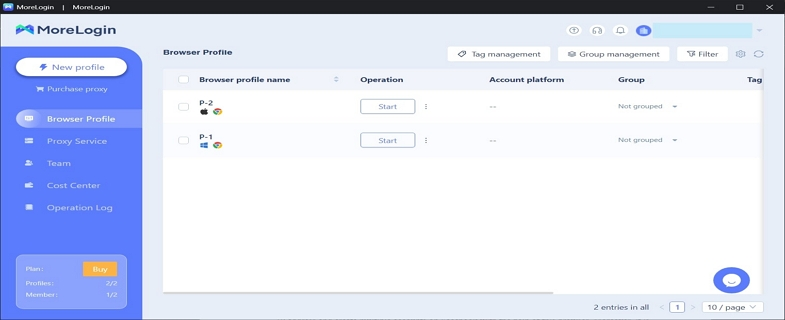 With the help of this browser, you can easily manage multiple accounts without the fear of a ban. It perfectly masks your IP address and provides unique fingerprints, which you can use to create multiple accounts on the same website. To learn more about this anti-detect browser, dive into the following features of it:
· Mask IP Address: This best anti-detection browser mask your IP address so perfectly that no website can track your activity and locate your location. In addition, it also provides a secure environment for managing multiple accounts of Amazon on a single device.
· Multiple Browser Fingerprints: MoreLogin allows you to create multiple accounts on Amazon by providing unique browser fingerprints that never overlap with each other. Moreover, the fingerprints provided by this anti-detect browser are dynamic and regularly get updated to ensure a secure environment.
· Numerous Use Cases: The use cases of this anti-detect browser are many, including affiliate marketing, e-commerce, social media, traffic arbitrage, and more.
· Intuitive Interface: You require no technical assistance to use MoreLogin, as it has a user-friendly interface. Using it, you can easily and quickly manage multiple accounts of Amazon without fearing data leakage.
Conclusion
After reading this article, we hope you will be clear about how to earn more money from my Amazon affiliate account. Moreover, this article has also provided details about how to create an Amazon affiliate account. If you want to expand your income, it is better to use MoreLogin because it allows you to manage multiple Amazon accounts.
The Best VPNs for the Brave Browser in 2023
Предыдущий
Working with Team by MoreLogin
Далее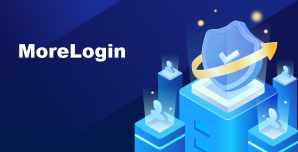 Браузер Antidetect для управления несколькими счетами на всех платформах. Безопасное управление счетами для предотвращения обнаружения или блокировки
Бесплатная пробная версия