Got Banned by Dolphin Anty? MoreLogin Gives Unrivaled Security and Undetectability
Did your important accounts get recently banned when using the Dolphin Anty browser? Learn about a better and more secure anti-detection browser in this article.
The rise in cybercrimes nowadays has made users very conscious of their privacy. They take many measures to protect their privacy, and using anti-detect browsers is one of them. One of these famous ant-detect browsers is Dolphin Anty. It promises users complete anonymity when using it to surf the web. However, many users have complained about their accounts getting banned on Dolphin Anty.
This article will examine the reasons behind the account getting banned on Anty Dolphin. Moreover, it will also recommend a better alternative to the Dolphin anti-detect browser.
Reasons Why Your Account Gets Banned by Dolphin Anty
Why did your accounts get banned by Dolphin Anty? There can be many reasons behind it. The most common reasons are usually linked to your browser failing to hide you properly on the internet. Some of the most frequent causes for getting banned from Dolphin anti-detect browser are these:
· Terms and Conditions Violation: Using anti-detect browsers is against most platforms' terms and conditions. If these platforms are able to detect that you are using an anti-detect browser, your account will likely get banned. Their ability to detect depends on the browser you are using.
· Conflicting IP Addresses: Since anti-detect browsers like Dolphin Anty use different IP addresses to hide the user's online tracks, it can lead to IP address conflicts. For example, if multiple users are using the same IP address, the relative platform can get suspicious and block the accounts.
· Suspicious Activity: Most people use the VPN or other proxy network to do things or access services they are not supposed to do. It has led to websites and platforms flagging VPN users as distrustful and suspicious. Due to the fact that anti-detect browsers also use VPNs or proxy networks, it can sometimes lead to accounts getting banned.
· Outdated Browsers: If the anti-detect browser you are using is outdated, it can also cause the account to get banned. The reason is most platforms continue to adopt more policies and ways to deter anti-detect users. So, the browsers also need to keep themselves updated. Your outdated browser may have lacked the necessary features to protect your accounts.
Better Dolphin Anty Product Alternative - MoreLogin
If you are looking for an alternative to Dolphin Anty, which is more secure and best at evading detection, we got the perfect browser for you. MoreLogin is an anti-detect browser that provides a secure and safe environment to surf the internet. It prioritizes the privacy and security of users through advanced encryption, IP address masking, and cookie management methods.
MoreLogin is also updated regularly, so it always stays ahead of any measures taken by websites against anti-detect. The best thing about it is that it creates a realistic environment that enables you to do your work without worrying about your accounts being banned.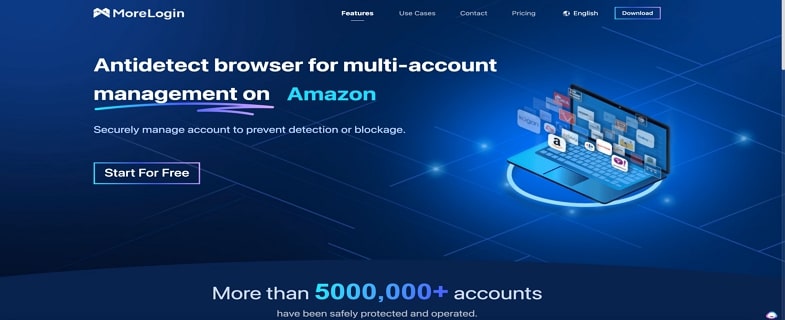 A Feature Comparison of MoreLogin and Dolphin Anty
To make it more clear why you won't have the same experience on MoreLogin, we have created a comparison table below. This table will make it clear how much better MoreLogin is than Anty Dolphin:
| | | |
| --- | --- | --- |
| Feature | MoreLogin | Dolphin Anty |
| Interface | User Friendly and Clean | Overwhelming for new users |
| Use Cases | Affiliate Marketing, E-Commerce, Cryptocurrency, Social Media, and many more | Affiliate Marketing, Social Media, and Process Automation |
| Number of Profiles | Unlimited | 10,000 profiles (Custom) |
| Price | Starting from $9/month | Starting from $89/month |
| IP Provider | Dynamic | Dynamic |
| Customer Service | 24/7 Highly Supportive | Lacking |
Pricing Plans
When it comes to pricing plans, MoreLogin is a clear winner. Not only does it offer all the great features at unbelievingly low rates, but it also includes a free trial. In the free trial, you get access to all the features. On the other Dolphin Anty only allows you a 4-day trial with severely limited features. It means you will need to pay to test all of its features.
Regarding pricing plan comparison, Dolphin Anty offers 100 saved profiles for one user at $89 monthly. In comparison, you will get 4 times the saved profile at less price for two users in MoreLogin. It proves you do not have to pay much to get better services. Below are detailed pricing plans for both ant-detect browsers:
MoreLogin Pricing Plans
Package

Pricing

Base

$9/month (For 10 saved profiles)

$160/month (For 1000 saved profiles)

Custom
Dolphin Anty Pricing Plans
| | |
| --- | --- |
| Package | Pricing |
| Base | $89/month (For 100 saved profiles) |
| Team | $159/month (For 300 saved profiles) |
| Enterprise | $299/month (For 1000 saved profiles) |
| Custom | $2180/month (For 10,000 user profiles) |
User Interface
No one wants to ensure their privacy at the cost of easy usability. While privacy remains an important point, most users are also not tech-savvy. It means if hiding their tracks on the internet is too complex, they will avoid it altogether. Thus, an anti-detect browser needs to be user-friendly and have a clean interface.
When looking at the user interface of MoreLogin, you will find it to be designed for ease of users. It has a dynamic and clean interface with only the major tools located on the main window. Moreover, it offers a unique auto profile creation feature that saves time and effort. Otherwise, all the major functionalities are a click away due to the appropriate division of buttons on the screen.
In comparison, the Dolphin anti-detect browser feels overwhelming when you launch it for the first time. You will have to manually set a profile first to be able to use it. The left sidebar is full of all advanced features, most not even aimed at regular users. These features tend to make it more complex for new users to use.
Safety
Since your banned accounts are the reason you are looking for a new anti-detect browser, you will need to ensure the new browser has advanced safety features. Safety in anti-detect browsers means how good they are at protecting your online privacy and preventing websites from tracking your activities. In this comparison, MoreLogin again tops the chart, while banned accounts indicate Dolphin Anty isn't as safe as it claims to be.
The reason for the low safety system in Dolphin Anty is its lacking capabilities of masking the user's IP address. These attempts can quickly raise red flags on websites leading to account bans. On the other hand, MoreLogin displays fewer risks and more security. Moreover, this browser emulates a realistic surfing environment much better.
IP Provider
The safety provided by anti-detect software is directly related to its IP provider service. Since a dynamic IP is preferred when it comes to enhanced anti-detect services, both MoreLogin and Anty Dolphin provide dynamic IP services. However, since your account was banned on the Dolphin anti-detect browser, it means even with dynamic IP addresses, a lot more is needed for a safe anti-detect environment.
That's why MoreLogin offers a dynamic IP system and uses a secure and unique set of IP addresses. Doing it ensures that no website or platform can ascertain whether you are using an anti-detect browser. All the IP addresses are updated regularly, with new addresses taking the place of old ones.
How to Buy and Use MoreLogin Step-by-Step
Want to know how to buy and use MoreLogin anti-detect browser? It is not at all difficult. All you need to do is register on the official MoreLogin website and download the browser. After that, you are set to test out this amazing Dolphin Anty alternative for free. Here is the detailed guide for how to buy and use MoreLogin:
Step 1: Register and Download the MoreLogin Browser
On your computer, visit the official website of MoreLogin and register yourself using the "Sign Up" button. Afterward, download the browser to your system and install it.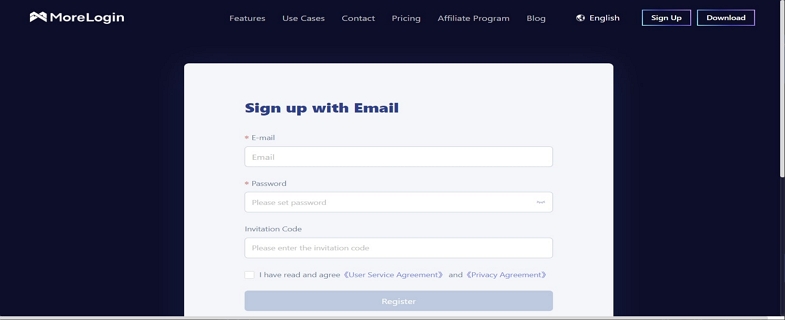 Step 2: Log in to the MoreLogin Browser and Create a Profile
After you the MoreLogin browser is installed, log in using your account. Once logged in, click "New Profile" from the upper left corner and fill up the required details.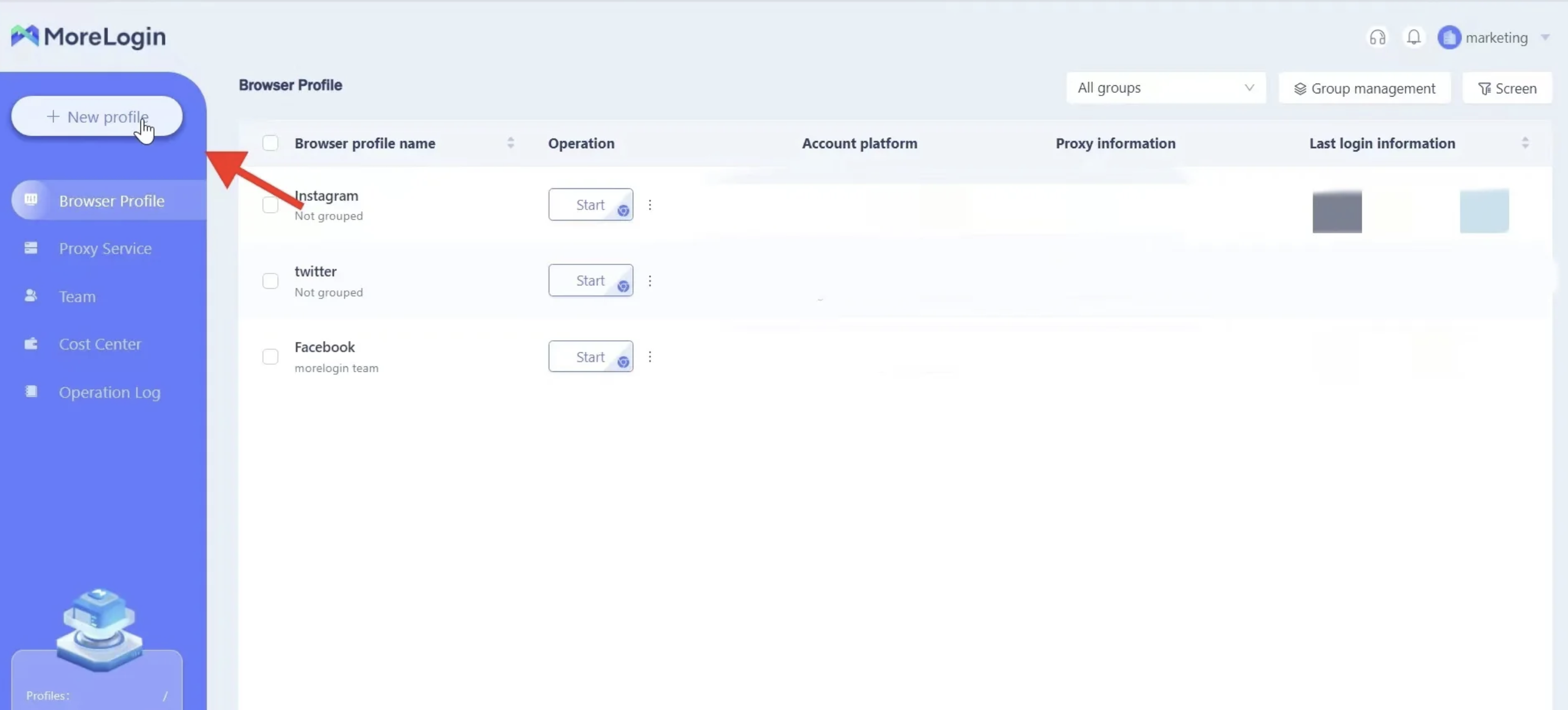 Step 3: Use the MoreLogin Browser and Buy a Suitable Package
When the profile is created, tap "Browse Profile" to view and select the newly created profile. It will open a new dedicated browser window for the new profile. To buy a suitable package, you can click "Buy" from the lower left corner and select a convenient package.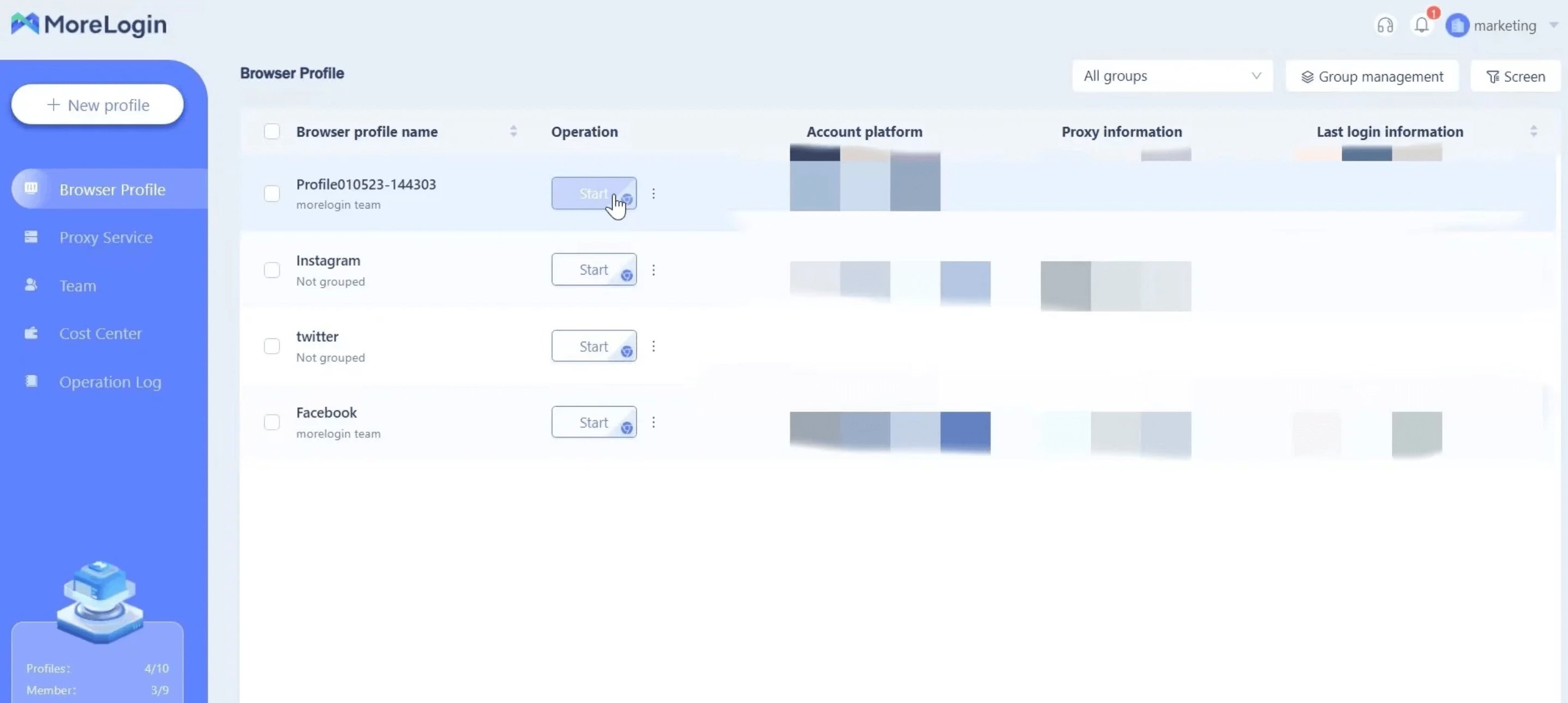 Conclusion
It can be concluded that there is no compromise for privacy and data security when surfing the web. You should take all the reasonable measures possible to ensure your privacy. If you want to use an anti-detect browser to protect your privacy, choose the right one, like MoreLogin. The reason is a bad anti-detect browser can do more harm than regular browsers that won't mask your presence.
Can I Create Another Facebook Account and Manage Multiple Accounts Safely?
Предыдущий
[2023] Suspended Twitter Account: How to Fix and Avoid
Далее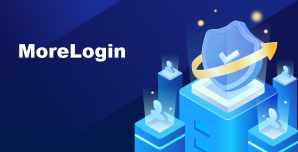 Браузер Antidetect для управления несколькими счетами на всех платформах. Безопасное управление счетами для предотвращения обнаружения или блокировки
Бесплатная пробная версия