Assessing Multiple Criteria in the Comparison Between MarketerBrowser and AdsPower
Have you heard about MarketerBrowser and AdsPower for anti-detect browsing? This article features a comprehensive comparison between these two great browsers.
The use of anti-detect browsers has drastically increased over the increasing use of the Internet. To ensure security and privacy, anti-detect browsers turned out to be a great source.
While many anti-detect browsers gained traction, MarketerBrowser and AdsPower worked on creating the perfect brand. This article will introduce both browsers and provide a coherent comparison.
Along with a comparison, the article will comprehensively introduce a MarketerBrowser and AdsPower alternative as an efficient remedy. Review the article to know more about the criteria for assessing these anti-detect browsers.
How Does Antidetect Browser Help Users in the Market?
Before we start the comparison, it is essential to be aware of what these browsers bring to the market. Do they serve similarly to simple browsers like Chrome and Firefox?
If not, what is the potential difference that makes them competitive to work with? Find out more about how anti-detect browsers make things easier for its users in the market:
1. Protection of User Privacy: The first reason anti-detect browsers are preferred is their ability to protect user privacy. While they hide the actual details of the user from unauthorized sources, it prevents online hackers from accessing their data. This serves proficiently in online transactions and such practical use cases.
2. For Switching Identities: While staying in marketplaces, shifting between profiles and identities sometimes becomes necessary. Due to such operations, accounts get banned, which can lead to many losses. To avoid this, the use of anti-detect browsers has normalized for operating such marketplaces.
3. Accessing Content: At times, countries ban particular websites which cannot be accessed through any direct internet service. The best technique is to use an anti-detect browser to help users access the particular content.
4. Avoiding Cyber Threats: The existence of an anti-detect browser is directly associated with preventing cyber threats. This is because all the user data is protected and unavailable to any third-party source. Under such circumstances, no cyber attack can be directed at the user.
Comparative Analysis Between MarketerBrowser and AdsPower
As you have learned the significant reasons for having an anti-detect browser, we will direct into the comparative analysis of MarketerBrowser and AdsPower. This comparison will help you select the best option in the market with ease:
Overviewing the Main Features
To get a perfect understanding of the basis of both anti-detect browsers, you can look at the features of these services. This will help you set up an idea of the better browser among both. Look into the provided table for getting a clear overview of the main features offered by MarketerBrowser and AdsPower:
| | | |
| --- | --- | --- |
| Feature | MarketerBrowser | AdsPower |
| Interface | Basic | Clean and Efficient |
| Target Customer | Marketing Arbitrage, E-commerce, Cryptocurrency, and much more. | Marketing Arbitrage, E-commerce, Cryptocurrency, and much more. |
| Number of Profiles | Unlimited Profiles | 500,000 Profiles |
| Price | Starting from $59/month | Starting from $9/month |
| IP Provider | Dynamic | Dynamic |
| Customer Service | Collaborative | Constructive |
Reviewing the User Interface
As we direct our discussion to the user interface for both browsers, there is a clear difference observed in both services. MarketerBrowser promises a powerful interface that can be used to operate multiple accounts. However, AdsPower has a user-friendlier belief in offering services to its users.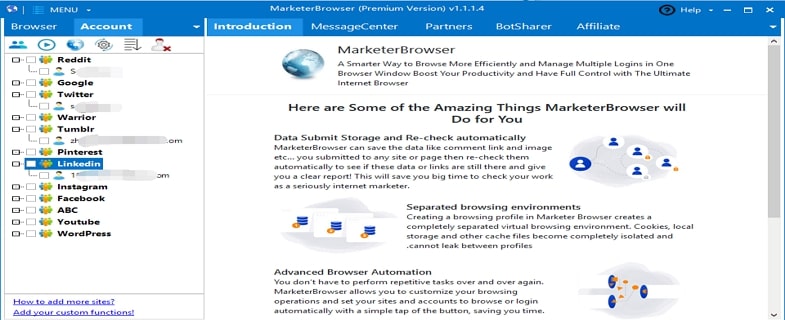 While you get privacy and security across AdsPower, you can discover Chrome and Firefox-based designs while staying across this browser. Such inclusivity makes it a better option in the market.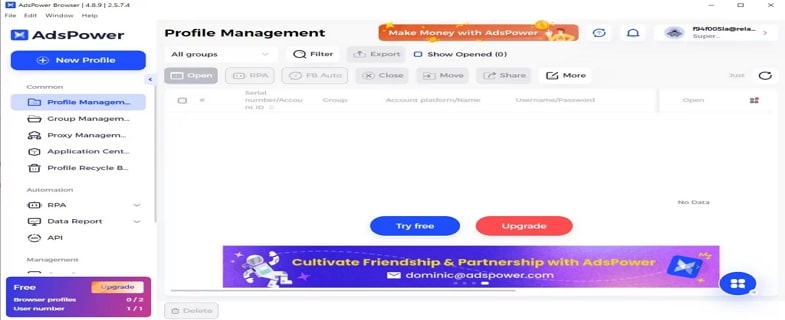 Target Customers of the Product
The targeted customer base of both products is quite similar to each other. There is no significant difference holding between these anti-detect browsers in terms of their target customers.
From cryptocurrency promotion to holding arbitrage, such use cases are targeted by both browsers. If we continue discussing the targeted customers, the AdsPower browser provides a more contained structure in this section.
MarketerBrowser, on the other hand, is diverged into smaller categories. The better choice lies in the aesthetics of the consumer, which sets their target audience.
Number of Supported Profiles
As we review the number of supported profiles for both browsers, the numbers are significantly different, making the comparison clearer.
MarketerBrowser provides unlimited profiles against any of its subscription plans, which displays the exclusivity and variety of its services. With no hindrance, you can run as many profiles as you want.
AdsPower, on the other hand, supports a huge number of profiles for its largest subscription plan; however, the number is still limited. You can have up to 500,000 profiles across AdsPower, which is a great number to work with.
Pricing Plans
To know which browser offers a better pricing plan, have a comprehensive review of the plans featured below. While you can start for free across any of the anti-detect browsers, you will have to select a pricing plan to use the services ultimately. Let's have a look at the pricing plans before getting to a conclusion about the best option:
Pricing Plan for MarketerBrowser

Pricing Plan for AdsPower

Package

Pricing

Package

Pricing

Free

$0

Basic

$59/month

Base

$9/month (For 10 profiles)

Professional

$99/month

Pro

$50/month (For 100 profiles)

Ultimate

$159/month

Custom

Contact Sales





With a clear review of the pricing plans, it can be seen that the AdsPower browser offers a free plan to its users as compared to its counterpart. Thus, this gives it an upper hand in the market for providing users with a test drive to using anti-detect browsers.
Stable IP Provider
Being anti-detect browsers, MarketerBrowser and AdsPower need a dynamic IP provider service. The need to have a dynamic provider is to ensure the constant change in the IP address location for a user.
If a browser has a static IP provider, its location can be accessed, which compromises the privacy and security that every anti-detect browser works on.
Customer Support Service
When it comes to discussing the customer support service for both anti-detect browsers, there is no apparent difference stated in their provisions. However, MarketerBrowser features a dedicated Help Center, a different service for helping its customers.
Such minor differences give MarketerBrowser a better system of customer servicing, which turns out to be an excellent upselling reason for it.
Safety System
A perfect browser offers the best safety mechanisms in the ecosystem. Although MarketerBrowser and AdsPower are known as great anti-detect browsers, safety needs to be assessed at different levels.
To avoid bans of all forms, the safety mechanisms need to be strong. AdsPower, being a prominent player in the market, induces the highest safety orders and an intuitive interface. This is what makes it a preferred browser for safe and secure searching.
Customer Reviews
For AdsPower: "Great browser! It's already been two years I used a different anti detect browser, and finally I find the one which is the best. Price, quality, speed and support, everything is perfect." – Mi Nva
For MarketerBrowser: "MarketerBrowser allows users to log on to more than one account at the same time on one browser and choose their own style. It also protects users' privacy by encoding their data in the cloud and using an anti-fingerprint technology." - User.
The Best Anti-Detect Tool For Free – MoreLogin
What if you are not satisfied with the services offered for anti-detect browsers discussed above? We have come up with an AdsPower alternative that provides diversified and coherent anti-detection browsing to its users. From a diverse targeted customer in the ecosystem, MoreLogin has been a new entry in the market.
It counters the major lacking in the anti-detect browsers of the market. From the best interface to the highest degree of safety, MoreLogin ensures you get the finest services in the market for anti-detect browsing. Another major highlight of having MoreLogin is its free operations.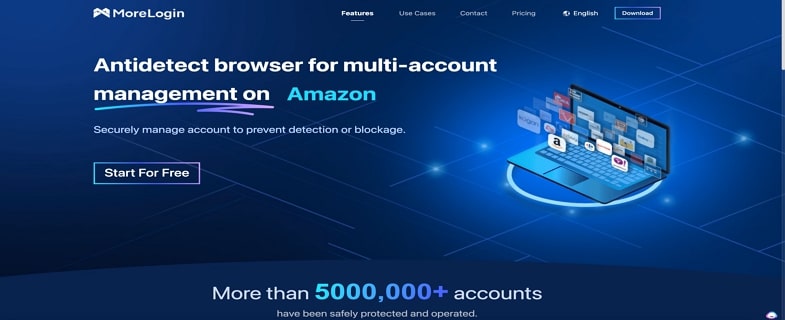 Instead of buying hefty packages for using anti-detect browsers, you can enjoy the services for free with MoreLogin. From Facebook to WhatsApp profile management, everything can be done across this anti-detect browser without restricting your accounts.
Conclusion
This article has comprehensively introduced two unique and efficient anti-detect browsers. MarketerBrowser and AdsPower have been operating in the market with some proficient characteristics. Along with their comparison, the article has also focused on offering a great alternative to these browsers, which is more efficient in its operation.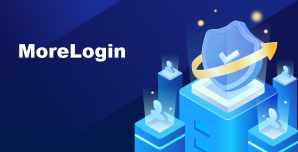 Navegador Antidetect para gerenciamento de várias contas em todas as plataformas. Gerencie a conta com segurança para evitar detecção ou bloqueio
Teste gratuito