New Generation of Real Canvas Fingerprint
Next-Generation Authentic Canvas Fingerprint What is browser canvas fingerprinting? Browser canvas fingerprinting is an online tracking technology tha
Next-Generation Authentic Canvas Fingerprint
What is browser canvas fingerprinting?
Browser canvas fingerprinting is an online tracking technology that uses the HTML5 Canvas API to create a unique identifier for user devices. The way this technology works is that when you visit a website that uses canvas fingerprinting, the website uses the Canvas API to draw an invisible image in your browser. Since each device and browser has slight differences in rendering images, this image can be recognized by the website as a feature of your device.
How is the traditional canvas fingerprint generated?
The vast majority of popular fingerprint browsers on the market do not generate canvas fingerprints through the browser, but inject them into the opened window. When drawing the browser canvas image, well-known noise is added (adding an element to the image), making the generated canvas unique. However, in the real environment, the canvas fingerprint features generated by normal computer models are not unique among all computer devices worldwide. Modern web page detection technology compares your canvas fingerprint with the canvas fingerprints of all historical users. Because the canvas fingerprints generated by traditional fingerprint browsers are unique, it is easy to judge that your device is an abnormal device.
How does MoreLogin generate canvas fingerprints?
The way MoreLogin generates canvas fingerprints is completely different. We use machine learning technology to collect the canvas fingerprint configurations of billions of real users worldwide, which is something traditional fingerprint browsers cannot achieve. This means you will use real canvas fingerprints, which undoubtedly enhances the security of your account access.
You can log in to the MoreLogin client, create a new browser profile, choose "New Profile," and get your exclusive fingerprint.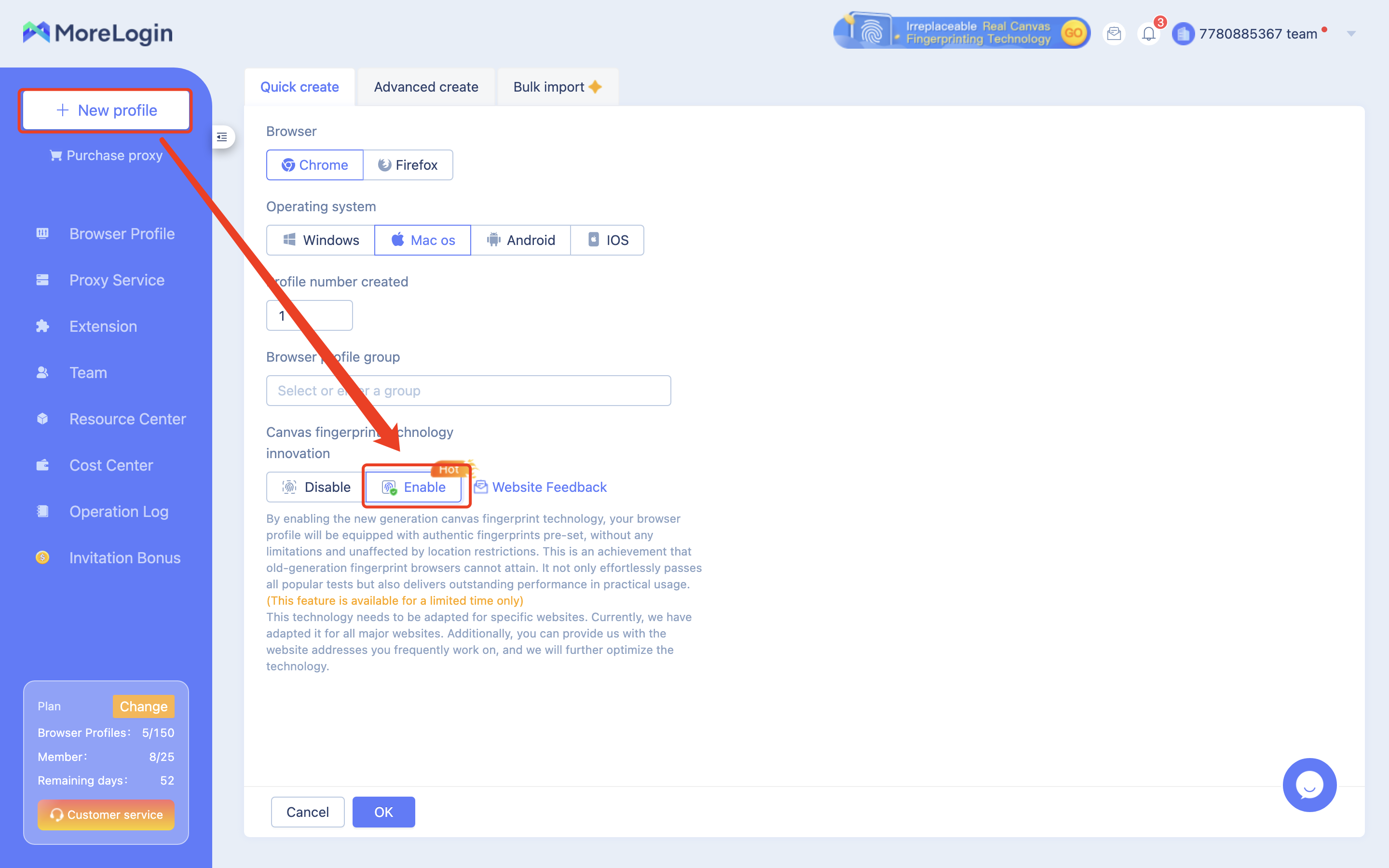 How to check the authenticity of my canvas fingerprint?
Usually, you can check on popular detection websites, such as
https://browserleaks.com/canvas. The uniqueness of the canvas fingerprint provided by the MoreLogin fingerprint browser is not 100% (there will definitely be devices in the world that use the same canvas features as you), and with this technology, you can easily pass the website's anti-cheating check.