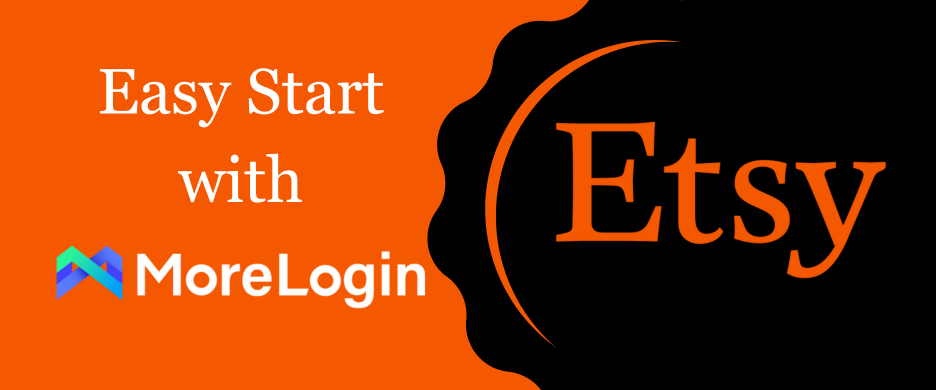 How to start an Etsy shop with MoreLogin: a Step-by-Step Guide
MoreLogin is an anti-detection browser that allows users to create and manage multiple accounts from one device.
How to start an Etsy shop with MoreLogin: a Step-by-Step Guide
Trouble Creating an Etsy Account?
Does your account get banned shortly after registering? If so, you may be making mistakes when setting up your Etsy account.
This article comprehensively explains how to create an Etsy account step-by-step. Read on for the details!
What information do you need to prepare before starting Etsy?
Before registering on Etsy, you need to prepare the following:
- Dedicated Browser environment
- Stable IP network
- Email
- DIY & crafts product photos
- ID photos
- Phone number
- Address information
- Payment card
- Receiving account
- Mobile authenticator app
Start your Etsy shop in 10 steps
1. Add a new browser profile in MoreLogin
Click on + New profile on the left top of the App. MoreLogin will generate unique fingerprints for each profile, making sure of profile exclusiveness. A clean, dedicated browser profile helps keep accounts secure by avoiding risks associated with linking to other accounts. MoreLogin constantly ensures fingerprints pass all scanners like Pixelscan and CreepJS.


2. Purchase a residential or ISP proxy
Having a clean and stable proxy is crucial for successfully registering an Etsy shop.
Tips: The proxy region should match the Etsy shop country location.
Users can check their current IP on SCAMALYTICS to see proxy quality and location. Proxies with a Fraud Score under 50 on SCAMALYTICS tend to work well for registering Etsy shops.

3. Create Your Etsy Account
Once you have a clean, dedicated browser profile and proxy, you can create an Etsy shop in MoreLogin.
To create a seller account, you first need a consumer Etsy account. Go to "Sign In" in the top right corner and enter your credentials in the dialogue box. If you don't have an account, click "Register." You'll get a confirmation email.
Tips: It is not recommended to use a Gmail address when registering an Etsy account. According to feedback from Etsy sellers, accounts registered with Gmail are more likely to get banned. Consider using Outlook or other email providers instead.
Once signed in, next to the shopping cart icon is a gray circle with a silhouette. Click it and select "Sell on Etsy" from the dropdown menu.
4. Choose your shop country
The shop country depends on the registrant's identity information. If the registrant's ID is from the UK, you need to select the UK region when registering. The shop registration region does not limit sales regions. After the shop is registered, it can make sales globally.

5. Name Your Shop
Name your shop in 20 characters or less using only unaccented letters and numbers (no spaces). Your shop name must be unique. Enter your desired name and click "Check Availability" to see if it's taken. If you need inspiration, Etsy has naming tips. You can only change your shop name once, so choose wisely. When you've decided on a name, click "Save and Continue."

6. Create Your Listings
Now create your product listings.
- Photos: At least one is required, up to ten are allowed.
- Videos: Optional but can showcase your product uniquely. Demonstrate use and different angles.
- Details: Title, creator, creation date, physical/digital, full description, materials, tags. Add sections to group similar products.
- Pricing: Factor in materials, labor, shipping (build into the price if free shipping), and packaging.
- Variations: List all sizes, colors, etc. that apply.
- Personalization: Toggle on if offered, off if not.
- Shipping: Etsy calculates costs based on your zip code. Enter processing time, shipping locations/services, domestic/international options, and fees. Include weight and dimensions
Tips: Etsy is a platform that focuses on original handmade crafts. Do not easily copy product images sold on other platforms to Etsy, as this can easily lead to account suspension. It is best to keep videos of your handmade craft production process. If your account is suspended for review, you can provide these creation videos to pass the review.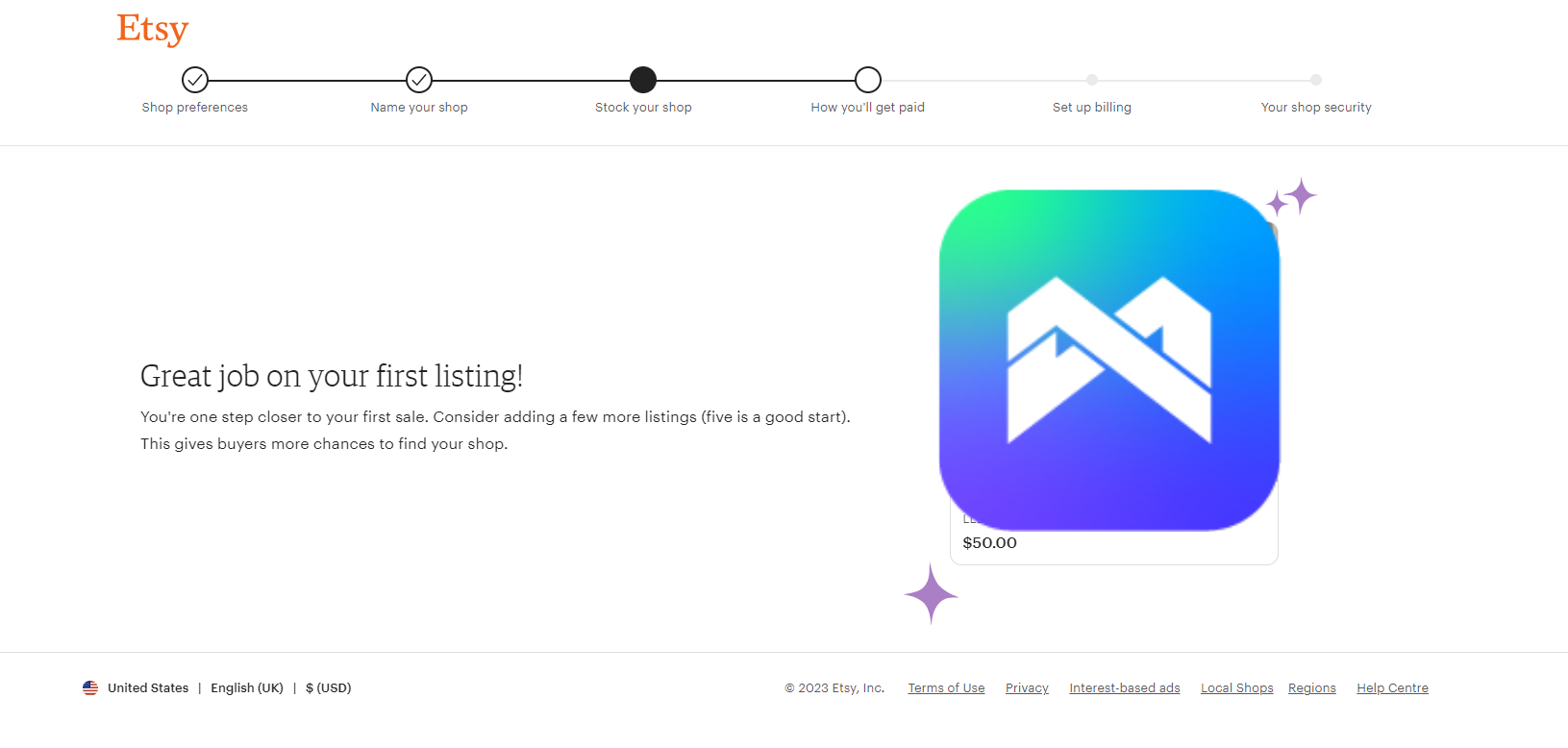 7. Input Your Payment Settings
Etsy needs your tax status, so first it asks if you're an individual/sole proprietor or a registered legal entity. Select "individual/sole proprietor" to provide your country, full name, birth date, address, phone, and last four social security digits.
Incorporated businesses enter the legal name, address, state, registration number, and EIN. Etsy also needs a primary contact, so provide the shop owner's full name, address, birth date, and last four social security digits.

Next, select the country your bank is in. Then enter your routing number and checking/savings account to receive Etsy sales.
8. Enter Your Credit Card Details

You need a credit card to pay Etsy fees. Enter your card number, CCV, expiration date, and full name. For convenience, enable auto-billing so Etsy will automatically charge your card on the 1st of each month or when you exceed the fee threshold.
Tips: The shop's country and the credit card's registered country must match.
9. Update Your Bio
Adding a brief bio and photo can show potential customers the artisan behind the shop. This is a place where sellers often share their inspiration for their work. For example, if you started your shop to raise funds for a cause or journey (like IVF or adoption), mention it.
10. Set Up Your Shop Policies
This is one of the most critical steps in becoming an Etsy seller. You want to anticipate any questions a buyer may have to minimize back-and-forth via chat. A policy section also helps in case of disputes.
Essential elements of your shop policies include:
- Processing time
- Shipping policies (e.g. only shipping via USPS Priority for free insurance)
- Payment options
- Returns and exchanges policy
Bottom Line
MoreLogin is an anti-detection browser that allows users to create and manage multiple browser profiles from one device. Each profile has a unique fingerprint that hides user behavior, helping users avoid detection and bans. Over 5 million accounts have been protected and kept safe with MoreLogin.
Start a free trial without a credit card.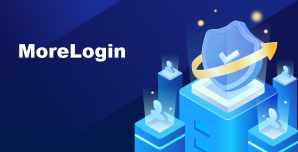 Navegador Antidetect para la gestión de múltiples cuentas en todas las plataformas.
Prueba gratuita