[2023] Suspended Twitter Account: How to Fix and Avoid
Learn how to fix and prevent Twitter account suspension in 2023 and protect your personal or business Twitter accounts safely.
Having your Twitter account suspended can be a frustrating experience, especially when you believe your suspension was unjust.
Twitter suspends accounts for various reasons, including spam, abusive behavior, and violations of its policies. But sometimes it is possible that your account gets suspended for absolutely no reason.
In this article, we'll delve into why Twitter suspends accounts, how to address a suspension if it happens to you, and crucially, steps you can take to avoid a future "twitter account suspended for no reason" scenario. Whether you're using Twitter for personal social networking or as a business promotion tool, this information will be beneficial.
Why Is Your Twitter Account Suspended?
Before we start talking about how to recover a suspended Twitter account and how to avoid getting suspended on Twitter, it is necessary to know the exact reason why Twitter suspends an account and what prompt appears to mean that the account has been suspended.
When you receive these messages, it means that your account has been suspended:
Your account has been suspended for violating the Twitter Rules

Your account has been suspended due to suspicious activity

Your account has been suspended due to security purposes

Your account has been suspended due to spam or abusive behavior
There are certain actions that can lead to Twitter account suspension. For example, spamming, harassing or threatening other users, posting inappropriate content, or engaging in other violations of Twitter's terms of service can result in account suspension. Specifically, here are some of the most possible reasons for Twitter account suspensions.
1. Bots and automation
Just like many other social media platforms, Twitter has strict policies targeting the use of bots and automated accounts. Although the platform does not prohibit automation activities directly, you are still taking risks conducting automation activities. Like it's announced in Twitter's automation development rules, you may post automated Tweets for only entertainment, informational, or novelty purposes. That means accounts posting duplicative, spammy, or otherwise prohibited content may be subject to suspension.
2. Fake Engagements
Buying and selling of followers or engagement, such as likes, retweets, or comments, is considered a violation of Twitter's terms of service. This kind of behavior goes against the platform's guidelines, and Twitter has developed fully functioning automated systems and manual reviews to detect and take action against it.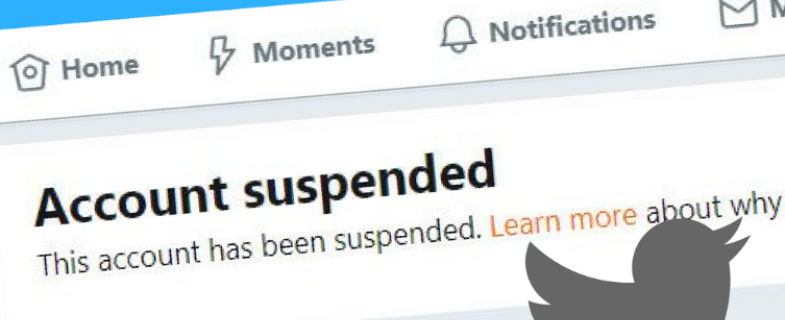 3. Spamming and Misleading
Another reason a Twitter account may be suspended is if the user is found to be engaging in spammy or suspicious activity. This includes mass-following or unfollowing other users, posting duplicate content, or using deceptive tactics to try and increase engagement.
Twitter also takes a strong stance against fake or misleading information, particularly when it comes to issues like elections and public health. If you spread false information about these topics, you'd be having a greater chance to find yourself suspended or banned from the platform.
4. Illegal Activities
Twitter may also suspend or ban accounts that are deemed to be in violation of local laws or regulations. This can include things like promoting illegal activities, sharing copyrighted content, or engaging in hate speech that is illegal in certain countries.
5. Undecleared Reasons
Besides all the possible reasons listed above, Twitter sometimes also suspends accounts that seem to be normal for unknown reasons. These suspensions could be led by Twitter's account detection algorithms that are not fully published to the users, or they are just errors or mistakes made by the platform.
However, there is good news for Twitter users. Twitter has announced that from February 1, 2023, users will be able to appeal their account suspension, and accounts will only be suspended for severe or ongoing repeat violations of the platform's policies.
Severe policy violations include engaging in illegal content or activity, inciting or threatening violence or harm, and engaging in targeted harassment of other users.
Twitter has also shared that going forward, it will take less severe actions, such as limiting the reach of tweets that violate policies or asking users to remove tweets before continuing to use the account. This is to ensure that Twitter is a better and safer experience for its users.
Prevent Account Suspension on Twitter
Although Twitter has announced that the account suspension policies will change very soon, we are still facing uncertainty regarding the safety of our account because it is noticeable that more and more accounts on Twitter are getting suspended for no reason.
To ensure the safety of your Twitter account and make sure your personal social media or business promoting channels not be disturbed by any Twitter suspensions, it would be a wise move to take some actions to prevent account suspensions on Twitter.
One of the most effective ways to keep your account or multiple accounts safe from Twitter's suspension is to register and log in to those accounts with different browser fingerprints. In order to do that, you need to have an anti-detect browser.
This approach is especially effective for people who are running multiple Twitter accounts for their businesses or people who don't want to share too much personal information on the platform while using Twitter.
Anti-detect browsers, like MoreLogin, allow you to create a fully customized browser fingerprint each time you access Twitter. You can use a virtual profile for your Twitter accounts and mask your IP address while accessing the service, making it difficult for Twitter to collect personal information or detect account activities.
You can also create and operate multiple Twitter accounts using one single device without having to worry about the platform connecting all these accounts to you, as you can create unique fingerprints for each of these accounts and isolate them from one another.
Here is an example of how you can register and use Twitter safely in the anti-detect browser MoreLogin without having to worry about getting your account suspended.
Step 1: Download the right version of the software to your computer based on your operating system. The product comes in both windows and Mac versions so you can choose the one that suits your device.


Step 2: Launch the program and log in to the client. On the top left corner of the program interface, you will see a "New Profile" button. Click on it and complete the settings to create a new, unique web browser fingerprint.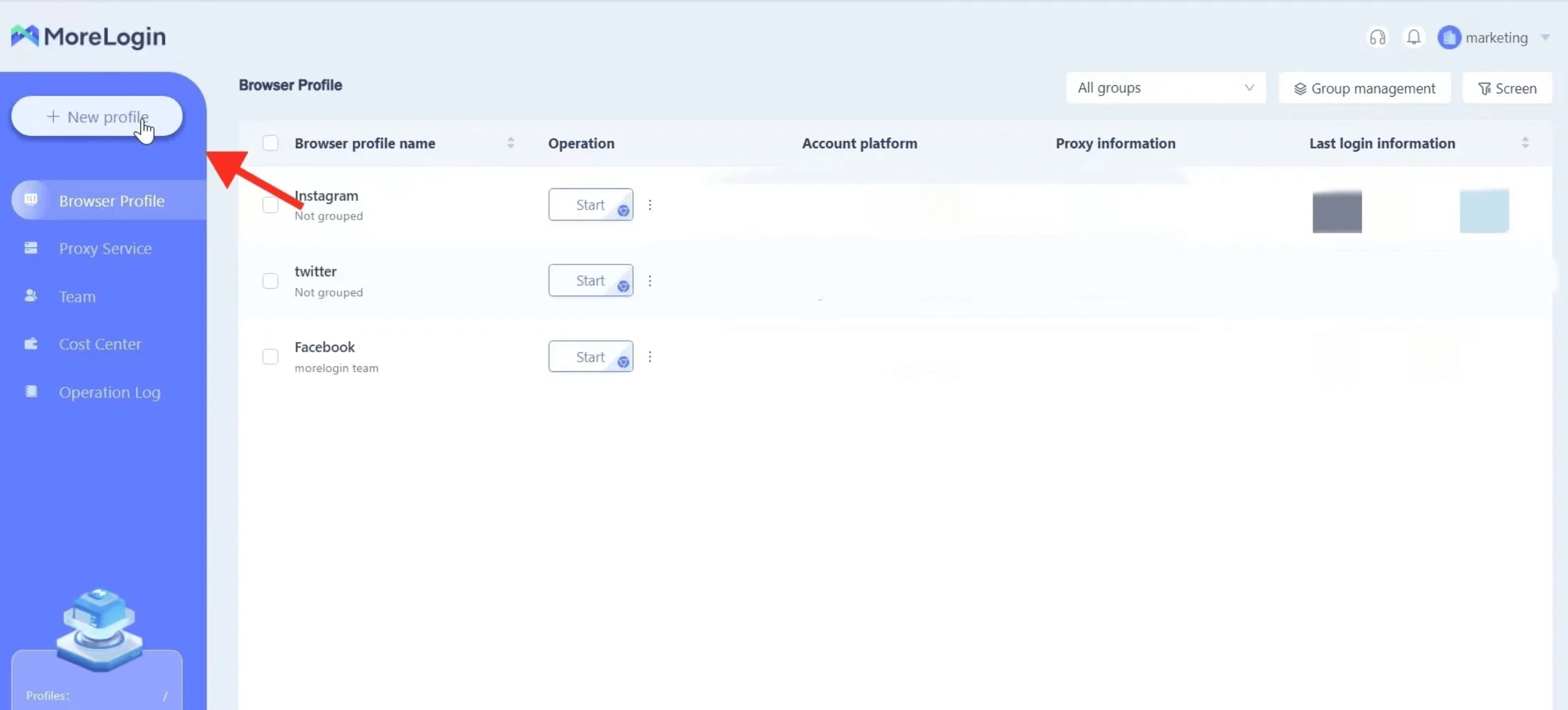 Step 3: Finally, go back to the "Browser Profile" page and locate the newly created browser profile. Click on the "Start" button to activate the new browser, where you can log in to Twitter without revealing your real identity.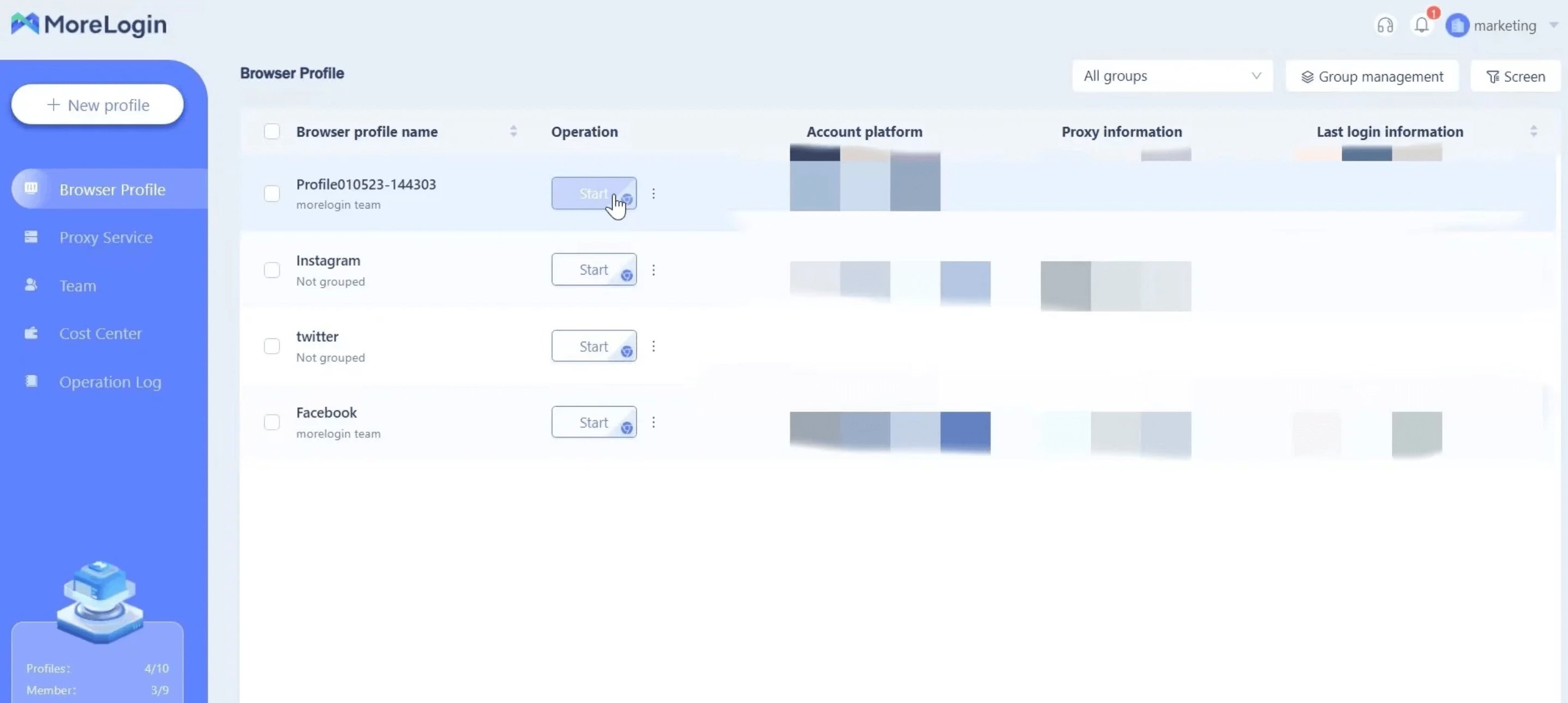 How to Appeal for a Suspended Account
Now that we have a general idea of why Twitter suspends accounts and how to prevent your accounts from getting suspended, let's talk about how to recover your Twitter account in case it has already been suspended.
Step 1: To start the process, the first thing you need to do is close the Twitter app and open your browser. From a web browser, go to the Twitter Help Center website (help.twitter.com) and search for "appeal". Then select "appeal a locked or suspended account", and you will be taken to a page where you can start the process.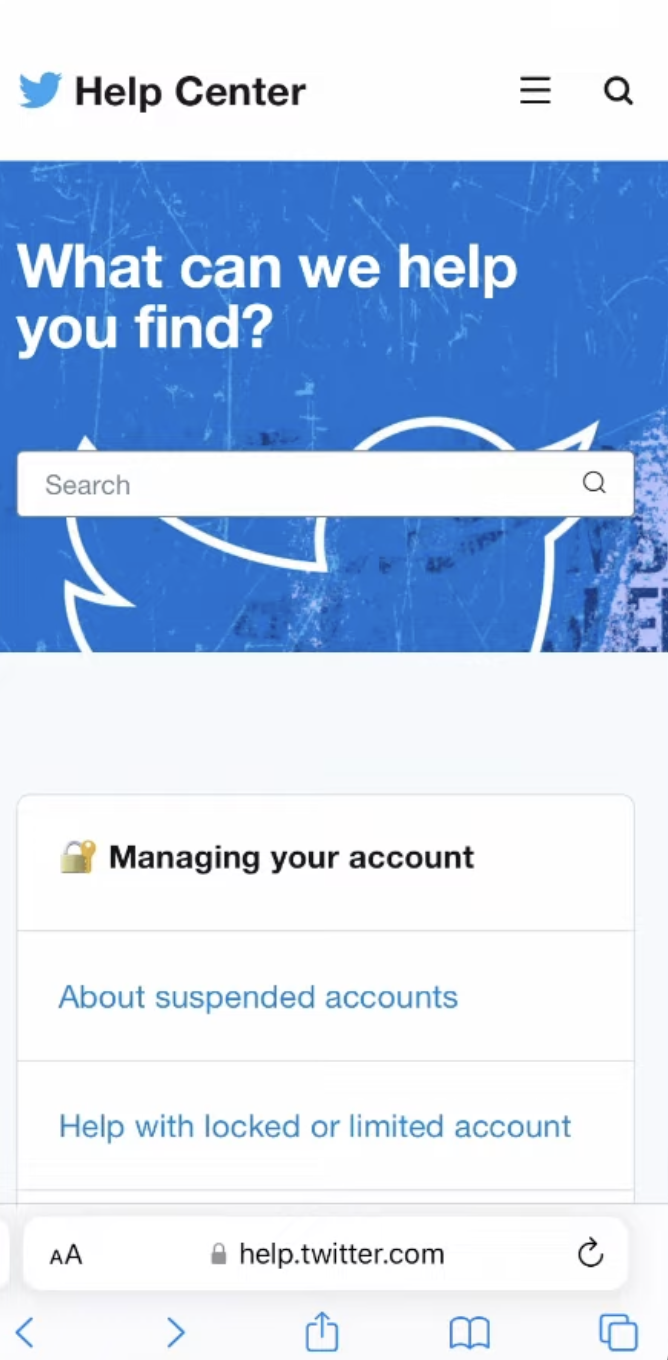 Step 2: Twitter will explain how you can appeal your account suspension or locked account. If you are not logged into your account, you will be prompted to log out of any other accounts and sign in to the suspended account.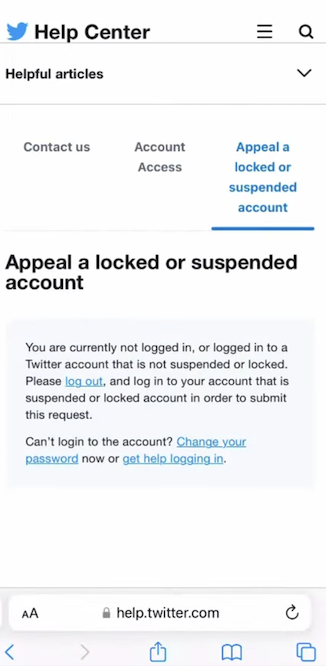 Step 3: Once you have logged in, you will be asked to complete an appeal form.
It is important to note that the success of the appeal depends on why the account was suspended in the first place. Sometimes, account suspensions can be permanent, while other times they may be temporary. The reason for the suspension will determine the outcome of your appeal. It is important, to be honest, and provide as much information as possible when filling out the appeal form.
Also, there is no guarantee that your account will be unsuspended, So it is important that you do what's necessary to prevent your account from getting suspended in the first place. However, going through the appeal process could be the best chance you have of getting your account back. You also need to be patient as the process may take some time.
Conclusion
It could be frustrating when your Twitter account gets suspended, especially for no clear reason. That is why it is important to protect your account and make sure it doesn't get suspended before the tragedy happens.
In terms of keeping your personal information safe and your accounts' information protected, an anti-detect browser could be your best chance as it can create unique digital fingerprints for each of your Twitter accounts and isolate your accounts and activities each time you access them. Such tools are already been broadly used in running multiple facebook accounts for business and personal use cases, and it will certainly help to prevent your Twitter accounts gets suspended too.
Prevent your Twitter accounts from getting suspended with MoreLogin, and I'm sure you will have a better experience on Twitter.
For more information: